American parents should heed a lesson in minimalism from Finland.  Our norm is to celebrate an impending birth with frivolous and unnecessary gifts.  Guests are invited to a banquet hall to enjoy food, games, and admire cute baby things.  Before the baby shower, parents-to-be will head out to one of those chain stores and receive a cool scanner gun to fill up their registry.  It's so easy, and even fun, to go around the store shooting lasers at all of the brand new (and undeniably adorable) baby items.  The stores also are kind enough to provide them with a checklist of "must-haves" for their bundle of joy.  Some examples of these "indispensable" items are warmers for butt wipes, bathrobes, and shoes for newborns.  Not to mention, of course, that the baby will need a brand new crib and dresser set that costs more than $1,000.
Well, this is what new parents receive from the government in Finland: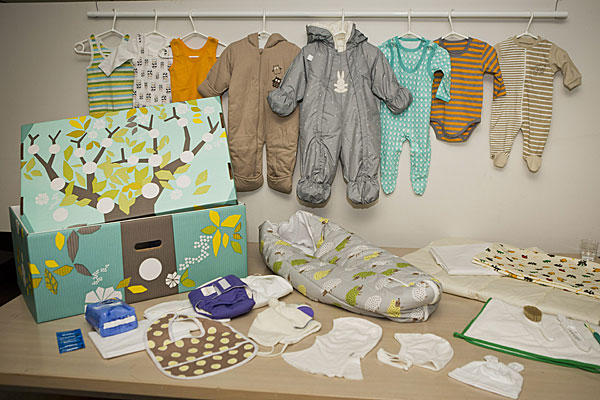 First all of, see the cute cardboard box?  That is where the baby sleeps – sheets are provided for this "cot."  There are a few outfits, a bib, some diapers, socks, and a sleepsack.  While I'm sure that women in Finland receive and/or purchase additional baby items, this is a much more realistic collection of what you need for a newborn, in comparison to the long registry lists provided to new parents in this country.
We purchased all of our baby furniture from Craiglist – and everything is still in great condition and ready to be used for our third child.  I did have a baby shower and remain very thankful for the generosity of friends and family.  With this little guy having an older brother and sister, we have collected the majority of supplies that he will need.  The most important items?  You need some clothing, but not outfits (like polo shirts and baby jeans).  My favorite type of newborn apparel is the one piece button-up jumpers that look like clothing as opposed to pajamas – in the pants or shorts version, depending on the temperature.  I have a good breast pump, which I checked and it is still working.  A place for the baby to sleep.  A carseat (Craigslist and garage sales will usually have great deals on stroller/carseat sets).  If you choose not to breastfeed or have medical issues, the baby will need some formula. 
We do plan on buying a few new items (hopefully with Amazon credit earned through Swagbucks and instaGC):
Burp clothes – cloth pre-fold diapers work best and are great for cleaning too (which is probably why they have all seemed to disappear)
Bottles – between two babies and Tornado using the old ones with her dolls, they are pretty gross
Pacifiers – for obvious reasons
Diapers
There also are the optional, helpful items.  As a new mom, if you can pick up some of these supplies on the cheap or for free, they will make those first few months a little bit easier: baby carrier or sling, diaper genie, pacifier leash, bottle brush, and a swing.  Finally, I love the boppy pillow as it works great for breastfeeding and then, to support the baby once he can sit up. 
Two things that we're holding off on for now:
New (used) Furniture
New (used) Vehicle
The baby will stay in a bassinet in our room for approximately six months.  We have a bed, crib, and two dressers for Goofball and Tornado.  So, in the Fall we will need another bed and probably a dresser.  As we are in the midst of a fighting a war against our interest-accruing credit cards, it makes sense to wait.  I plan to organize the baby's clothes in boxes on top of our dresser for now.  We will eventually find the furniture that we need on Craigslist or at a garage sale.
I have a midsize SUV and Mr. Smith has a pickup truck (both paid off).  Three carseats do not fit in either of our vehicles.  We have discussed minivans.  However, we don't foresee many outings with the entire family this spring/summer.  When we do go out, we rarely go very far.  Our plan for those infrequent family excursions is either to borrow a vehicle, take two vehicles, or transport older children via bicycle.  In September, Goofball will start kindergarten so he will ride on a bus and only the other two will need to be transported to daycare.  I really hope that this works for a while.
So, what is the moral of the story? We are subject to a constant barrage of "advice" to spend our money on "necessary" things. Stop blindly accepting advertising as truth, whether it's a television commercial for a great family minivan or a registry checklist from a baby store. Figure things out for yourself by relying on common sense and a frugal, minimalist mindset. Ask two simple questions:
"Do I really need this?" and "Is there another option?"