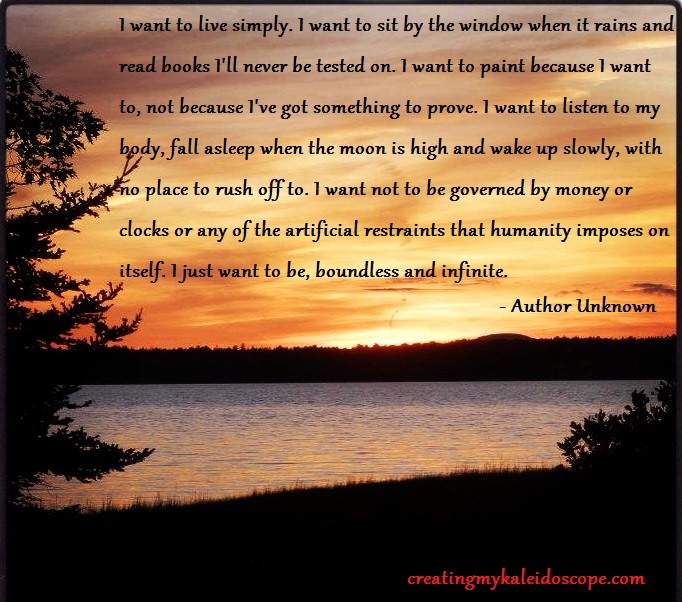 What drives you?  Some dream of status, power, and expensive things.  I used to work towards those meaningless goals based on a blind assumption that they would lead to happiness and fulfillment.  Now, I dream of freedom.
There are so many days I've wasted inside a small office, under artificial lights, trying to maintain concentration on the uninspiring task at hand.  Meanwhile, my family is elsewhere.  My soul mate is toiling away at his physically demanding job.  I think of how easily an accident could separate us.  My little loves are being cared for, taught, and nurtured by others.  The only one close by is the baby, swimming obliviously inside of me.  Little does he know that a similar fate awaits not long after he enters this world.  He too will be handed off to someone who, if the paychecks stopped, would not be there to care for him.  This person is the one who will hold him while he falls asleep, comfort him when he cries, and likely witness new developments every day.
I'm driven by a desire for joyful abandon with my family.  That my soul can soak in their laughter, pure and simple, without being burdened by worries about money or work responsibilities.  I dream of waking up to little visitors saying "mommy" at my bedside instead of a harsh alarm clock.  That we could snuggle in bed until we're just too hungry to wait any longer for breakfast.  We could play games, read books, and go exploring outside – never needing to check the clock.  Family dinners would be homemade together and enjoyed leisurely.  We would stay up late at night, toasting marshmallows over a bonfire and looking for constellations in the sky.  After the children finally fall asleep, my husband and I could stay up for hours immersed in the simplistic pleasure of just being with the one you love.   
My dreams don't include impressive real estate or cars with shiny hood ornaments.  We don't need regular vacations in exotic locations.  I could care less about baubles and the name brands constantly beckoning from advertisements.  To the contrary, the presence of our material possessions is suffocating.  I feel crowded by, and angry with, these things.  We stupidly believed the lies that we need "more" and "newer" in order to be happy.  Now, our happiness seems delayed by these foolish and ill-advised expenditures.  We are trapped in debt, trading hours of our lives for checks applied towards interest accruing on our past mistakes.
The life visited in my imagination centers around an older farmhouse, with room enough for our four children.  There is a garden and a few chickens are roaming around.  An older van sits in the driveway, usually passed over in favor of the small collection of bicycles leaning against the garage.  There is a yard with good climbing trees, including one with delicious apples.  We all frolic, read, and eat lunch together in the sunshine and fresh air.  There are chores to be done, such as collecting eggs and tending to the garden, but we do them as a family.  At some point, I will choose to spend a few hours writing, perhaps while the kids work on their homework.  We spend our days in comfortable clothing, our feet in sneakers, flip flops, or nothing at all.   
The simple life . . . someday we will have it.  I have to stay hopeful that it is possible, even if it we can't achieve completely the one built in my dreams.  There has to be a better life for us, one where I can be excited about meeting our new baby instead of being stressed and tired because there is so much work that needs to be completed before maternity leave.  There has to be a better future, one where my mind is not monopolized by impending deadlines and my weekend not tainted by bad feedback from my employer. 
But for now, there remains a penance to be paid.  We are the only ones at blame for choosing the path that led us to a dead end in the maze of life.  Slowly, we must find our way back to a point where we have options.  We must focus and work hard in order to find this place.  I will try to channel all of my anger and frustration towards destroying our debt so as to expedite this mission.  We need to continue our innovative tactics to save more money and increase our income.  Our dream is attainable and unquestionably worth the effort. 
I am working towards a simpler, purer life  . . . what drives you?