The Spanish Tortilla (also referred to as a Spanish omelette or tortilla de patatas) is an easy, cheap meal or appetizer.  It is great for using up leftover meats, cheeses, and vegetables.  The Spanish Tortilla is not especially healthy, but it is delicious.  In Spain, they eat this hot or cold, at any time of the day.
While there are plenty of recipes out there, this is how we prepare our Spanish Tortilla:
1.  Cut up five small potatoes.  We do thin slices, but you could also dice the potatoes.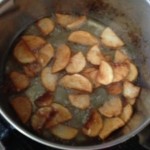 2.  Fry up the potato slices in some oil.  Heat up the oil so that there are small wisps of smoke.  You want the potatoes to be a nice golden brown color – it will take about five to ten minutes, depending on how much oil is used and how many potato slices are cooked at a time.  If you want to add onions, fry them with the potatoes.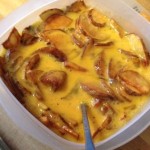 3.  Mix up the potatoes and eggs.  You want to take ten eggs and mix them up with the cooked potatoes.  Add salt, pepper and/or other seasonings to taste.  At this point, you can also add leftover meat and vegetables.  We've added sausage, ham, pepperoni, zucchini, and mushrooms with good results.  Beans could probably work well too.
4.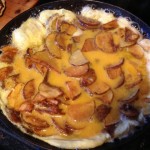 Dump the mixture into a nonstick frying pan.  Heat up some oil in the pan (you can use some of what is left over from frying the potatoes).  Add the eggs and potatoes and mix it around until it starts to thicken, but is not completely solid (you want a crust on the bottom).  This step should take five minutes or less.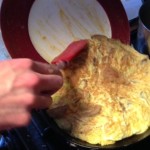 5.  Flip It.  This part can be a little tricky.  Cover the frying pan with a large plate.  Use potholders to hold the plate on as you flip the frying pan over.  The tortilla is now on the plate.  Slide it back into the frying pan to cook what used to be the top of the tortilla.
6.  Finish It.  Use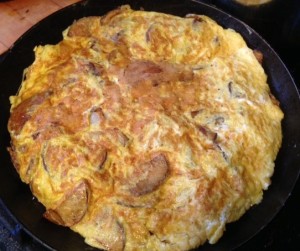 your spatula to push down the edges.  Cook for an additional five to seven minutes, until you have a nice brown crust all around.  The temperature in the middle should be 140 degrees.
You can slide your tortilla onto a plate (not the one that had raw egg on it) and serve up slices.  Feel free to sprinkle leftover cheese on top.
The kids like to dip their tortilla in ketchup (yes, this is a toddler-approved recipe).  We will often cook up a tortilla to go with pancakes when we eat breakfast for dinner.  I plan to experiment with frying up extra potatoes and freezing them, so I can cook up these tortillas even faster (watch for an update to this post).  If you try out the recipe, let me know what you think 🙂