At first, I was very skeptical of pay-per-click or "rewards" websites.  What was the catch?  Did I have to pay some type of fee?  Was I going to end up receiving tons of junk emails?  Would my computer be infected with viruses?  I've since tried out a number of these sites in my quest to make more money to pay off debt.  Swagbucks is safe, the highest paying, super easy, and even the most fun.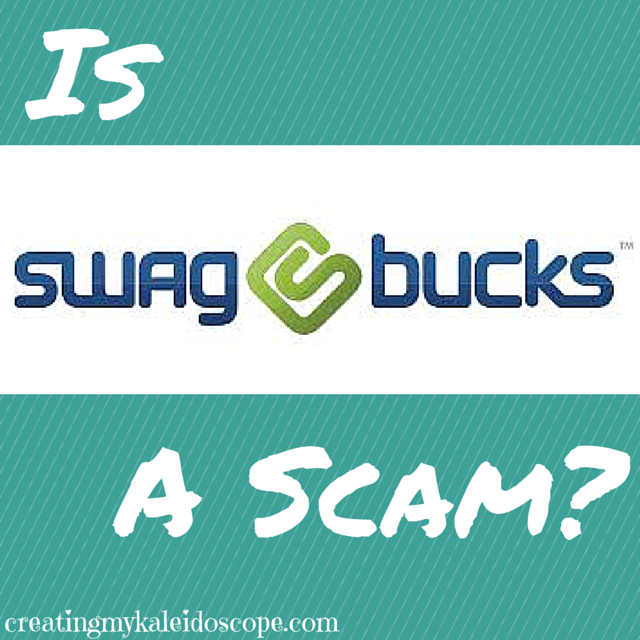 I have earned hundreds of dollars in Amazon gift cards and real cash via Paypal since joining Swagbucks.  I don't have to sign up for mailing lists or enter personal information on random websites.  My daily routine is simple and requires very little effort.  There are other side hustles, such as survey sites, where you can earn more money.  However, one of the nice things about Swagbucks is that it requires very little concentration (perfect for someone like me with three young children).
The Apps are the easiest way to earn Swagbucks.  There is SBTV, EntertaiNow, MovieClips, and Sportly.  Open them up, select one video, and they automatically continue to play.  There are daily limits on how much you can earn from each one.  I usually get at least 50 cents a day from the Apps.  The kids even like watching the travel videos on SBTV.
I go onto the website each morning and complete the daily poll for one credit.  Then, I do NOSO (no obligation special offers).  Start by clicking on the orange circle.  You will see several offers, with fields for your personal information.  If you look below, there is a green submit bar and to the right there is text that says "Skip" or "More Deals."  Just keep skipping the offers (3-5) until you get to a Captcha to be awarded 2 Swagbucks.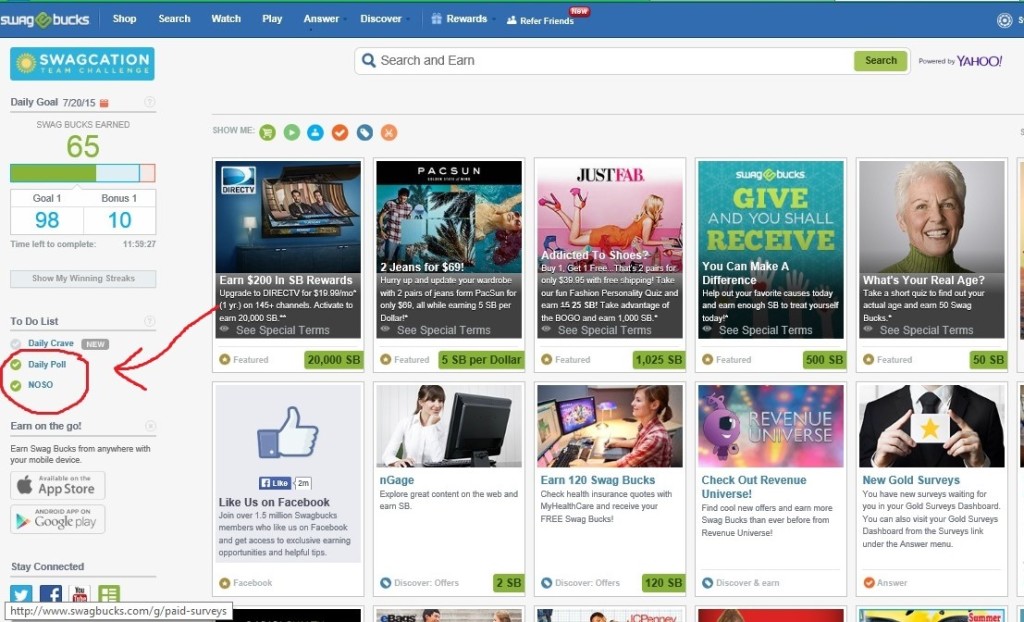 You can earn bonus credits for meeting your daily goal (see above where I'm at 65 out of 98).  There are a couple of simple ways to earn those extra Swagbucks.  See the lady in front of her computer (nGage)?  If you click on her it will open a window with a green bar that says "Start Earning."  Click on it and you will be prompted to click the bar every ten seconds or so (one other window will open).  You click it ten times and earn a couple more credits.  This method is not always on the home page, but is a very quick way to earn some more Swagbucks.
Another way I like to earn credits is by "watching videos" (while doing something else in another window).  Click on "Watch" at the top of the homepage and then choose a genre under the "BROWSE" arrow.  There are green bubbles that fill up as you watch the videos.  Note: Once the bubble is full, click on the next video – you don't have to watch the whole thing.  Hover over the last video, press the arrow, and a new set of four videos will appear.  You earn 3 Swagbucks every time you fill up the "SB Meter."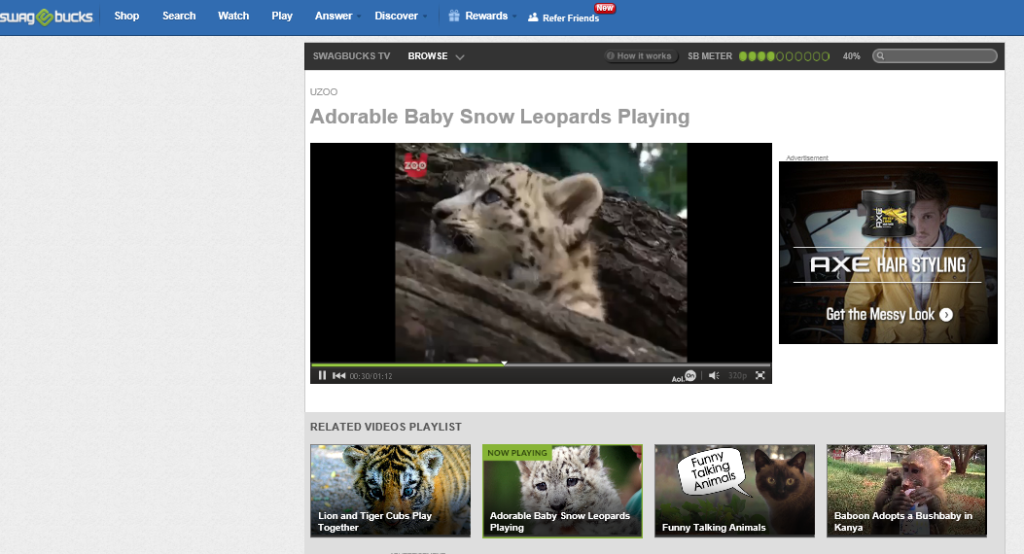 Finally, who doesn't like to play games.  If you click on "Play" you can choose from a number of games.  I use "Swag Jump" to earn credit.  You receive 2 Swagbucks for every two times you play the game, capping out at 10.
We use Amazon cards earned through this website to buy things like diapers and granola bars.  Also, we exchange our Swagbucks for PayPal cash deposited into our checking account and used to pay off our credit cards.  Generally, each Swagbuck is the equivalent of one cent.  However, the first $25 card that you redeem for each month only costs 2200 Swagbucks (not for PayPal though).
What is covered here is really only the tip of the iceberg.  There are tons of ways to earn credit with the site.  I usually earn about $6 in monthly bonuses just for meeting my daily goals.  There are also fun team challenges every month or two.  You join a team and basically earn bonuses for your normal Swagbucks activities.  I love this site.  It has been a big help to us as we battle our way out of debt.  It's definitely not a scam; it's awesome!