We recently had our big joint birthday party for Goofball and Tornado. Money is always tight with our debt issues, but especially so this year as I'm on maternity leave from work.  Now, with a few years of practice, we have pretty much perfected the frugal and fun kids' birthday party.  We were lucky to have had good weather and a nice backyard.  Even so, with some extra work and by forgoing unnecessary expenses, the grand total was just over $100.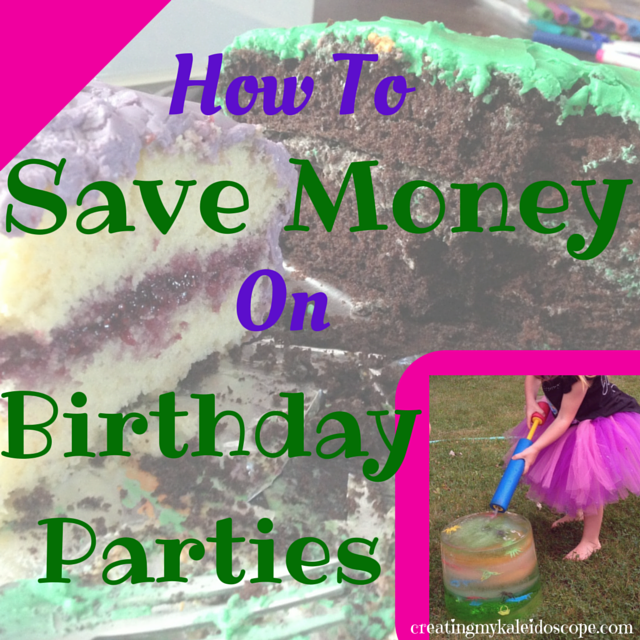 So, how did we do it?
Food and Drink ($75)
This was the largest expense.  We made hamburgers, hot dogs, and corn on the cob (a delicious and inexpensive treat for any summer get-together).  We mixed some ground turkey in with the ground beef to save money – the burgers were still delicious.  I put a couple of bags of chips out for guests to snack on.  My mother graciously offered to make a fruit salad, so I took her up on the offer.  As an added bonus, we had leftovers to eat for dinner the day after the party.
We had some bottled water left over from another function.  The drinks we purchased were juice boxes, a couple of two-liters, and some beer.  I picked up paper plates, forks, and napkins from the Dollar Store.
Birthday Cakes ($12)
In the past, we bought decorated cakes from the grocery store.  I decided to go with homemade cakes this year to save money.  Confession: my cake-making experience up to this point consisted of cooking up box mix in a rectangular pan and throwing some icing on top.  I didn't want to go too crazy, but wanted something a little bit fancier for the kids.  Thanks to Pinterest, I was able to find some tips for making box cake mix turn out better, along with a lot of some fun ideas.  One tip was to substitute the oil with melted butter.  We went with round layer cakes.  There was a vanilla cake with raspberry filling (jam) for Tornado and a chocolate cake with "cookies and cream" filling (crushed up cookies mixed with extra frosting) for Goofball.  Everyone said the cakes were delicious.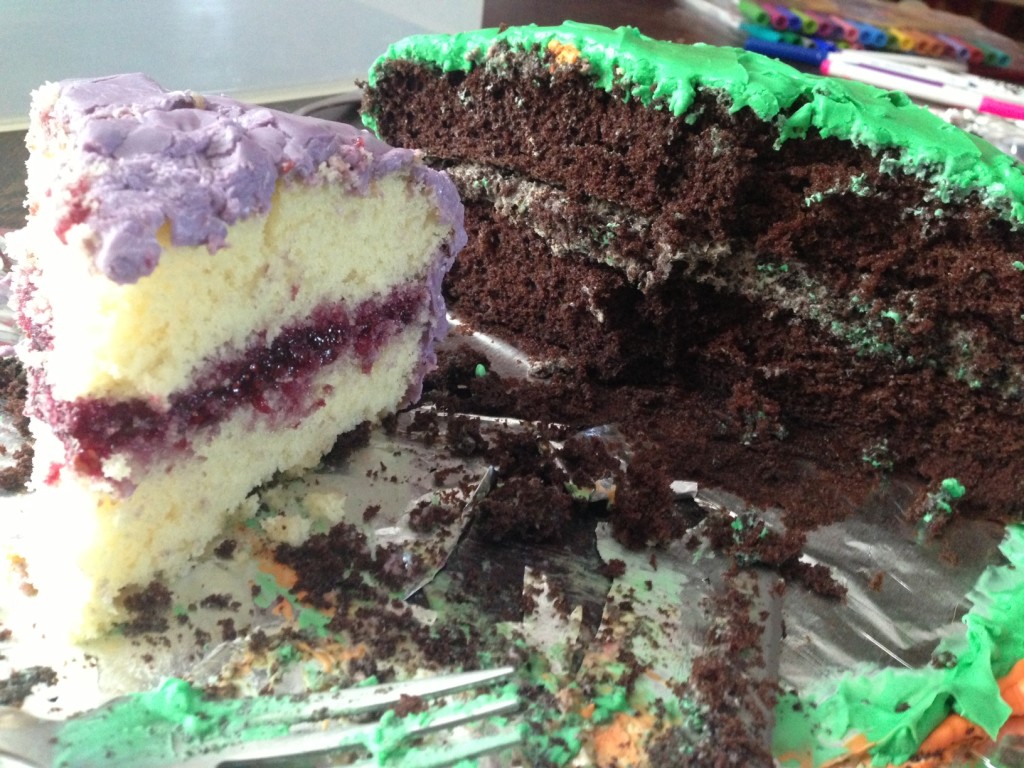 Another tip, the frosting is easier to work with if you microwave it a bit.  I bought plain vanilla frosting and colored it with food coloring to decorate the cakes.  You can use plastic sandwich bags instead of cake writing tools.  All you need to do is put some frosting in one of the bottom corners of the bag and cut off the corner.  It might not work for fancy accouterments, but you can easily write a name and add a border.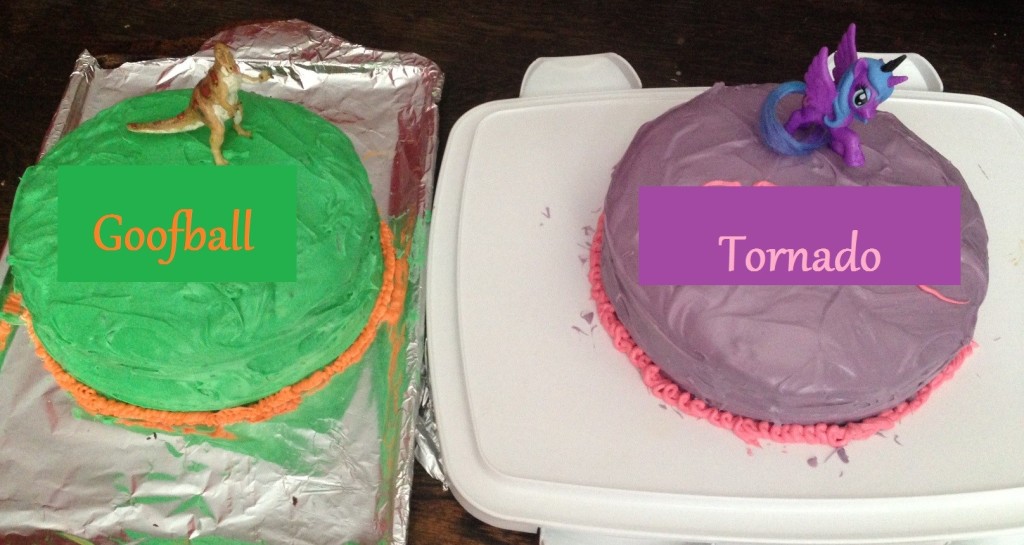 Games/Favors ($8)
We combined entertainment with favors for the kids by making more of the Frozen-In-Ice game.  I used all dinosaurs last time.  This year, we mixed it up with bugs, butterfly rings, lizards, frogs, snakes, and a few dinosaurs.  We found them all at the Dollar Store.  One other hint on this game – pouring some warmer water on the top will help loosen the blocks of ice from their containers a bit quicker.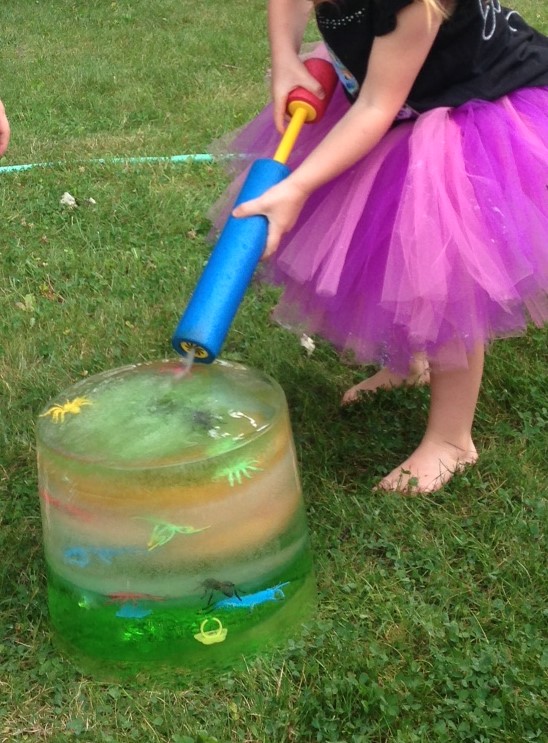 We also put out our outside toys, including water guns, small slide, baby pool, and a homemade ladder golf set.
Party favors usually consist of some plastic junk that is played with for a total of three minutes before collecting behind dressers or at the bottom of toy boxes.  I know my kids don't need any more of that cheap crap, hopefully other parents agree with me.  That's why I feel that the Frozen-In-Ice game is a great compromise.  The kids get to go home with something, and yes, it is an inexpensive, plastic toy.  But they had to work for it and only end up with a few of them, instead of a big bag of miscellaneous junk.
Decorations ($0)
We saved money by not using decorations.  They are nice, but really unnecessary.  Balloons blow away or they start to droop after a few hours.  Streamers and pretty tablecloths end up in the garbage.  Why spend money on these disposable frivolities?  I really don't think the kids notice.  And my guess is that the adults may admire nice decorations, but they don't register the lack of decorations.  A table with festively wrapped presents is quite enough décor.  Mommy hack: cover the present table with a blanket.  Then, when it is time to open gifts, just pick up the blanket with all the presents on top and set it in the grass.  Also, while it was too hot out for us to do this, use the cake as a decoration.  If you have a great looking cake, show it off!  It can serve a dual purpose, centerpiece and dessert.
Presents ($7.60)
I'm not counting the Transformer that we bought for Goofball last month on his birthday.  The kids don't receive any presents from us at the party.  We don't feel the need to show off in front of friends and family by presenting the birthday child with a big, expensive gift. I do have a tradition involving personalized birthday shirts.  I make something special with their name and age on it.  This year, I found clearance shirts, bought some My Little Pony fabric, and used puffy paint from my craft supplies.  I will mention the gift that Tornado received from us on her actual birthday, my collection of ponies.  She is three years old, the toys are brand new to her.  Tornado was ecstatic to receive so many ponies.  I recommend taking a look through your old things for toys to share instead of buying new ones – sentimental recycling at its best!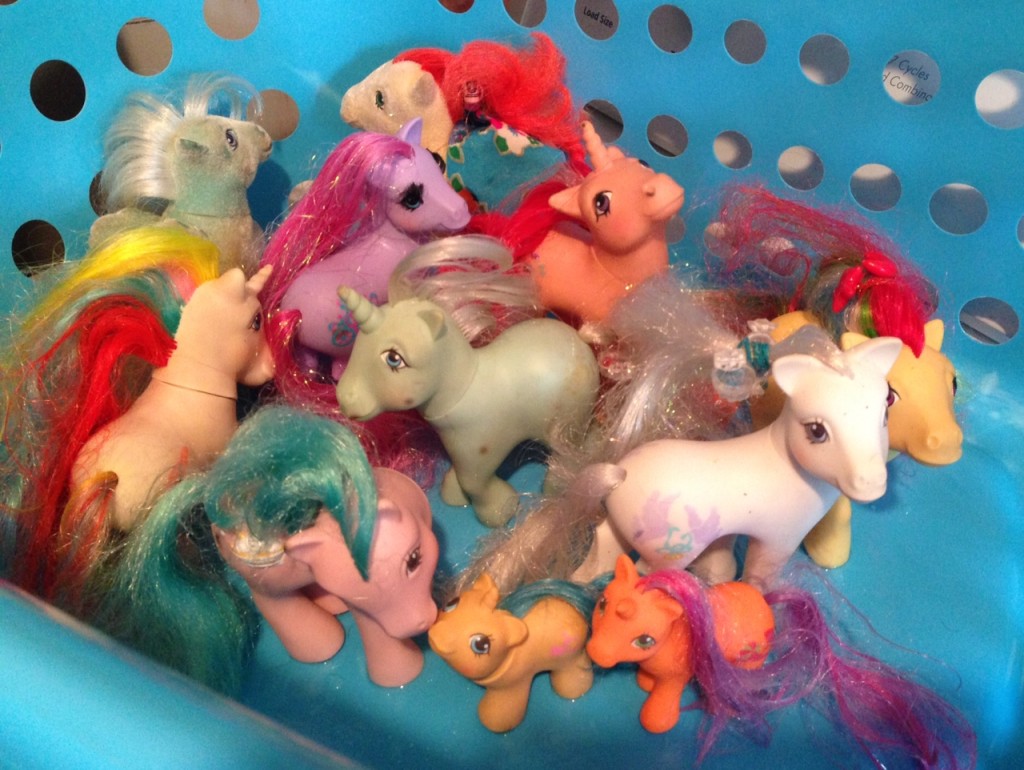 Miscellaneous ($0)
I did not buy or print out any invitations.  Instead, we contacted everyone via Facebook or with a phone call.  In the past, we rented tables and chairs.  This year we borrowed tables from a neighbor and asked some of the guests to bring chairs with them.
My top priority was for the kids to have fun with their friends and feel special.  By all accounts, the party was a complete success.  While I am more than willing to spend money on my children, it must serve a purpose.  There is no need to shower them with expensive gifts, hire outside entertainment, or cover the venue with decorations.  All of that spending and waste is unnecessary, whether it's just for the sake of it or to appease the expectations of others.  What the children truly need is love, attention, and the opportunity to enjoy themselves.