The majority of my childhood summers were spent in a log cabin in the woods.  As the oldest, I was often in charge of preparing dinner for my siblings.  The cabin was great, but we had no oven or stove, only two small hotplates.  In addition, the pantries were limited to fairly basic ingredients as we were only there for a few months.  Back in the early 1990's, I used what was available and came up with one of my family's customary dinners, "Cabin Chicken."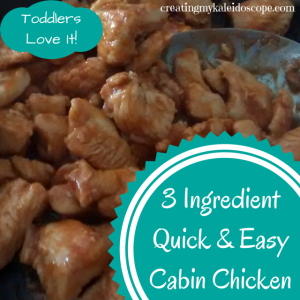 Now that I'm back to working full-time, we need quick and easy dinner recipes.  This recipe is perfect for busy nights when you need to get something on the table before you have to hear "is dinner ready yet?" one more time. 
You can prepare for this meal by freezing some chicken cut up into medium pieces.  Pull these "chicken chunks" out of the freezer to thaw around lunchtime.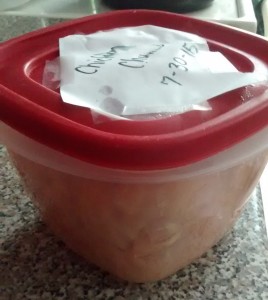 The next step is to throw the chicken in a frying pan over medium heat, with the two other ingredients: ketchup and barbeque sauce.  Yes, that's it.  For my kids, meat with a lot of barbeque sauce can have too strong of a taste.  The flavor is milder if you combine barbeque sauce and ketchup.  To serve two adults and two toddlers, I use 2 and a half large chicken breasts, approximately 1/3 cup of ketchup, and start with 1/4 cup, or less, of barbeque sauce.  I cover the pan with some tin foil in order to more evenly distribute the heat.   
Once the chicken is mostly cooked, I scoop out some of the excess liquid (this is why I don't use too much barbeque sauce at first).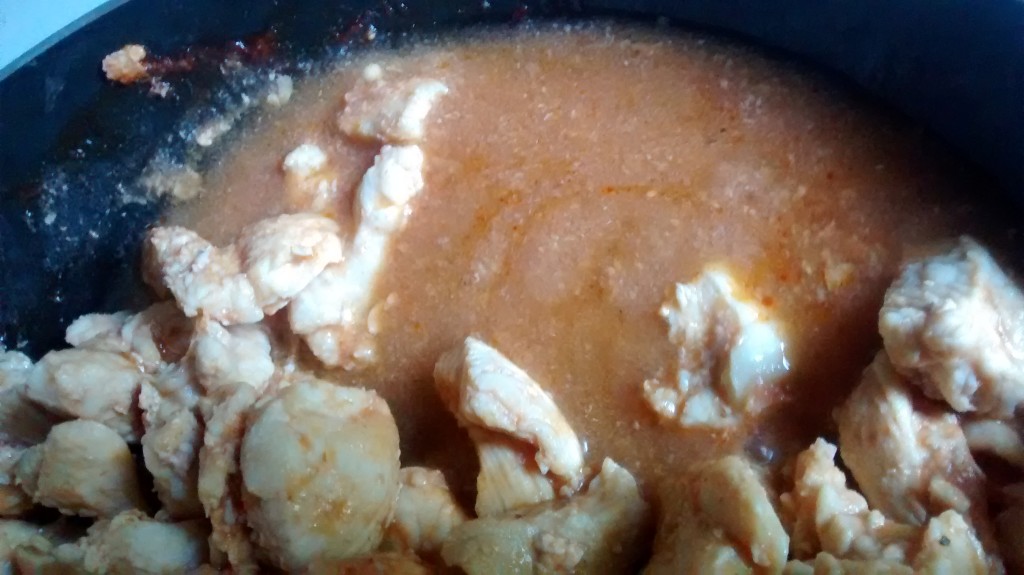 After removing some of the excess liquid, I mix in another 1/4 cup of barbeque sauce.  Make sure that the chicken is fully cooked and look at that, you're done!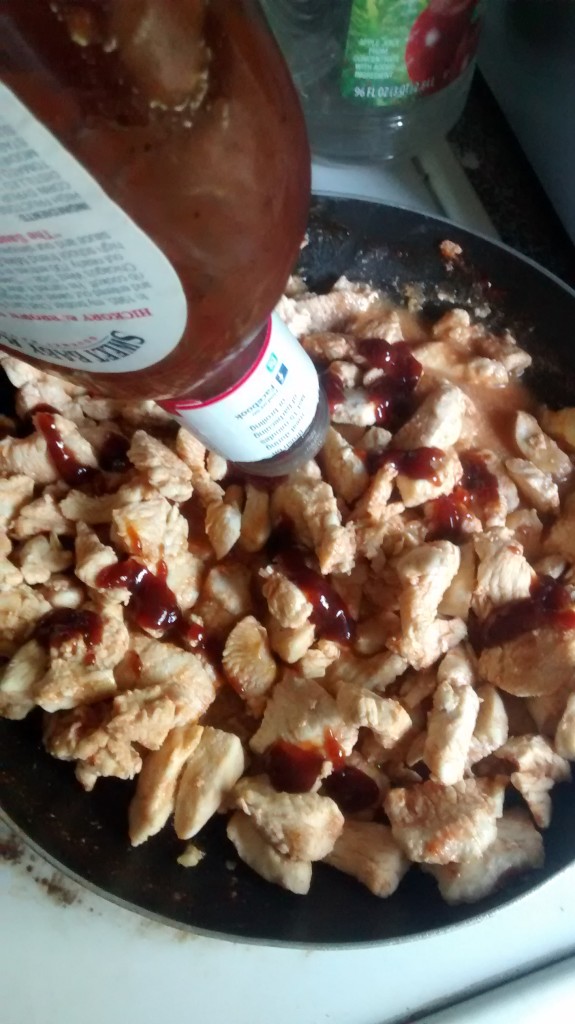 The kids love "Cabin Chicken" with a side of vegetables and some macaroni and cheese.  Us grown-ups eat it as is or on some homemade bread.  "Cabin Chicken" can be used to make a delicious, sloppy, sandwich.  Actually, it almost reminds me of a poulty-version of the Sloppy Joe. 
This is an extremely quick and easy recipe (I did come up with it at the age of 12 or so).  Kids and adults think it tastes great and you most likely have all three ingredients at home right now.  Cabin Chicken is definitely better than running out for fast food and perfect for when you're at loss for what to make for dinner.  So, give it a try tonight and let me know what you think 🙂