I tend to read and comment on other blogs as Harmony, but recently came across a thought-provoking post in my personal life.  My friends have been sharing and discussing a viral blog post titled "To My Husband In This Weird Phase Of Life," with remarks of how perfectly it illustrates their current struggles and sentiments.  In reading the post for myself, I was overcome, not by emotion, but with confusion and pity.  Is no one paying attention to the fact that the author sits in silence with her husband, because it's too exhausting to talk to each other?  She recounts fighting over small things like changing a dirty diaper and how they play games on their phones instead of having conversations.  Are readers distracted from the flaws in this relationship by the tear-jerker soliloquy about our little ones growing up to be adults?  Or, is this type of existence more commonplace than I might hope?
The post is well written and most readers are likely drawn to the author's vision of a supportive spouse in the future and commiserate with the parenting struggles.  I do look forward to Mr. Smith holding my hand as we watch our children recite vows at an alter.  It's heartwarming to imagine us playing with grandchildren together.  And as a working mom to three, our days also are busy and demanding.  My concern is with the ultimate message conveyed by the post,
"So if this means we sit in awkward silence while we wait for this phase of life to be over, that's fine. I'll just sit close to you so that you know I'm here and I'm not going anywhere." 
The author anticipates a future when she and her husband can reminisce on a life they have built together.  However, she seems to be focused on merely surviving this current portion of their limited time on earth.  Are you actively constructing anything by waiting around for a better future?  No, you're just living an automated existence controlled by generally-accepted goals.  I believe that limiting yourself to the standard roadmap of life causes discontentment.  In merely checking off the boxes (job, marriage, house, kids, pay bills, retire), you concentrate your efforts on satisfying each requirement, doing the bare minimum.  During the interim between these accomplishments, you daydream of the freedom and happiness presumably enjoyed by everyone else.   
I don't want this to seem like a personal attack on Katie.  She seems devoted to her family, but plagued by the ubiquitous stressors of too many bills and too little time.  My concern is that she, and others, believe that their only option is to subsist in a "waiting room" of marriage and life.  In doing so, they are bound to experience regret from wasting years of their life idly waiting for things to get better.  The morbid truth is that death could come for any one of us today.  There is no guarantee that we will be able to enjoy old age with our loved ones.  It's important to recognize that we all have the ability to build something better for ourselves, not just for the future, but for the present as well.  However, no one else is going to magically appear and solve your problems.  You need to put in the effort to set unique goals and change your life.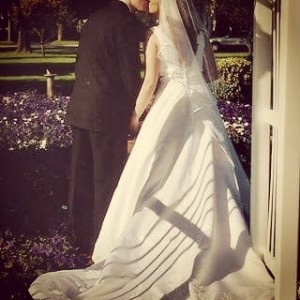 To my husband, you are a matching soul who perfects my life.  You are a playful best friend, wonderful father, engaging confidant, and passionate partner.  You are my teammate.  The goals we have made for our life inspire and drive me to make the most of every day.  It would be awkward to sit quietly beside you because there is so much to discuss.  Like the other night, when we sat under the stars and admired the Perseid meteor shower.  It was my first full week back to work after maternity leave.  We were both tired and had long days ahead of us, but we didn't go to sleep.  Instead we stayed out for hours, talking the entire time, from memories to our plans for the coming weekend and decades in the future.  At one point, I commented that this was something new, we'd never before watched a meteor shower together.  To my husband, let's build a lifetime of experiences together, while working towards achieving all of our dreams.
My hope is that with each sunset, we continue to feel a sense of accomplishment from our efforts and excitement for all that lies ahead.  And each night I will thank God for the blessing that is this journey with you, holding my hand, every step of the way.