I'm always on the lookout for new ways to save money.  I have cut my son's hair from the beginning and started doing cuts for my husband in the last year or two.  It would be unfair and not at all frugal to pamper myself with a visit to the salon, so I've had to learn how to cut my own hair too (one of the reason why we were able to pay off more than $20,000 in debt in 2015).  I stuck with a one-length trim for the first couple of cuts, but decided to try something new this time and test out the ponytail method for cutting your own hair.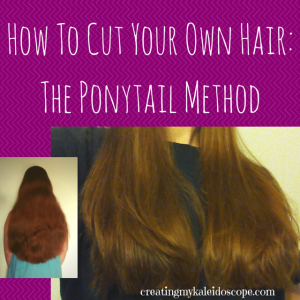 Yes, my hair was very, very long.  I was hugely pregnant and then, on maternity leave.  My hair lived in a ponytail or braid for most of this year.  I didn't really care about getting it cut and we were saving money by going without it.  Now that I'm back to work, the too-long hair had to go.  I did consider chopping it short to sell on the internet.  There are several auction-type websites that provide a venue for selling human hair.  In reviewing the postings, however, I noticed that some of the advertisements had been up for months.  I didn't want to go with a drastic cut unless the sale was a sure thing.  Also, I felt a bit guilty.  My baby loves to intertwine his little fingers in the the ends of my hair.  One excuse reason not to chop my hair is my fear of traumatizing poor Trey.
Deferring to my usual guide of the internet, I read about the ponytail method to add face-framing layers to your hair.  By using a ponytail that is centered on your head, the layers on the left and right side of your face are even.  You are supposed to position your ponytail so that it is right where your hair meets your forehead.  Basically, whatever strands of hair are in the center of your ponytail will end up being the shortest.  I decided to apply this technique a little bit differently to add layers throughout my hair instead of just in the front.  I had a lot of length to play with, so why not?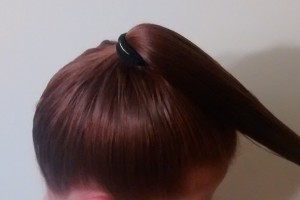 I started with a ponytail on top of my head.  Then, cut off a few inches.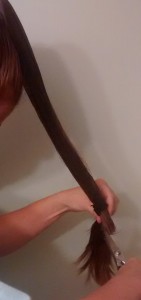 This gave me some layers, but there was still too much length.  So, I parted my hair down the middle and pulled all of my hair forward.  I cut straight across until both sides are even.  Use the ponytail concept to compare the left and right sides by pulling a strand from each side to front and center.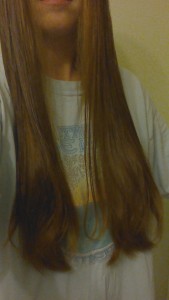 Now, the length was good and I had some layers throughout my hair, but I wanted a few more layers to frame my face.  I used the standard ponytail method to add some.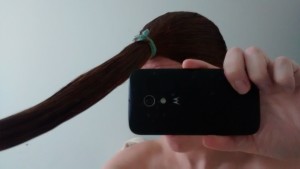 This next shot is of the layers all gathered in the back, not styled.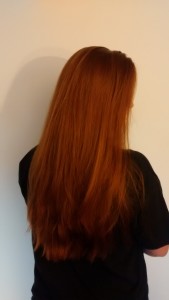 Note:  I did this cut over several days.  As I was experimenting with a new technique, I wanted to take my time and keep tinkering until I was happy with the results.  And, of course, one of the children inevitably needed my immediate attention during every phase of the process,  Another tip: keep your scissors at an angle, instead of cutting straight across, it will make the layers softer instead of blunt.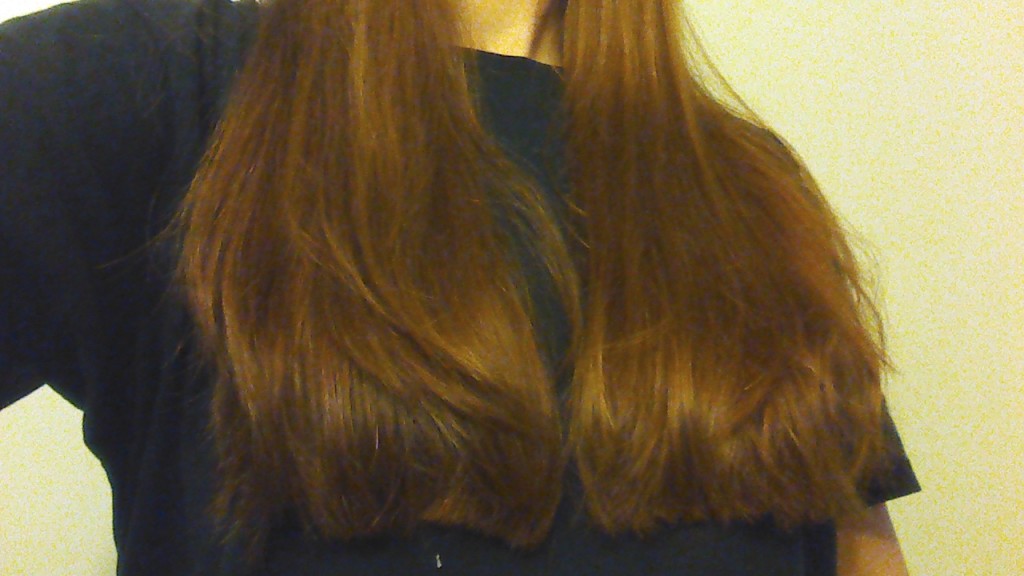 I'm pleased with the results of my little, frugal experiment.  There are options for my hair once again and it didn't cost anything but time and a bit of bravery.  As I continue to succeed at doing things for myself, the assumption that we need to pay for others to do so many simple tasks for us becomes more and more absurd.
Another example is how we save over $200 per year with one healthy, delicious food switch.
What have you recently done for yourself to save money?