This past month has been all about readjustment.  Goofball started kindergarten, Mr. Smith returned to part-time work, and the youngest two returned to daycare three days per week.  We have been creative with building efficiency into an alternative schedule, and so far it seems to be working.  We're very busy, but in a good way, and definitely still hustling like crazy to pay off our debt.  More importantly, we're trying to keep everything in perspective and not forget to enjoy the present while planning for the future.
Blogging – A Guest Post
It was so awesome to be featured last week on Breadwinning Mama.  I've been a long-time reader of Kerry's blog and love the "Her Juggle" series that highlights different working moms.  Check out the post to read more about me, the family, and our alternative work schedules.
Money
I spend a lot of time on side hustles.  I prefer to use methods that don't require much thinking (ex. Swagbucks) because my brain often feels fried by the end of the day.  However, the rate of return is very low.  Although I don't plan to stay in my occupation on a long-term basis, I have found myself contemplating the advancement opportunities at my company.  With some effort, I think that I could move up the ladder and score a much bigger paycheck within the next couple of years.  Instead of just "getting by" at work, I've decided to work towards advancing in my career.  The efforts should eventually pay off, literally, with significantly higher compensation that will help towards paying off debt and investing in assets that will support us during semi-retirement.
Our vegetable garden is almost done providing us with free food.  We did harvest a ton of tomatoes which we jarred for making spaghetti sauce.  All we had to do is blend the tomatoes and cook them down.  One tip:  I read online that adding a spoonful of lemon juice to the jars will help preserve the tomatoes.  When it's time to eat some pasta, all we have to do is simmer the tomato sauce with some herbs and olive oil.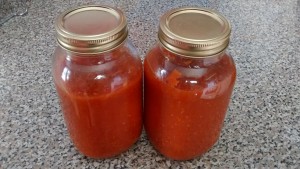 We recently took out a consolidation loan to help with the high interest rate credit cards.  As soon as we paid off those cards, they sent us notices that our credit limits had been increased and/or checks to use to transfer balances to our account.  Not so long ago, we would have seen this as more spending that we could "afford."  Instead, we laugh and confidently state that we won't ever again carry a balance on these cards.  Everything changes when you adopt new priorities with money.
Mr. Smith has been preparing for winter by collecting fuel for our wood-burning stove.  It should really make a difference in our heating costs.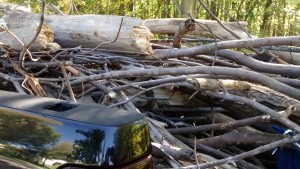 My newest hobby is crochet.  It fulfills my crafting cravings, while being productive, and it may even become my newest side hustle.  I made some hats for the kids and proudly posted some pictures of the finished products on Facebook.  A few friends asked if I would make hats for their kids as well.  These individuals are good friends who have helped us out in the past, so I agreed to make the hats if they purchased the yarn.  I am happy about being able to keep the leftover yarn to use in making Christmas presents.  I am not going to go start up an Etsy page just yet, because the site has so many crocheted items and they charge a fee for your sales.  I am hoping that the hats made for my friends will serve as advertising.  If anyone asks, I am willing to make more hats . . . at a reasonable price.
Extras
I read online that if you sign up for the Victoria's Secret mailing list, they will send you coupons for free panties.  I'm not buying any clothes this year, but who wouldn't like some new underwear?  It took a couple of seconds to sign up and I will just have to keep the catalogues away from the kids . . . and Mr. Smith, LOL.
Trey and I went on a walk the other day and scored some great trash finds.  We found a ton of things set out at the end of the driveway.  Although I was tempted to load all of it up on/in the stroller, I was selective with what items would actually be used.  I don't want to become a hoarder of free things that we don't need.  I came home with six matching, brand new, white lace valances, and a dozen books.  The second half of the walk was a little more of a workout with all of the extra cargo.
Family Fun
We recently went to a completely free and wonderful event with all sorts of wildlife.  We had a great morning checking out all of the living exhibits, before going home for lunch (instead of buying expensive food from vendors at the event).  There are so many opportunities to have fun with your kids without spending money, you just have to take the time to find them.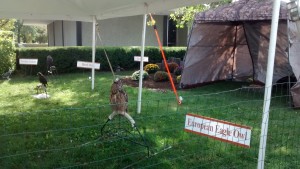 Goofball started his soccer season.  It is one of the few "fun" expenses in our budget.  The soccer league doesn't cost that much money.  More importantly, however, there is a limited opportunity for Goofball to get involved in team sports at a young age.  There are plenty of expenditures that can be put off until a later date, when we're not paying off interest on credit cards.  This is not one of them.
– – – – –
Balance is essential to long-term happiness and ultimate success in life.  We are adhering to a frugal lifestyle and hustling to bring in extra money.  Despite our mission, family comes first and we can't postpone all enjoyment of life to some date in the future.  We continue to make progress and remain driven to achieve our goals, but that doesn't mean that there is no time to have fun along the way.