Looking for a weekend upcycle / refashion project?  I am currently in my third year of not buying any new clothes, so we can put all of our money towards paying off our debt.  Surprisingly, it hasn't been all that hard.  I have versatile clothing, including many basic items.  Once in a while, I do find myself wishing for something new to wear.  The simple, frugal solution to this problem is to make something new out of the clothes in my closet.  Here is a tutorial for my newest creation.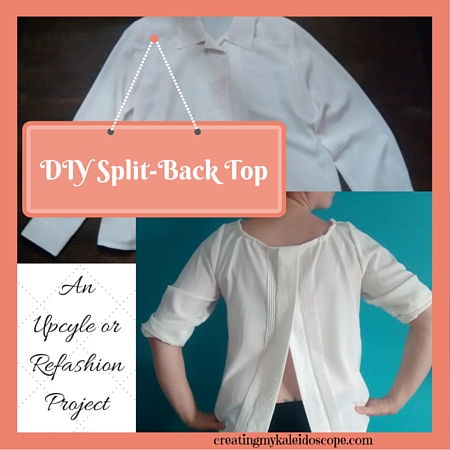 My mom gave me this old blouse a few years old.  It was always a little too "old lady" for my style, but it had such pretty embroidery on the front.  I finally decided to cut it up, and hopefully make something that I would actually wear out of this top.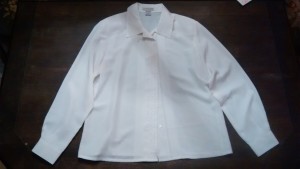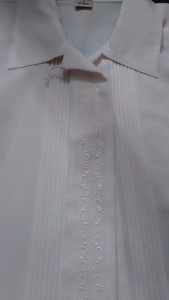 I started by removing the lovely shoulder pads.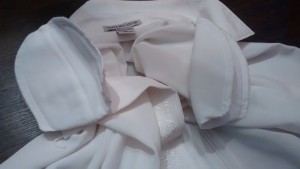 Then, it was time to slice and dice.  I think that is always the hardest part for me – there's no going back after you cut apart your clothing.  I used a different shirt with a good neckline, making a pattern on a piece of paper and tracing it on the blouse.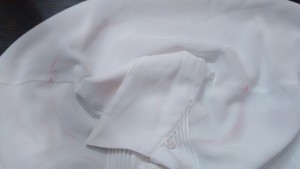 I cut out the top portion of the blouse.  Then, I folded it over and tried to stitch a simple seam all the way around.  It didn't look that great, so I went around again.  It still didn't look that great.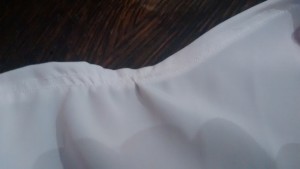 I love my sewing machine, but it was just not doing the trick with this project.  I decided to fold over the seam one more time and do a loose backstitch, by hand, around the neckline.  This worked a little better.  The last step was to remove the visible buttons the front/now-back.  I had planned to cut the sleeves, probably to a three quarter length.  I was checking out my progress in the mirror, rolled up the sleeves, and ended up liking the way that it looked (you can't leave them long because the cuffs are backwards).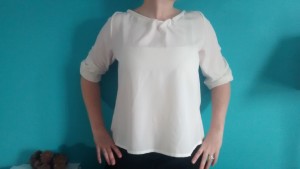 Well, I gave it a shot and am pretty happy with the results.  It's something new that didn't cost anything but a little bit of time.  It is supposed to a cold and snowy weekend around here, maybe a good time to check out what else I can do with some of the neglected items in my closet.
Any tips on how to make the neckline look a little better?