Happy Friday everyone! This is just a fun (and very overdue) update on the gifts that I crocheted for Christmas. My neighbor gave me a big bag of yarn last fall, so I went to work creating things to give for Christmas, instead of spending money.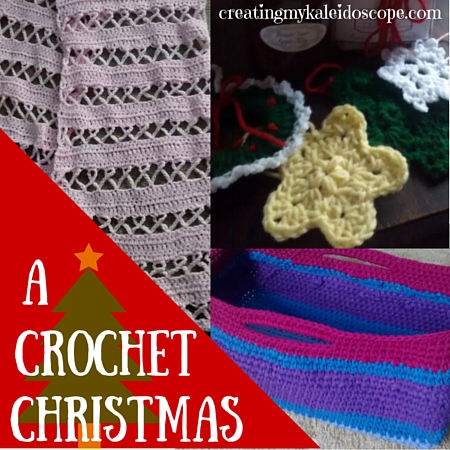 My first Christmas project was to make small gifts for Goofball's kindergarten teacher and everyone at daycare.  I found quick and easy ornament patterns for a star, wreath, snowflake, and Christmas tree.  The daycare friends got two ornaments, a bag of popcorn, and a Redbox code.  Redbox codes are a great option for gifts – they are inexpensive and provide the recipient with more of an experience than some miscellaneous item.  You can buy them on their website.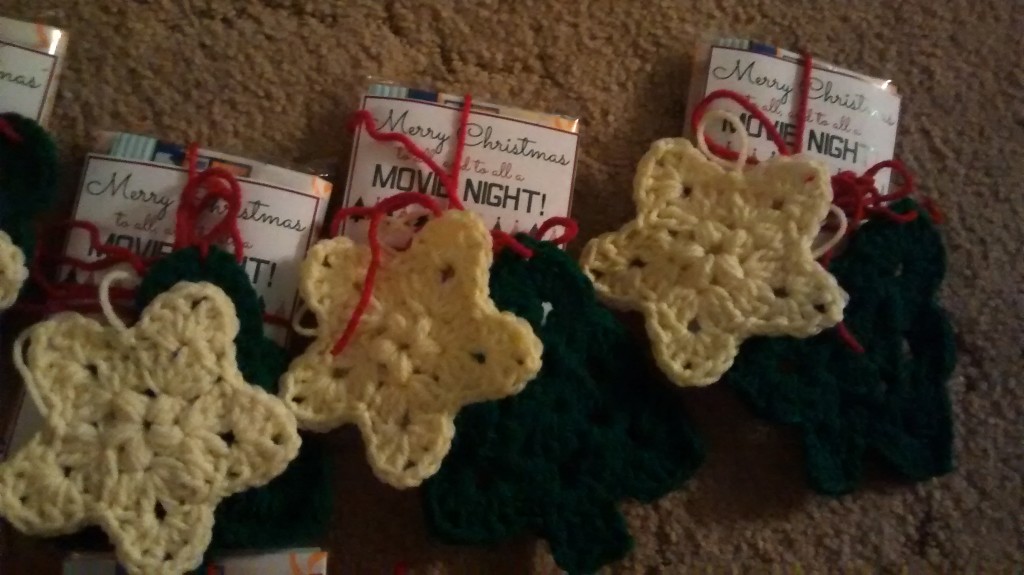 Goofball's teacher received a couple of extra ornaments and a jar of Brown Sugar Apple Jelly.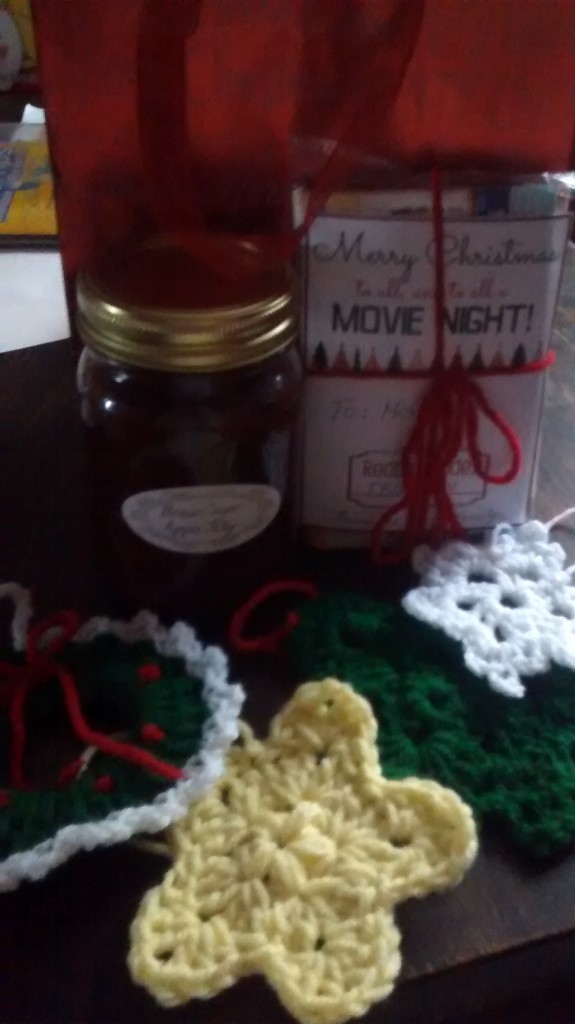 I found a really neat pattern (actually, a YouTube tutorial) for a Breast Cancer ribbon scarf and knew I had to make it for my mom.  She is a survivor and absolutely loved it.  I used a thinner yarn (because that was my only pink) and added some rows of double crochet to the top of each half.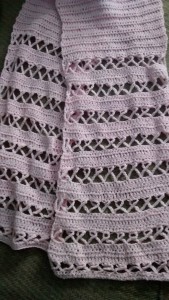 I made a basket for my sister . . . out of four extra large t-shirts from Goodwill!  It was so easy to make t-shirt yarn and the basket worked up pretty quickly.  The total cost was only $2.00.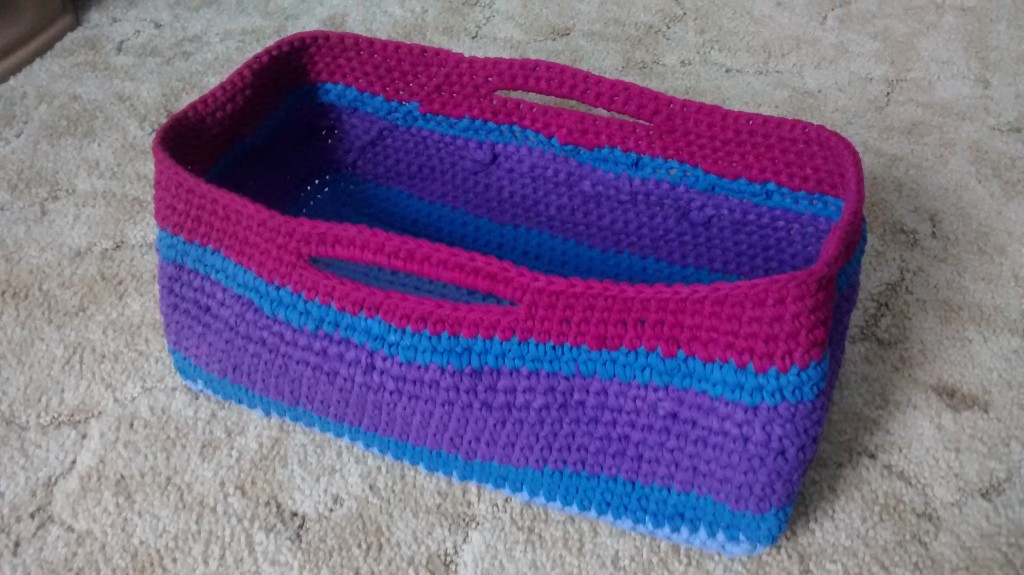 Finally, I made a hat for myself.  It's been over two years since I purchased any clothing for myself, but I wanted a new hat and already had the yarn.  I used this pattern for the hat and this one for the flower. It would make a nice gift for a friend . . . or yourself 🙂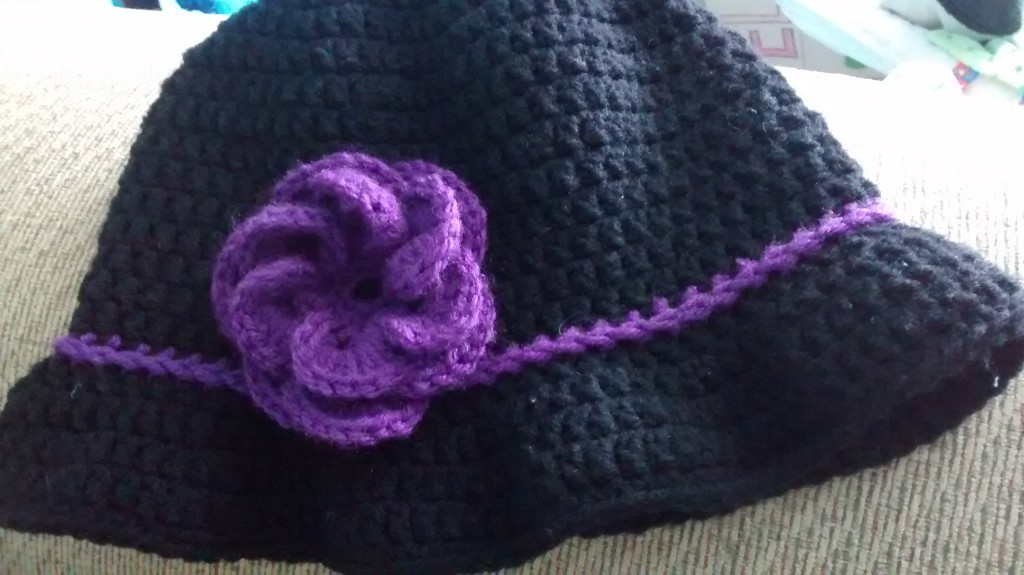 Everyone really seemed to treasure the gifts, understanding the effort that went into making them.  These crocheted items were so much more meaningful, as compared to something I could pick up at the store.  It can take quite a while to crochet presents, but yarn is pretty inexpensive – especially the upcycled t-shirt yarn.  It wouldn't be such a bad idea to get started soon, for next Christmas.
Thanks for reading and have a nice weekend!
I'm always looking for ways to make a little extra money so we can keep paying off our debt.  If anyone is interested in purchasing any crocheted items, please email me at creatingmykaleidoscope@gmail.com