I was reading a post yesterday that asked for comments about money epiphanies and what has changed in our life since then.  One of the first things that came to mind (besides paying off a ton of debt) was how I created this blog.  The original purpose of it was to document our journey, with the hope that it would make money.  However, blogging has become such an integral piece of my efforts to escape debt, achieve balance, and reach financial semi-independence.  And the benefits go beyond pennies for page views . . .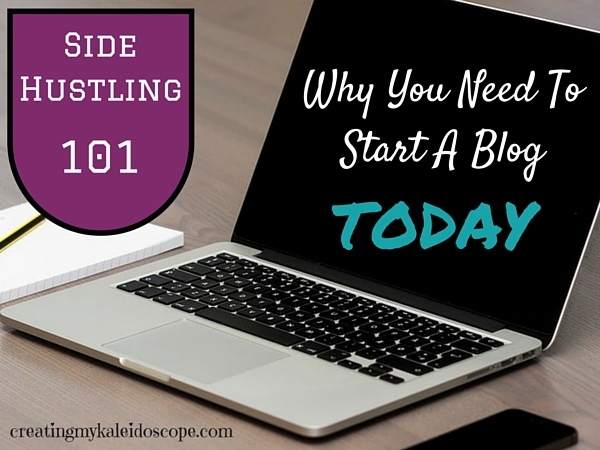 A Blog Will Make You Money
I can attest to the fact that it takes a while to make money from a blog, but it is possible after a year or two of hard work.  There are plenty of resources out there on the different options.  You can put up ads through Google AdSense and slowly accumulate pennies as people visit your site.  I have been contacted directly about adding sponsored posts or links on this site.  You can also sign up as an Amazon affiliate and earn commissions on products you link to on a blog.  A blog can be profitable, if you put in some hard work and exercise patience.  Just remember, the sooner you get started, the sooner you will start making money.
One of the really nice things about blogging, is that the revenue becomes more passive over time.  As you build up content on your site, there is more for readers to look at, which equates to more advertising revenue.  You will reach a point where the blog is earning money, without you needing to do anything at all.
A Blog Is Your Online Writing Portfolio
There are so many freelance opportunities for writers, in every niche imaginable.  I recently joined Upwork to increase my freelance writing side work.  From what I've seen thus far, there are two ways to be successful in getting those jobs.  You can spend hours completing proficiency tests and slowly build up your ranking by performing excellent work on low-paying jobs.  Or, you can reference potential clients back to your blog to see hundreds of samples of your writing.  I have been doing really well with the latter.
It is also possible to be contacted for writing opportunities directly through your blog.  While I haven't experienced this just yet, there are plenty of other bloggers who have reached such a point in their writing career.  They don't have to go looking for work, it comes to them.
A Blog Is Your Platform For Other Products
There is a huge market for electronic products these days, such as eBooks and web courses.  A blog helps you advertise these products.  A list of email subscribers gives you an unparalleled advantage when launching something new.  Odds are your product will be in line with the topic of your blog, so readers who are genuinely interested in you and what you have to say are very likely to purchase your other products.
Some bloggers even use their site to advertise for products they sell on eBay or Etsy.
Blogging Provides Membership In A Supportive Online Community
I used to spend so much time reading and commenting on other blogs – these hours were spent consuming, instead of being productive or actually engaging with people.  In starting your own blog, you have a home base where individuals can go to follow-up with you.  It might be another blogger returning the favor of a comment you left on their site.  Or, maybe someone who read one of your comments liked what you had to say, so they want to read more of your writing.  Blog challenges and guest posts also allow you to interact with your favorite bloggers in a meaningful way.
Becoming a blogger cultivates relationships that can be hugely valuable for whatever help you may need in the virtual world, or in real life.  As an anonymous blogger who keeps my plans a secret to pretty much everyone in real life, I find a lot of support and encouragement from my blogging friends (special shout out to Maggie and Claudia).
---
There are a lot of other bloggers who refer their readers to a certain, blue hosting company, but I have seen quite a few complaints about their sites going down.  I have used HostGator from the beginning and am super happy with their services.  Their platform is incredibly easy to use and I've never had any problems with my site going down.  Note: I have fairly basic computer skills.  I was really impressed when they called to check on my progress in setting up this site within a day or two of opening up an account.
BONUS:  If you start a blog with my affiliate link, I will try to answer any of your questions (if I can) about setting up your blog – just shoot me an email at creatingmykaleidoscope[at]gmail[dot]com

If you're serious about side hustling, I highly recommend starting with a blog.  Your writing will improve, you will make new friends, you will be able to track your progress towards achieving goals, it will give you accountability, you will gain some new technical skills, and if you keep up with it, you will make money.