Wow, it feels like forever ago since my last post.  An extremely demanding work project came up at the same time that I was helping my sister prepare for her wedding.  I'm happy to report that all is well in the Smith household and we had a wonderful time celebrating with family and friends.  Now, it's time to get back to frugal living, blogging, and hustling our way out of debt.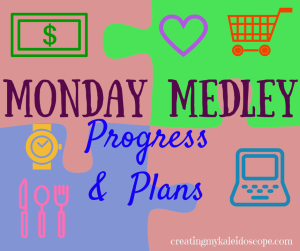 Work
Our plan requires me to work my current, secret occupation for approximately 5 1/2 more years.  For the most part my job is flexible enough to allow me to spend a decent amount of time with my family and supplement our income with some side hustles.  However, the cost of that freedom is occasional projects that demand my full attention for as much as a week or two.  Unfortunately, one of these came up recently. The timing was pretty bad with the wedding preparations.  I really appreciate how much Mr. Smith stepped up to help out with the kids and a lot of other stuff.  It's funny how often people say they "don't know how you do it all" (and they don't even know about the side hustles or blogging).  My response is usually that I wouldn't be able to do it without the help of Mr. Smith.
My Sister's Wedding
My little sister had a wonderful wedding and I am so very happy for her.  I'm also really pleased that we were able to do everything without spending too much money.  I wrote before about the miracle of finding my bridesmaid dress on eBay – it looked exactly the same as all of the others, for less than half of the cost 🙂  As Tornado was crawling on the floor during the reception, in her white flower-girl dress, I didn't really care that much because her dress was from eBay too.  The big expense I couldn't avoid was having my hair done.  It was hard to pay it, but there is so much to be said for buying experiences over stuff.  I've tried to look at it as a fun morning spent bonding with all of the girls in the bridal party.  I did decide to do Tornado's hair myself, when I found out what they were going to charge for it.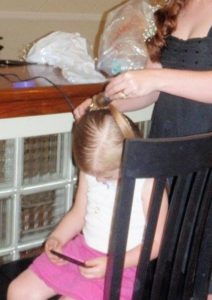 Poor Tornado lost it and started bawling about one third of the way down the aisle.  They all had a ton of fun the rest of the day, but I'll never forget that look of terror from such a sweet and usually super confident little girl.
We worked hard to save money while respecting my sister's vision for her wedding.  It wasn't extravagant, but definitely not frugal either.  It would have been selfish to impose our new money beliefs and make her change things about the wedding that were important, to her.  Ultimately, we were able to have fun and enjoy the day without feeling like our financial progress would be derailed by this one special event.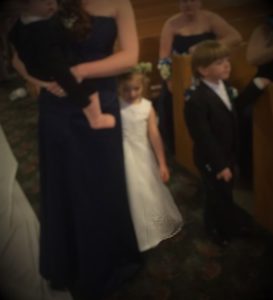 Random Conversations At Work
Last week in the lunchroom, two co-workers were discussing that there was a new girl at Subway.  I couldn't help but think that they must go there all of the time.  Then, they just so happened to mention prices.  The one spent $8.50 for the meal, because she wanted a cookie.  I just listened and started adding in my head (just 2 times a week, 8 times a month, $68 per month, $816 per year).  I used to be like that, but now find this type of spending to be completely shocking.  Granted, I have an awesome husband who makes lunch in the morning, but how don't people realize how much money they are spending on silly things like fast food?
Side Hustling
Somehow, I did manage to finish my second Upwork writing assignment during all of this hullabaloo.  And, received a new assignment from that agent 🙂
My big tutoring side hustle started up this weekend.  It's a good thing that work should be a little slower now and the wedding is over.  The money is pretty good, but this is another big demand on my limited "free" time.
Coming Soon
I should have a post up this week with a tutorial for the crocheted blanket I made as a wedding present for my sister (another frugal accomplishment).
There is a delicious recipe post that was almost ready to go up in between working and doing wedding stuff.
I'm working on a post about the total re-haul of our life insurance policies.
Again, sorry for my absence.  What's new?