This is a crafty post, but still has a lot to do with saving money. I spent many hours creating a Willow Block Blanket as a wedding gift for my sister, and all it cost me was my time.  A neighbor recently gave me a ton of yarn, so this wedding gift didn't cost any money. I searched for the prettiest crochet granny square that I could find, and settled on the Willow Block. It works up so quickly and has a great design. I loved cranking out a square here and there, whenever my hands were free.  I assembled all of the squares, added a double crochet border, and now my sister now has a beautiful, handmade keepsake.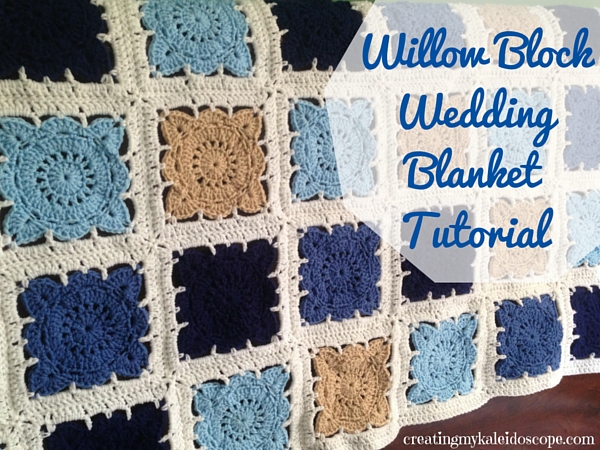 I had trouble finding a tutorial for the Willow Block, so this was one of the first crochet projects that I figured out by using a pattern.  Yay for me!  I guess the Willow Block pattern is a highly guarded secret from a book called 200 Crochet Blocks.  However, you can get the pattern here, for free.
The pattern uses three colors of yarn for each square, but you can see that I chose to use one main color for each square bordered in white.  I used different shades of blue and one tan, which complement my sister's bedroom.
As I mentioned above, the squares work up pretty quickly.  I made a total of 54 (6 x 9) squares before it was getting a little too close to the wedding.  These are all the pretty squares arranged on my bed.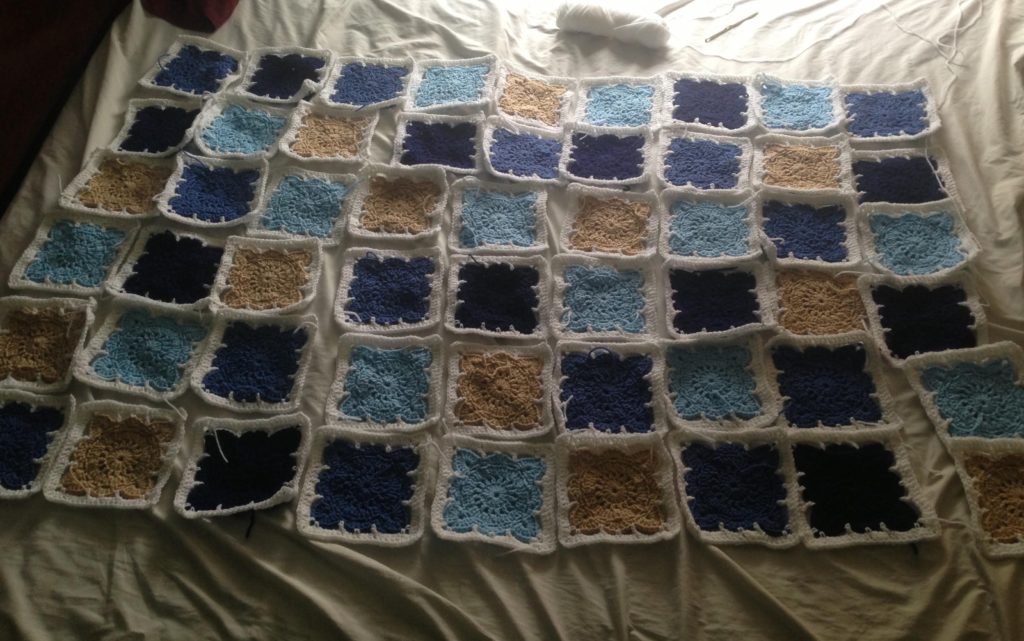 I decided to go with a single crochet join.  I did the first joins right on the bed in order to not screw up the arrangement.  I started with rows across, but could then pick it up and move around with it to join the other direction.  Note: it's probably a good idea to sew in the ends when they are just individual squares.  It was tricky to do once they are all joined together.  For a single crochet join, you just fold two fronts (or right sides) together and crochet together the stitches along one edge.  You end up with a raised seam on the back of the blanket.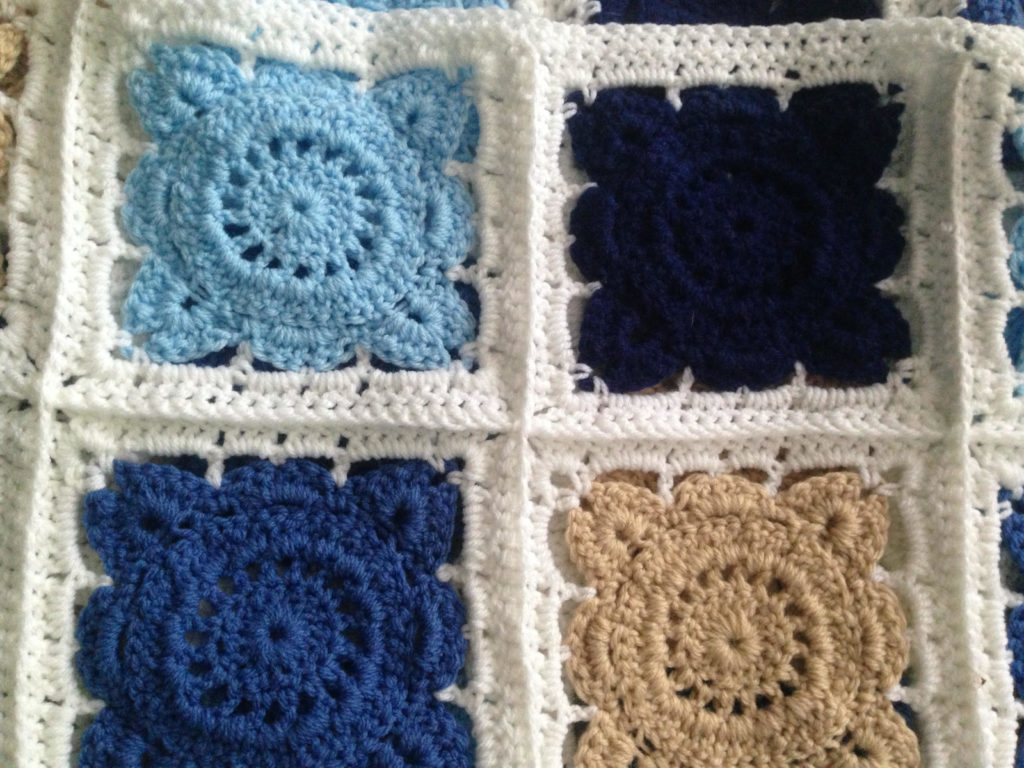 Once all of the squares were joined, I went around the outside with double crochet in white.  I considered adding a fancy border, but the wedding was in a couple days and the Willow Block has enough pretty detail on its own.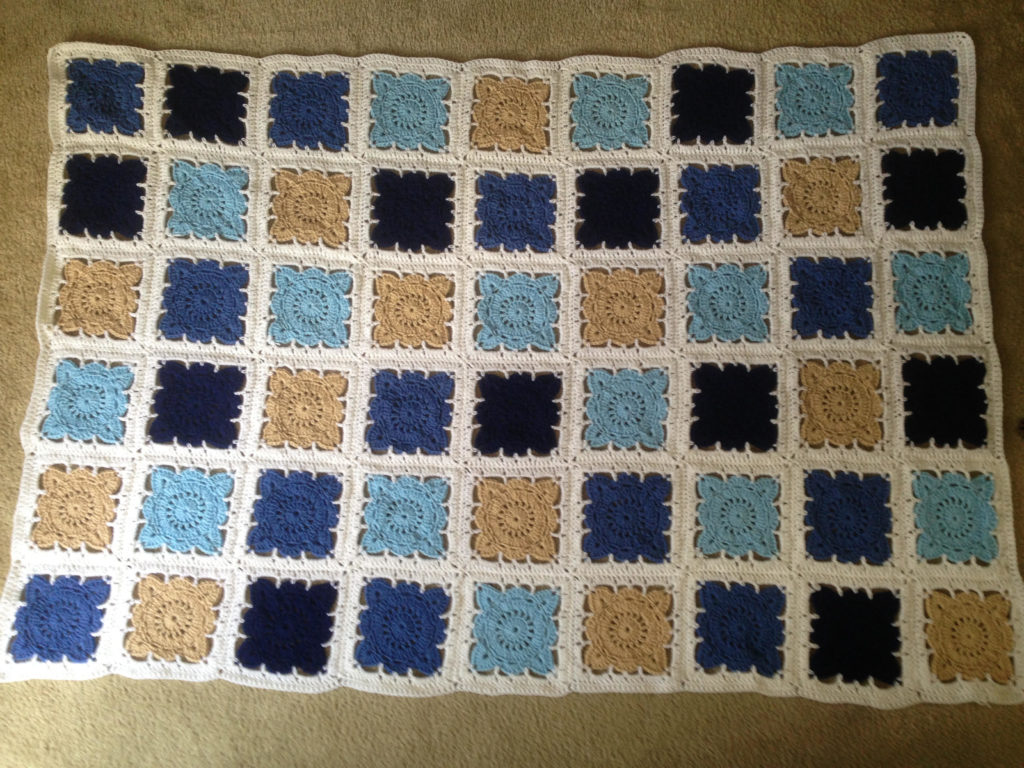 My sister seemed to really like the blanket.  I gave it to her at the rehearsal dinner, so she was still pretty stressed out about upcoming festivities.  She did, however, ask her new mother-in-law to bring it back home on the plane as her carry-on, so nothing would happen to it.  I joked that it kind of felt like giving away a child, because I had worked really hard on this blanket for a couple of months.
Life and money are all about choice.  I could have chosen the "easy way" and just picked a random appliance off of her registry, or written an impersonal check.  Each of those options would have set us back in our efforts to pay off debt.  Instead, she received a personalized gift that truly was made with love.  A win-win for everyone 🙂