It's crazy how much my thoughts about the world around me have changed in just a few years.  Nowadays, I find myself always analyzing expenses and ways to save money.  The recent wedding was no exception – taking note of money-related things here and there.  Full disclosure: my little sister did not have a frugal wedding.  In all honestly, as fun and beautiful as everything was, it pains me to think about the grand total.  I do have to give her credit, however, for finding some new ways to save money on the cost of a wedding.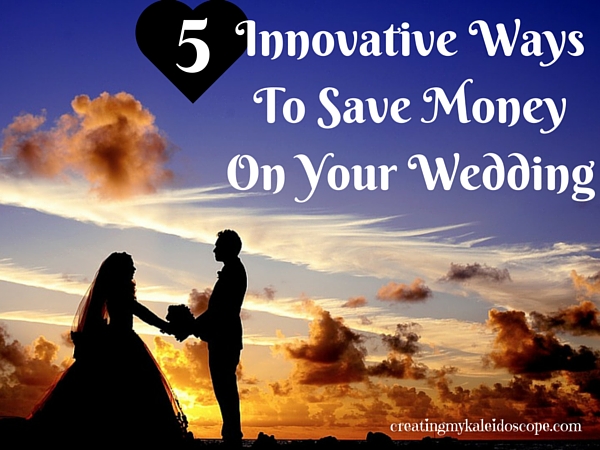 No Invitations
Little sis was kind of obsessed with save-the-date magnets. The thing was that she planned the wedding in about 5 months (a family full of procrastinators), so she didn't really need to send save the dates. Instead, she sent out these cute magnets with a few pictures of her and the fiance (now husband, weird), the date and location of the wedding, and a website address.  All of the information about the wedding was on the website, along with their story, pictures of the bridal party, etc. It also had a form to RSVP for the wedding.  Just think about how much she saved on stamps for traditional RSVP cards.  Do make sure that guests realize not to expect formal invitations.  I guess there were a couple of people who were confused about that.
Dollar-Store Centerpieces
She ended up having fresh hydrangea bouquets for the centerpieces, but the vases were from the dollar store. The innovative part? I didn't know that you could order in bulk from the dollar store. I thought you would have to drive around to multiple stores if you wanted more than what they have on their shelves. Nope.  They have a website where you can order items in bulk – they have everything from flower petals to votive candles.  She called up and ordered a case of these pretty blue vases for the centerpieces. Now, if she had ordered some fake flowers as well she could have really saved money.
No Limo
I was actually really surprised that she didn't end up renting an expensive limousine. Instead, they rented a 14 person (white) van for the whole weekend. It was really useful for the bachelorette party, rehearsal and dinner, getting members of the bridal party to the church and reception, and even driving home a few guests who partied too hard.  The total cost for the van was $290, for three days!   A limo for a few hours would have definitely cost more than three hundred dollars.  And, although we appreciated my step-dad's chauffeur service, there was no need to tip the driver.
Combining Favors And Table Cards
I have to admit that we had a lot of fun in the photo booth.  I'm pretty sure she got a decent deal on it through a package with the DJ.  Her favors were these inexpensive plastic frames with magnets (yep, I think she has a thing for magnets) for holding the printed out pictures from the photo booth.  She got even more bang for her buck by using them for seating too.  The frames were originally arranged with print-outs with names and table numbers.  Multi-purpose items are usually a good way to save money.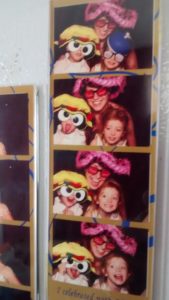 No Videographer
While she did have a photographer (and assistant), my sister told me that she didn't really see the point in hiring an expensive videographer.  She asked, "How often am I going to watch the video?"  Her main concern was getting some video of the big dances: the bride and groom, her and our dad, and the groom with his mom.  My sister asked the DJ to make an announcement asking guests to take a video of these dances with their phones.  She is going to have plenty of options to pick from.
Bonus Ideas
I tried to help her save money as she was planning her celebration.  She did not like all of my ideas, as she is most definitely not a "mustachian" or a "frugal weirdo."  There were many traditional,  or "normal" expenses that she was not interested in questioning.  For the sake of everyone else:
One way couples can save a ton on their wedding is by going with food stations or heavy hor dourves instead of dinner.  This food can be much more substantial than cheese and crackers, but costs a lot less.  And, guests can choose to eat what they like the most, instead of what comes on their plate.  I think it makes sense.  Everyone can snack as they want, while drinking and dancing.
We saved a lot of money at our wedding by finding a venue that allowed us to bring in our own alcohol (it was a fire hall).  We paid for a friend to tend the bar and allowed her to put out a tip jar (I think she did really well that night).
My sister did not have a traditional bridal shower.  There were a lot of travel issues and not much time to plan one out.  Instead, she had a "Jack and Jill" cocktail party.  Friends celebrated with the engaged couple, munching on appetizers and enjoying drinks in a similar fashion to attending happy hour.  They brought gifts for the couple, so they still got some shiny, new appliances from their registry.  And, in skipping the traditional shower, my parents were able to contribute a little bit more towards the wedding expenses
---
I hope these tips help someone out there save money so they can have the wedding of their dreams, without a nightmarish bill.  Now, it's probably time to post about something non-wedding related . . . so tune in on Monday for a mid-year update on our debt payoff – real numbers included!!  I'm a little anxious, but excited to tally everything up.
Have a nice, frugal weekend everyone 🙂