In our quest to pay off debt and achieve semi-retirement by the age of 40, I'm always on the lookout for new ways to save money and to make extra money.  I'm super excited about finding a great tool for buying and selling used books.  I have big plans for using it this summer at garage sales and book sales.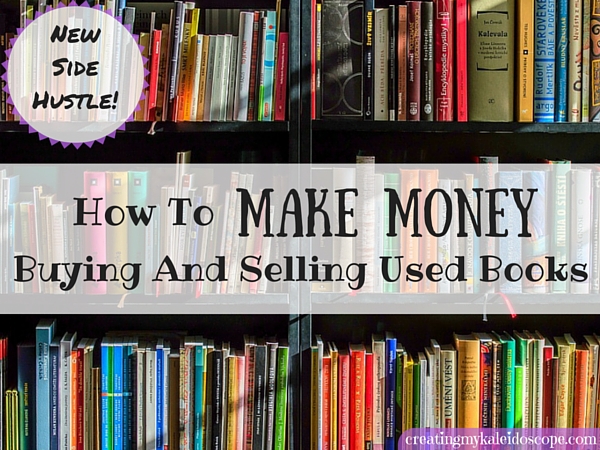 I have a little craft that is made from old, hardcover books.  I sell these crafts for a small amount of money (always hustling).  A recent book sale seemed like the perfect place to stock up on supplies.  The place was packed, with people and books.  However, I couldn't argue with the price.  It was $5.00 for a big bag of books.  They gave you a paper bag inside a plastic shopping bag.  It's impossible to overstuff that thing if you ever hope to get it back to your car.  Of course, I brought a sturdier reusable shopping bag that could handle an overflowing bag of books.  Needless to say, I was content with the exchange.
Once I got home with my kill and stacked up all of the books, something started to nag at me.  Then, I remembered.  My blogging buddy Maggie had recently mentioned something about an app for selling used books.  I looked back at her website (the highly recommended Northern Expenditure) and there it was, something called Bookscouter.
I created a free account, which took about a minute, and went to work on my entering all of the ISBN numbers (from the back cover or on the page with all of the publishing information).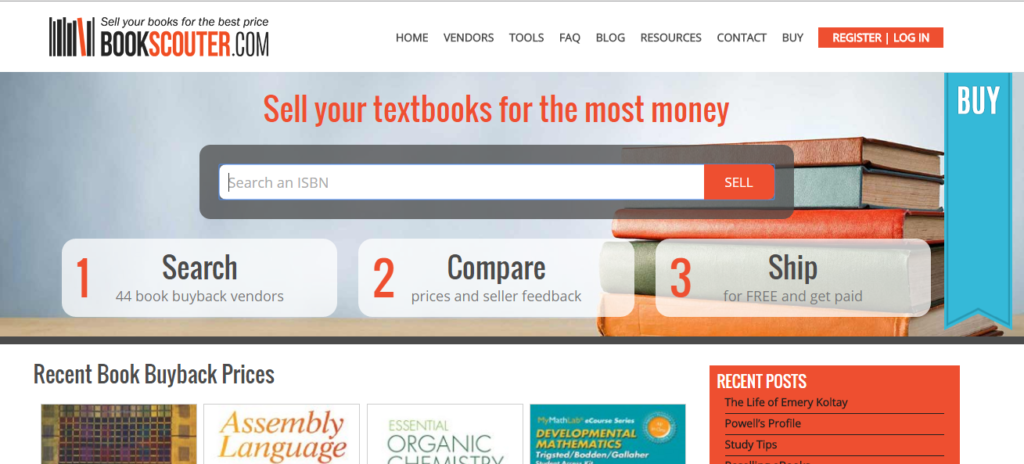 Most of the books showed that various vendors were willing to pay a whopping $0 for each book.  However, one of them was worth $12.00!!!!  The book was "How to Live: Or A Life of Montaigne in One Question and Twenty Attempts at an Answer."  As you can see, now that I've sent it in, the high price is only $4.31 – obviously a supply and demand thing.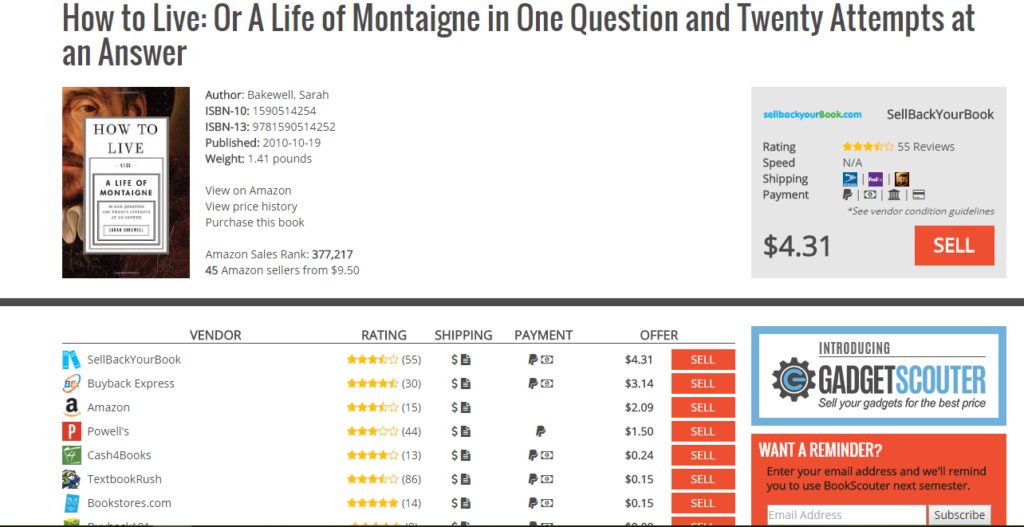 There are a number of different vendors listed on Bookscouter who will buy back the book.  I used SellBackYourBook.  They emailed a packing slip and shipping label.  All I had to do was put the book in a envelope and drop it off at the post office.  The $12.00 was transferred into my PayPal account within about one week.
Originally, I had no intention of reselling any of the books from that book sale . . . at least, as books.  Thanks to Bookscouter, I ended up making $12.00 off one lucky find – a profit of $7.00 and I still have a big stack of books to use for my projects.  With Bookscouter, I can quickly check the value of any books I come across at a yard sale this summer on my phone.  There is also an app that scans barcodes to make the process even quicker.  Thank you Maggie for introducing me to this awesome resource for buying and selling used books!  I recommend that you check it out today and hit up some garage sales this weekend 🙂
Please note that this post contains an affiliate link – no effect on you, just gives me credit for the referral.