Welcome to July!  Summer is in full swing and you're probably busy making plans to enjoy as many fun family activities as possible.  Our family skips out on things like costly vacations, expensive amusement parks, or all-inclusive summer camps, because of our current battle with debt.  However, there are plenty of ways to keep kids entertained for free this summer.  With a little bit of planning you can pack their days full of free things to do, so you'll never hear children complaining about being bored.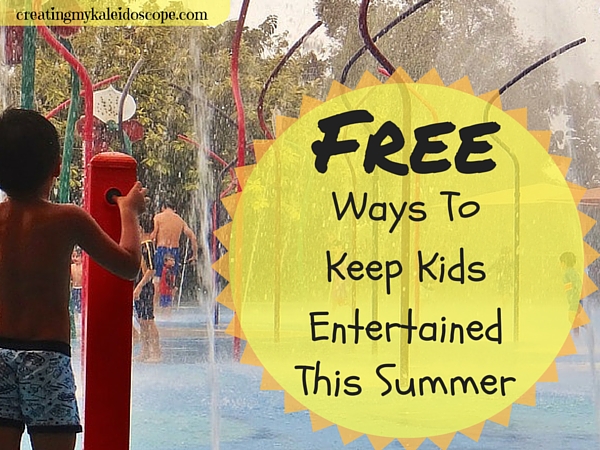 My first suggestions may seem obvious, but are sometimes overlooked.  Your Local Library is an awesome resource for entertaining your kids over the summer.  They can check out books, movies, and games for free.  Most libraries also offer activities like craft time.  Kids can even earn prizes for participating in reading programs.  Playgrounds are another great option.  You probably have a neighborhood playground that you visit frequently, but there is always the option to travel a bit to find a new one.  I would love to find an old wooden style one.  Has anyone seen any wooden ones lately?  You should be able to do a quick internet search for area Splash Pads – those are guaranteed to entertain the kids for hours, for free.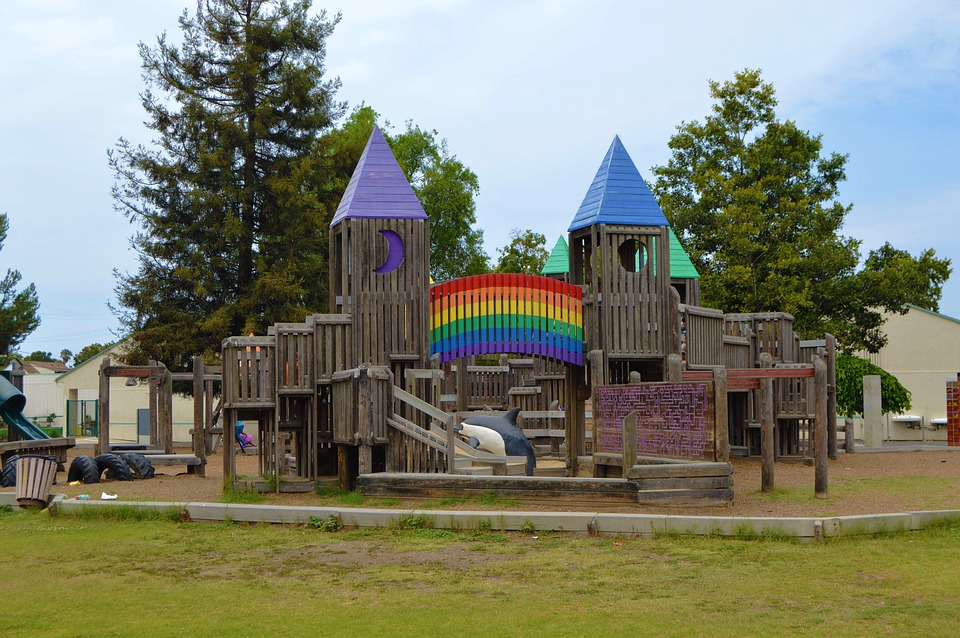 Research Free Events
Go to nearby town and city websites and check their event listings.  I did, and now have plans to take the kids to a movie night, art workshop, sidewalk chalk festival, a free rollerskating party being put on by a church, and a couple of family fun days with free food and games.
Homemade Paints and Fireworks Art Project
After seeing this on Pinterest so many times last summer, we gave it a try ourselves.  It was a perfect, frugal Fourth of July activity.  The final product was pretty impressive considering we made the paint with ingredients from the kitchen and used old toilet paper rolls as our paintbrushes.  Most importantly, it kept my children entertained for quite some time . . . outside, you definitely want to do this outside.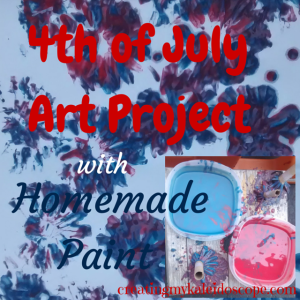 DIY Dinosaur Fossils
The kids had a lot of fun making these dinosaur fossils last year.  You should have all of the ingredients in your cupboard right now.  We buried and excavated them in the sandbox.  One tip: don't leave them in the sandbox, because they will soft again.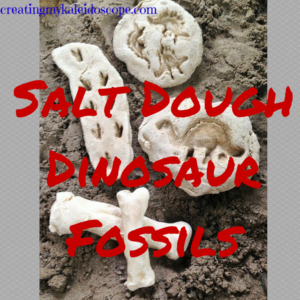 Visit a Pet Store
We have a great pet store near our house.  There are puppies, bunnies, birds, ferrets, tons of fish, snakes, and more.  The kids will stay entertained for at least an hour or so just looking at everything.  Just make sure to explain before you go, that no new friends will be coming home that day.
Frozen-In-Ice Game
This game is usually reserved for Goofball and Tornado's combined birthday party, but would be fun for any hot day.  You don't need new toys either.  How about taking some of their toys hostage and telling the kids to go on a rescue mission?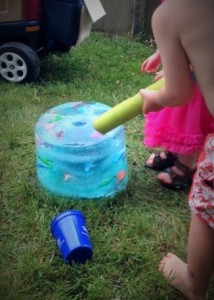 Geocaching
This activity will be a new one for us this summer, but we're excited to give it a try.  Basically, you use GPS to go on a treasure hunt.  The goal is to find the a little, hidden cache box.  You add your name to a list inside and some boxes have cheap prizes inside that you're supposed to swap out with something of your own.
Going Camping
Campgrounds can be relatively inexpensive, but you can use a friend or family member's house for free.  Get a whole group together for the outing so the kids can stay up late together, roasting marshmallows and telling ghost stories.  I mean, isn't that what summer is all about?
Volunteer
If your kids are complaining about being bored, why not put their energy to use helping out in the community.  Volunteermatch.org is an easy way to search for organizations in your area that need some help.  Kids will enjoy meeting new people and learn good values in the process.
Squirt Gun Races
This looks like a fun game for a hot day.  Check out how this blogger set up a couple stages for the race.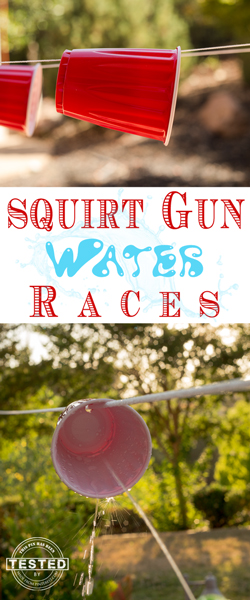 Free Bowling
Summer isn't always mildly warm, sunny days.  Bowling is a good option for rainy days or when it gets too hot to play outside for very long.  Check out this nationwide program offering two free games of bowling, every day this summer, for kids under 15 years old.  It looks like some of the bowling alleys offer free shoe rentals too.
Sidewalk Chalk
Kids like to draw with sidewalk chalk, but this activity becomes less exciting as summer goes on.  I found these ideas to use chalk, but change things up a bit.  You can make a hopscotch-type game with different actions or you can use chalk to make constellations.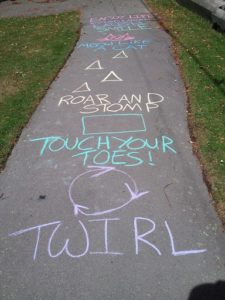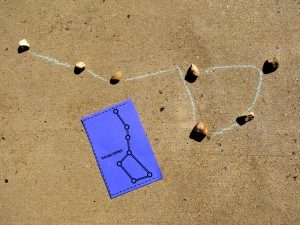 Ice Cream In A Bag
You need a few ingredients for this one, but I love how you can make it into an actual game.  We will definitely be trying it this summer . . . I may even let the kids eat some of it 😉
Tapestry Table
I just found this while looking for more ideas to do this summer.  As a pretty crafty person, it seems really neat.  I could even see displaying this handmade artwork in some fashion after it's completed.  See an example here.
Look Through Old Photo Albums 
My kids love to look at pictures.  If I'm scrolling through Facebook and there is an ad with a baby, they will start asking me all sorts of questions about this random child.  They will ask to look at pictures of Mr. Smith and I, or even old pictures of themselves.  This is an easy, free way to bond with the kids and pass some time this summer.
Home Depot or Lowe's Workshops
Goofball started attending Home Depot workshops with dad a couple of months ago.  He had to miss one because he was sick, so Tornado filled it (although you're supposed to be at least five years old, no one gave her any trouble at almost four).  I'm still pretty impressed that they give you all of the materials for free and provide all the tools and safety equipment that the kids need to complete their projects.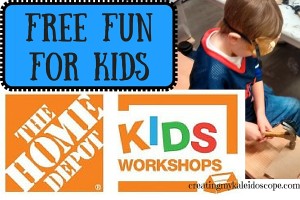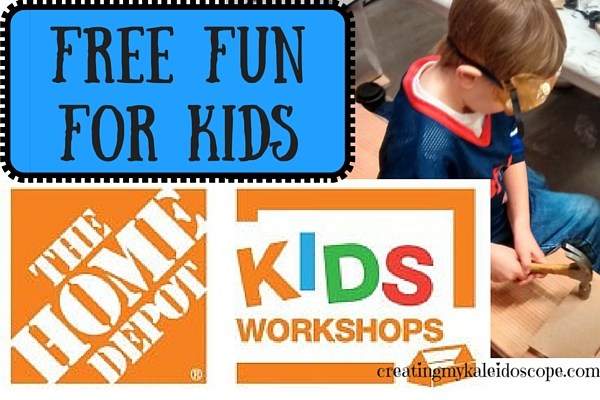 DIY Kites
We have plans to try this one over the weekend.  You can make kites with all sorts of materials you can find in your home.  I will update you after we give it a try.
Mission Impossible Yarn Game 
I like this one because we have a lot of yarn.  It wouldn't take that long to set up and would be really good for a rainy day.  I might even try to crawl through it.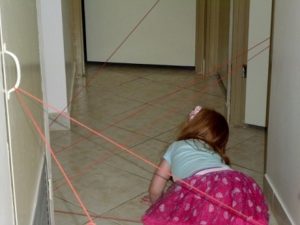 Scavenger Hunt
We actually did a simple one last weekend.  I just made them a list of things to collect (pictures for the almost-four year old and words for the six year old).  It kept them busy for a while.  I told them it had to be completed before any television time.  But after it was completed, instead of being ready for television, they asked for another list of things to collect.  Super easy, fun, and free.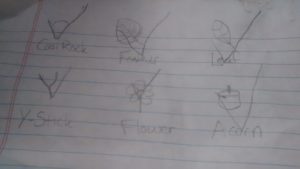 Also, here is a fun guide and free printable for a photo scavenger hunt.  You could give the kids an old phone to use if you don't trust them with an actual camera.
---
I always equated summertime with freedom to explore, learn, and have fun.  Those types of activities don't have to cost money, but are still very enriching for children.  My kids are often content just playing with the hose and a couple of buckets.  Don't let advertising convince you that they need expensive toys.  A little resourcefulness is the key and you'll be pleasantly surprised at how easy it can be to keep kids entertained for free this summer.
What was your favorite thing to do during the summer when you were a kid?