Why is it that we work multiple jobs as teenagers, but readily accept the idea that as adults we should focus on only one career?  A significant portion of our family's success in paying off debt is thanks to pursuing a multitude of different side hustles.  The extra income, even some pretty small amounts, have helped us finally start to gain some momentum in paying off our debt and fixing our finances.  However, there is an added, unexpected benefit that came with our side-hustling ventures.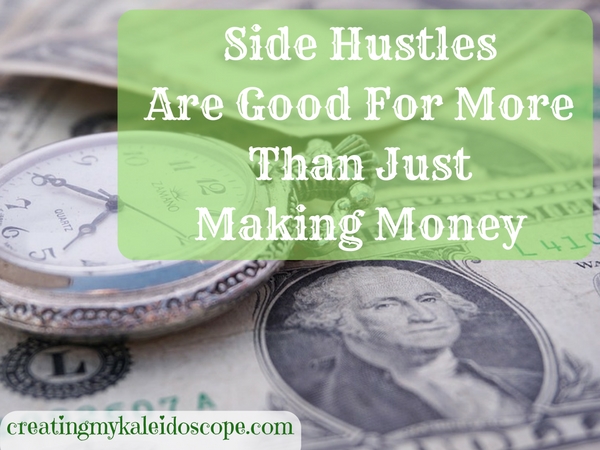 A while back I read a really great post over at Pretend To Be Poor.  It was a Laura Ingalls Wilder story about teaching the value of money to a little farmer boy.  The boy earned half a dollar from growing potatoes.  His father helps him understand the repercussions of choosing to spend that money on a pitcher of lemonade or a pig.  It made me think about how easily these important lessons fade over time.  We like to believe we understand the value of a dollar, but do we really just take our hard work for granted?
I think salaries are part of the problem.  Employees receive the same paycheck every other week, regardless of the amount of work we do. Granted, there may be raises at some point in the year, but our pay remains pretty constant.  There is a disconnect between our efforts and the money.  Think about it: a regular bi-monthly direct deposit from which to pay our bills.  Work is an obligatory part of our routine, but we lose the sense of being reimbursed for our efforts.
Side hustling has given me a better appreciation of the value of money.  I have a professional career with a pretty good hourly rate of pay.  However, I've also traded a couple hours of my "free time" to do some freelance writing and only received $40.  I became a guinea pig for experiments for a couple hundred dollars.  I've spent time clicking on links for pennies with Swagbucks and InstaGC.  The past few years have been busy ones, during which I've been constantly trying to figure out whether there is something more productive to do with my time (ie. make money).  Every little bit helps, but it all comes with a price.
Blogging is probably one of the best examples.  I have yet to make much money from this endeavor, but do consider it one of my side hustles.  This site serves many purposes, including documentation of our journey out of debt.  But it takes a lot of my time.  I'm probably earning less than a dollar an hour for my efforts.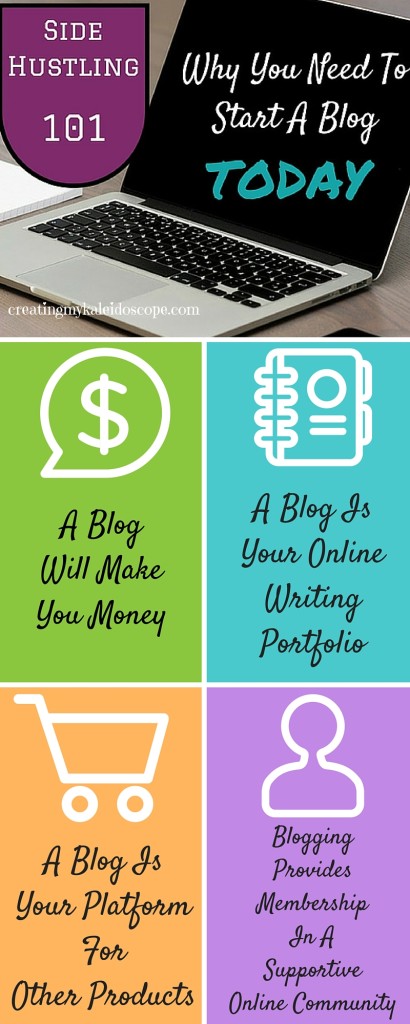 What have I gained from trading my time for pennies and dollars here and there, besides paying off some of our debt?  In relearning the value of money, it's become easier for me to save money.  Side hustles have allowed me to regain an understanding of the connection between effort and pay.  Formerly-difficult spending decisions are no longer an issue.  I may see something that looks enticing, but then consider how much time and effort would be necessary to earn the amount of money necessary to make that purchase.
I used to understand the monetary value of hard work, but forgot this lesson somewhere along the way.  In drafting this post, a particularly poignant example resurfaced in my memory.  I must have been in my early teens, spending the summer at our family cabin in Maine.  I can't remember what the money was for, but I'll never forget the day I spent as a blueberry picker.  It was extremely hot, in direct sun in the middle of a field.  They give you a short-handled rake/scoop and some buckets.  You have to go along the rows, on your hands and knees, scooping blueberries from the bushes into the buckets.  The pay was a few dollars for every filled bucket.  I know with the utmost certainty that this money was not spent on frivolities.
We've come a long ways in adjusting our attitudes about money, spending, and the things that we can "afford."  Setting goals that are tied to improving our finances has been a big help.  However, the side hustle refresher course in working hard to earn money has been a game changer as well.  It all comes down to taking your life off of autopilot and being conscious of the seemingly-mundane decisions.  How are you spending your time?  What greater purpose is being served by your efforts?  What is the true cost of the things that you purchase?