We just returned from our first family vacation in two years, a wonderful trip to Maine.  It's funny how vacations seem like impossibly-expensive luxuries.  Yet, simple escapes can grant you immense perspective and seriously recharge your soul.  Our debt is still there, but we now have new memories to motivate us and energize us as we continue on with our journey.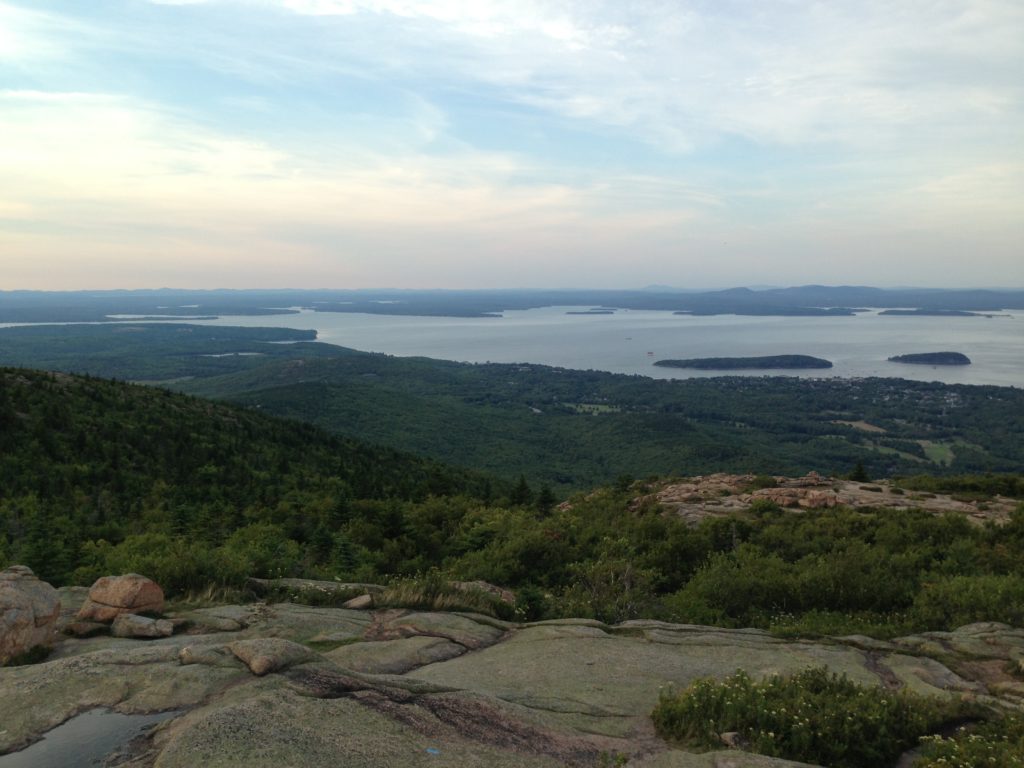 We're working hard to escape from our debt and achieve financial freedom.  Our extreme goals are dependent on living a frugal lifestyle AND working side hustles to make extra income.  Time is money, and we're using our hours and days to fix our finances as quickly as possible.  However, we can't put living life entirely on hold for the next five or so years.  It is possible to have fun and enjoy small indulgences without negating all of your financial progress.  That's why we decided it was time to go on vacation.  It was the right decision and we didn't even end up spending that much money.
Lodging
One of the reasons we were able to take a really frugal vacation is having access to a family cabin up in Maine.  We didn't have to pay a penny towards lodging.  I know we are very lucky and appreciate that many people don't have anything close to this option.  If you are trying to plan a frugal vacation, I would definitely recommend checking out properties on Airbnb and maybe even try to split the cost with another family.
Maine was always a very special place for my father.  He had many relatives in the Bar Harbor area and used to spend entire summers up there when he was a young boy.  My dad built a log cabin in the woods when I was about 12 years old.  It's pretty basic, with running water from a well and electricity.  You won't find an oven, but there is a fridge, hot plate, and a toaster oven.  He never completely finished the internal walls/rooms, so it's a pretty open building.  We only use it in the summer as there is no heat other than the wood-burning stove.  It's no luxury resort, but having this cabin at our disposal is definitely an awesome perk.
Travel Expenses
Our trip to Maine ended up costing less than $1,000.  The biggest expenses had to do with travel.  We rented a van* to transport our family of five.  I hunted around for the best prices and we found one for $520 for eight days. Gas for the van ended up costing $201.  Then, you have to add in about $40 in tolls.
*We debated on just biting the bullet and purchasing a new (to us) vehicle, but decided to wait.  Both my SUV and Mr. Smith's pickup truck are paid off right now.  The problem is that neither vehicle fits the whole family.  It's usually not much of an issue with one kid hopping on the school bus and the two others going to daycare.  In the rare instances when we do all go somewhere together, we just borrow my father-in-law's car from three houses down the street.  The round-trip highway miles and long dirt road to the cabin are pretty rough on vehicles.  We decided to beat up on a rental instead of purchasing anything right now.  
Food
We brought most of our own food to the cabin, spending about $100 on a shopping trip before we left (we did also bring some things we had in the cupboard/freezer).  Food is more expensive in Maine, especially meat and milk.  The kids were treated to some hamburgers one night ($10) and the traditional ice cream cones near the water in Bar Harbor ($7).  I indulged in a lobster roll ($15).  We had baked a couple loaves of bread to make sandwiches through the week, but one of them started to grow mold before we got to eating it.  A special trip to the grocery store was necessary for some more bread.
What did we eat?  We always bring along the crock pot for easy meals with minimal cleanup.  Crock pot cheesy chicken and broccoli served as one dinner, with leftovers to be easily heated up for lunch the next day.  We brought hot dogs to grill with corn on the cob.  One dinner was barbecue ribs that we cooked in the crock pot.  We had quite a few picnics with cold cut sandwiches, peanut butter and jelly, or tuna sandwiches.  These lunches also included carrots, cheese sticks, granola bars, pretzels, and a variety of fruit.  The kids didn't seem to mind, instead they thought it was a super fun treat, as long as it was called a picnic.  The only issues we had were the moldy bread and one ant attack.  Still, it beats all of those families in the restaurants, just responding to hunger by spending money, instead of planning ahead.
Entertainment
Our only other expense was a one-week pass for Acadia National Park ($25**).  Maine is such a beautiful place, you don't really need anything else to have a good time.  We hiked trails, climbed mountains, explored the woods, played on beaches, and discovered sea creatures in tide pools.  I have an entire post coming up about all of the free things you can do with kids in Acadia and Bar Harbor, Maine.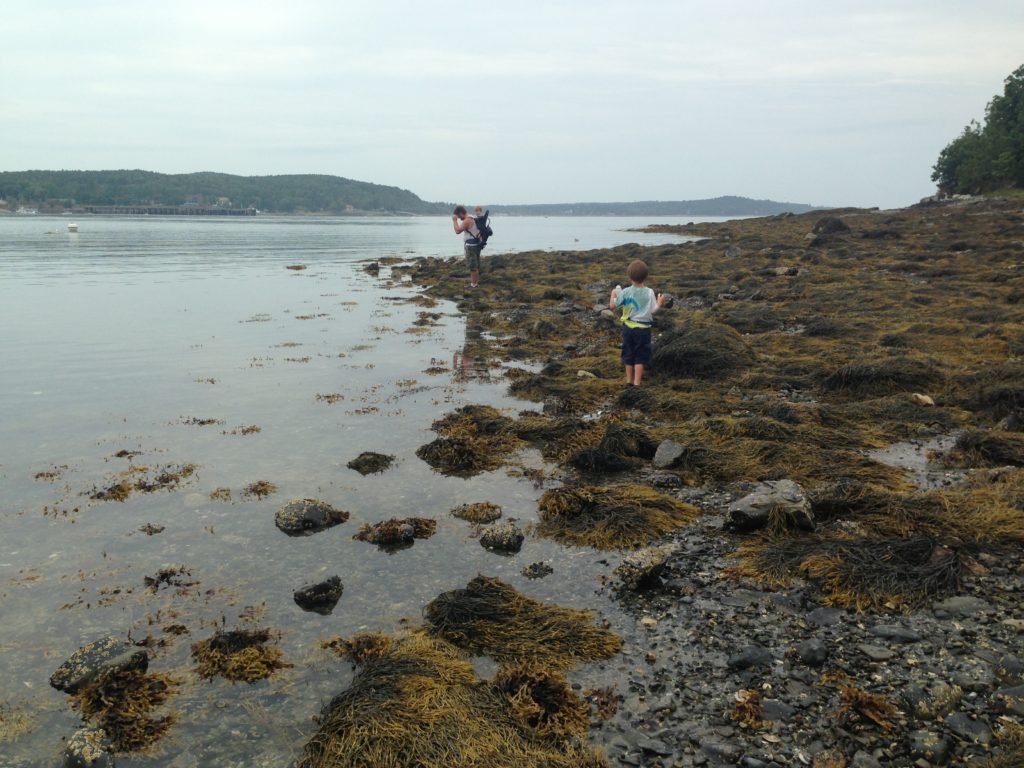 We did make a stop at the library before setting out on this trip, so the kids had a big stack of books to read while riding in the van.
**This expense is even more negligible if you purchase a yearly pass for $80.  It grants you admission to 2,000 "recreation areas," including the national parks.  The pass is good for two "owners" and children under 16 are free.  It may also cover additional adults who are riding in your vehicle or travelling with you on bicycle.  We will definitely be purchasing one of these passes when we go on our road trip.    
The Return On Our Vacation Investment
Vacations with small children are not really that relaxing.  However, I did find some moments of peace, like watching sunrise on the lake one morning and admiring seemingly infinitesimal landscapes from several mountain peaks.  Our vacation definitely reaffirmed my desire to experience life as an adventure.  It was exciting to explore and enjoy new experiences with my family, and I want more.
I'm thankful for the bad cell service up in the woods and deciding not to stop somewhere with WiFi to use the laptop.  The children appeared to flourish and grow up right before my eyes with all of the extra parental attention and engagement.  It felt like I was really seeing them for the first time in a while, noticing little things like the freckles that are coming out on the bridge of Tornado's nose.  I watched little Trey become more confident in walking and deciphered several words from his baby babble.  Goofball and I had fun conversations about everything from dinosaurs to my childhood.  I love my children, but they can blend in to the busyness of schedules and daily to-do lists.  Vacations force you to pay attention to the really important things in life.