We had a great time on our recent family vacation to Bar Harbor, Maine.  One of the best parts about this destination is that you really don't need to spend money on entertaining your kids.  The main expenses for our trip were renting a van, gas, and food.  We didn't really spend anything on fun, but still had an awesome time.  There are just so many free things to do with kids in Bar Harbor.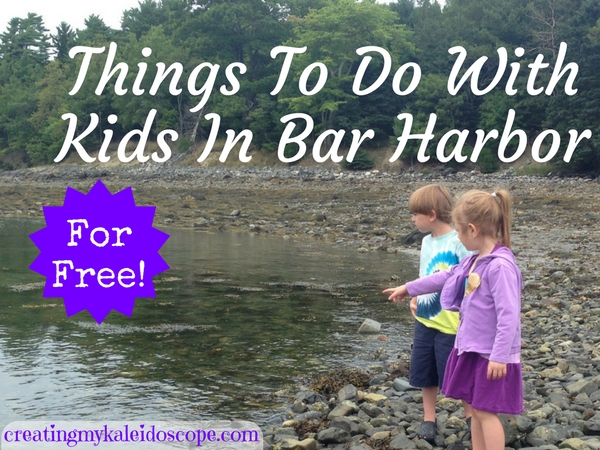 Acadia National Park
Passes to the park cost only $25 for one week, for a whole vehicle full of people.  Take that Disney!  The park is huge and beautiful.  We discover new adventures every time we visit.  These are the things we did with our kids on our most recent trip to Acadia.
Junior Ranger Program:  All of the National Parks allow kids to become Junior Rangers.  We picked up an activity booklet and attended an activity with the rangers.  Then, the kids went back to the visitor center to be sworn in and receive their official badges, certificate, and stickers.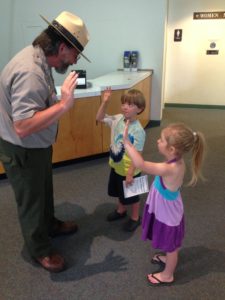 Sand Beach:  We spent the better part of a day at this very unique beach.  There is soft sand on the ocean, bordered by cliffs and forests.  Sand Beach has lifeguards, bathrooms, and changing rooms.  Do be warned that you have to go down a big flight of stairs to access the beach – it's doable with a stroller, but I wouldn't try to bring too much with you.  The kids had a ton of fun playing in the sand and Goofball even ventured into the ocean for a short swim (it's fairly cold).  We've heard some nice things about Echo Lake Beach.  It too has a lifeguard and bathrooms, but with warmer temperatures because it's a lake instead of the ocean.  The pictures show coarser sand, or small rocks, on the actual beach.  We might try out the hiking path that leads to Echo Lake Beach on our next visit.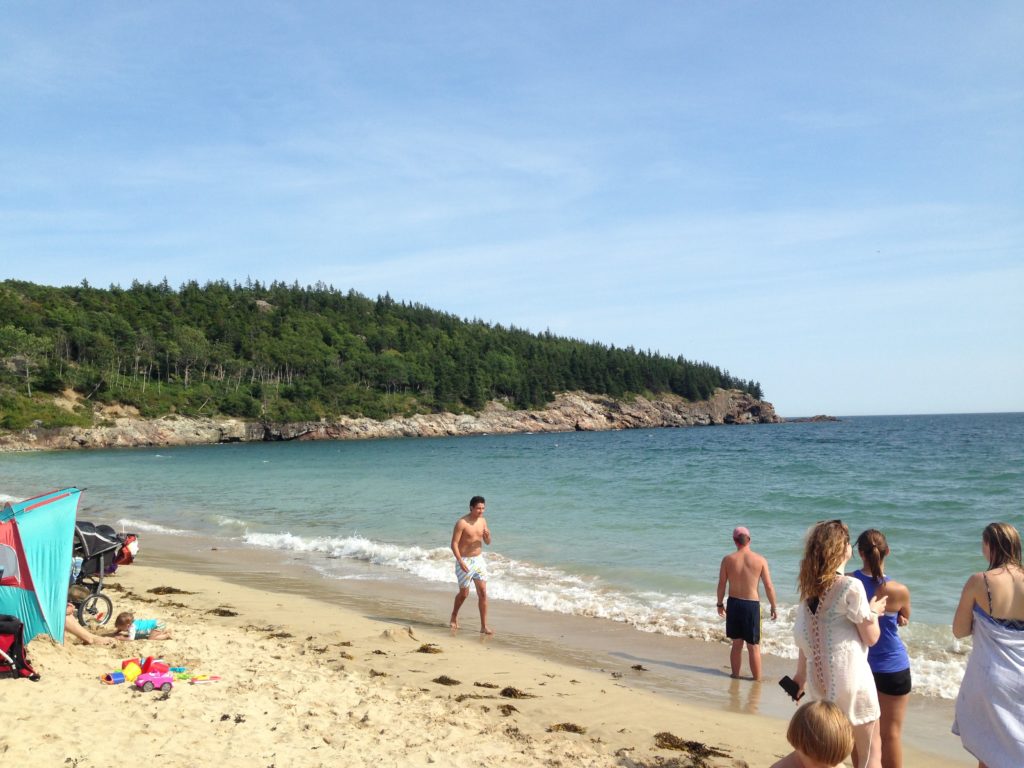 Hiking:  We've visited Acadia on several occasions before, but this trip marks the first time that we ventured onto some of the hiking trails.  Little Trey had the best seat, a backpack carrier recently picked up from a garage sale for $5.  We started with Jesup Path, and loved it!  This is a super easy trail through a marshy area on a raised wooden platform.  It starts near the Sieur de Monts Nature Center and could definitely be done with a stroller.  Warning: there are no railings.  Tornado actually walked off of it at one point and fell a foot or so into a puddle.  She was fine, probably more upset about getting her sneaker wet than anything.  After this easy start, we hiked down to The Bowl, a lake between the mountains.  It was fairly easy.  Then, we hiked to the top of South Bubble and North Bubble.  Those trails are much harder, requiring you to climb up boulders and through lots of forest.  I was so proud of the kids, they are great little mountain climbers.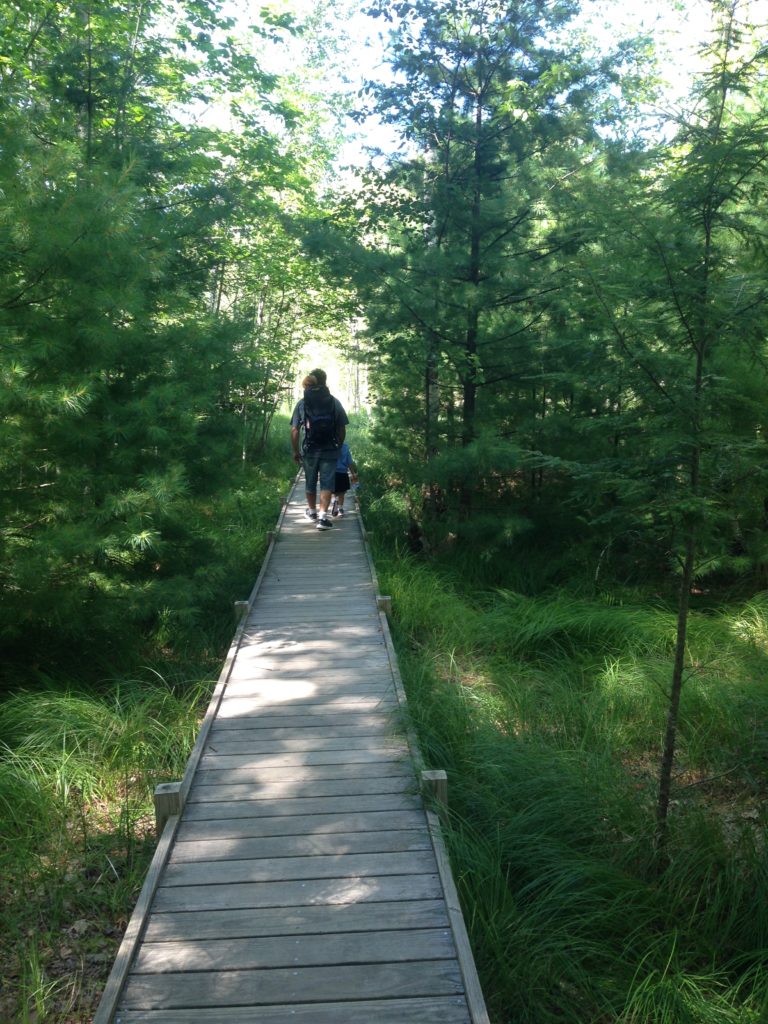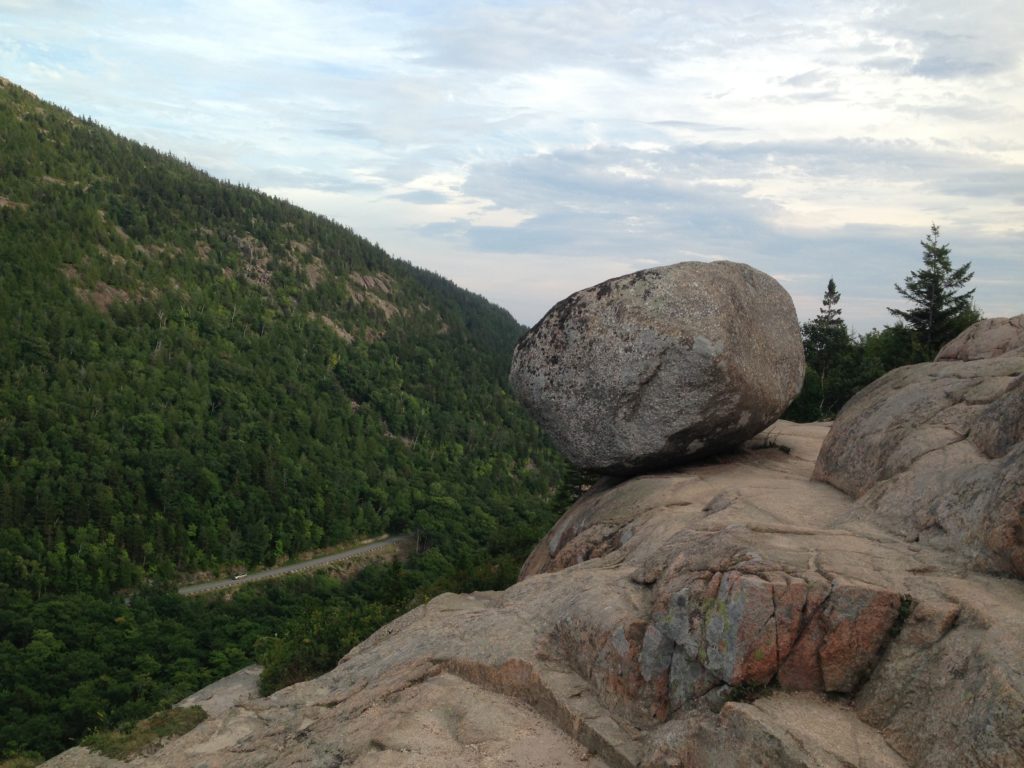 Thunder Hole:  This particular attraction won't take up too much of your day.  There is a special rock formation on the coast which produces a "thunder" sound at high tide.  You should note that the sound will probably be disappointing unless conditions are perfect (stormy).  However, it is a very picturesque stop on your drive through Acadia.
Cadillac Mountain: The peak of Cadillac Mountain is the highest point in Acadia National Park.  There are hiking paths, but we chose to use the road which winds around and around to the viewing area on top.  As per our normal, frugal routine, we brought a picnic with us to enjoy at the top of the mountain.
George B. Dorr Museum of Natural History
Entrance fees for this small museum are voluntary donations.  The Dorr Museum is at the College of the Atlantic and is open from 10:00 a.m. to 5:00 p.m. on Tuesday through Saturday.  The museum mostly consists of stuffed wildlife exhibits, including pelts that you can touch.  The really cool feature is their aquatic touch tank, regularly manned by an Acadia Park Ranger.  The kids did this activity in order to fulfill their Junior Ranger requirements.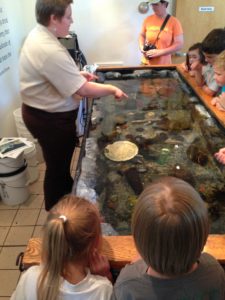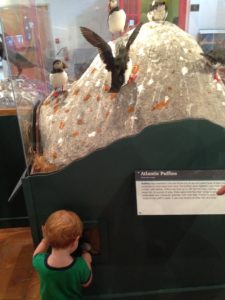 Bar Harbor Land Bridge
Our kids love this activity, but it requires a little bit of planning.  You need to check out the tide schedule to figure out the time for low tide.  Then, head down to Bridge Street in Bar Harbor.  At low tide there is a path that appears to a nearby island.  The path is bordered by ocean and tide pools on either side.  We bring a lunch with us to enjoy on the island.  The really fun part is discovering all of the sea creatures revealed by the low ocean levels.  The kids found snails, crabs, shells, tons of seaweed, and even starfish!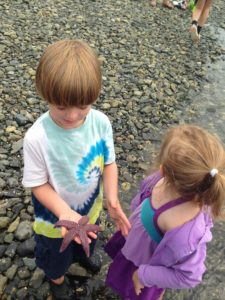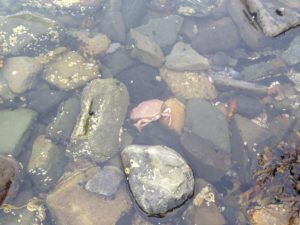 Two tips:  First, visit the museum's touch tank before you go to the land bridge.  Then, the kids will be able to identify the creatures they find in the tide pools.  Second, come back to the land bridge a few hours later, at high tide.  They were confused at first about where the path went, but you could see them really trying to process this strange occurrence.  It was really amazing to see the little minds finally understand how tides work.
Pet A Lobster
There are oceanariums and special boat tours that will pull up lobster traps, but those attractions come with fees.  If you're planning on enjoying a fresh lobster dinner, one of the cheapest options is visiting a "lobster pound" a few miles outside the main strip of Bar Harbor.  In my experience, the staff are really nice.  If you ask, they will most likely let the kids pet dinner before he's cooked up.
Shopping
I know, I know . . . this post was about to explain how to save money in Bar Harbor.  Here's the thing: it's fun just perusing the shops that line Main Street.  You don't have to buy anything.  There is a really cute toy store with display items for playing with, kitschy stores like Cool As A Moose, stores for dogs, shops with wood items and a huge wooden rocking horse to ride, and everything in between.  We usually do grab an ice cream cone once we reach the water and enjoy it while watching the boats.  There is a grassy hill which is perfect for relaxing together and taking in the scenery.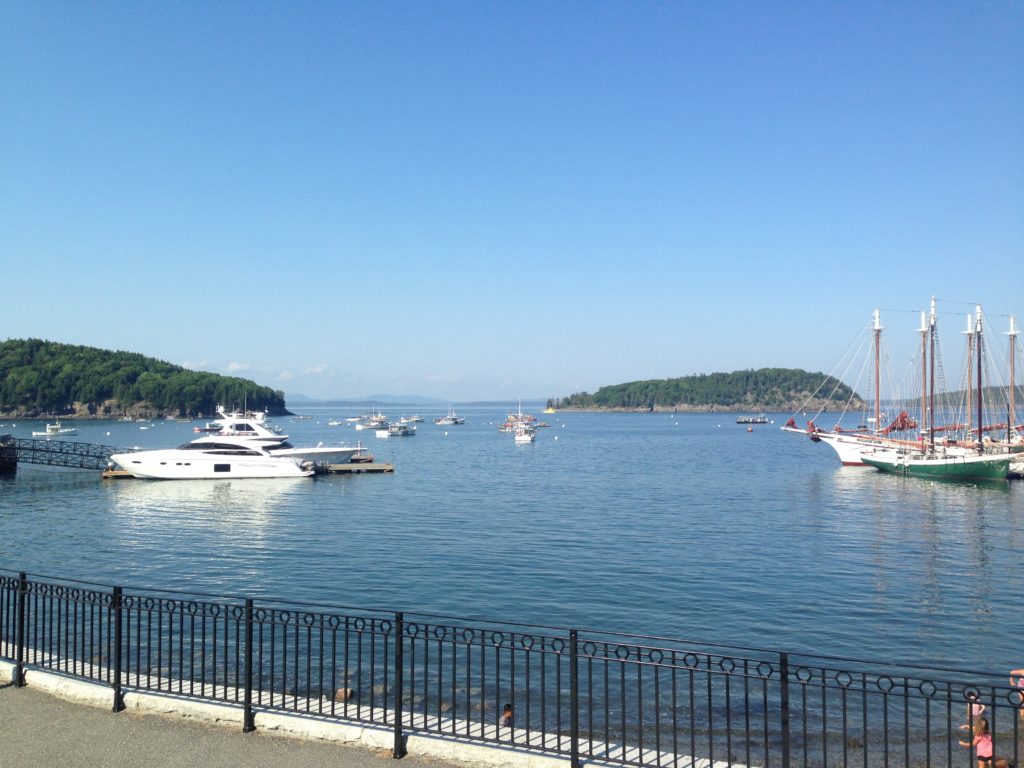 ---
I have been going to Maine during the summer for as long as I can remember.  Bar Harbor is a wonderful place.  There is so much diversity and beauty to enjoy.  The people are really friendly and laid back.  And, you don't have to spend a ton of money in order to have a memorable family vacation.
You should really do yourself a favor and head up to Maine.  If you do have any questions about my favorite vacation spot, please don't hesitate to ask.