I posted a few days ago about feeling a bit overwhelmed with work.  It really is my own fault, trying to be a full-time working mom, while side hustling to pay off debt.  However, life will not be like this forever.  We are setting ourselves up for success, so that our investments will require less effort but produce more income over time.  I have a lot of great ideas.  Lately, it's just been a matter of prioritizing, and certain fires have demanded most of my attention.  I have considered what we would do if any of the side-hustles become really successful.  Where would we go for help?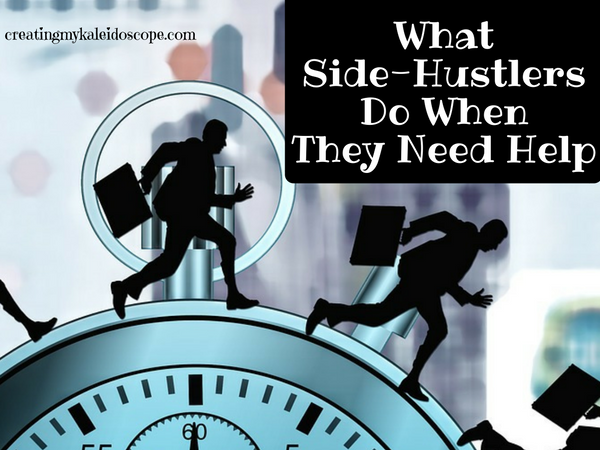 Tim Ferriss's popular book about the four-hour workweek is largely built on the concepts of automation and delegation.  If your side-hustle endeavors continue to grow over time, you may need to consider bringing in outside help to keep up with all of your obligations.  The decision about whether to expand your side hustle beyond yourself can be very exciting.  It means that you've built something of significance.  Finding new people to join you opens up whole new opportunities for expansion and growth. It could allow you to give up the day job and/or take on a new and daring projects.
Cover Yourself & Your Business
Bringing in people to help with your hustles can come with new challenges.  In comparison to having others do something like simple guest posts, these people are going to want to get paid.  The thing that seems really daunting is figuring out all of the responsibilities that come with being an "employer."
The internet has opened up a literal world of prospective employees.  However, employing somebody isn't as simple as giving them a job role and then setting them to work. There are many regulations and responsibilities.  You have to measuring the risks that your employees represent to your hustle.  For instance, if you have a full-time employee who gets sick, you have to give them some paid time off.  Did you know that in the UK employers face statutory sick pay requirements in cases of long-term illness?  If you're curious, just check out this employer's SSP guide.  I'm not really sure what your requirements would be to someone living in another country, but it's something to think about.
A smart move to make with a growing business is to take out insurance.  While there are different policies that you can buy for every possible issue, you most likely will have a few, specific areas of your business that should be covered, just to be safe.  You certainly don't want to go through a financial nightmare just because of a small mistake you made.
Think About Finding The Right Skill Sets
Side hustles or startups aren't like regular businesses.  Each person on the team has to have special skills and be capable of working on their own and usually remotely.  You would definitely need to think about the exact role that needed to be filled by outside help.  I guess a couple of good questions to ask are: (1) where am I spending the majority of my time; and (2) what is the best use of my time? You should probably look for outside help if you're spending hours each day just responding to emails or doing administrative tasks. Thus, a good place to start might be somebody who can perform these types of mundane tasks. You might want to take someone on with significant social media experience to do more outreach online if that is one of your weaknesses. Or, you might need an expert in SEO to drive more traffic to your site.
Go Back To The Basics
There are many things on my to-do list, including research on incorporation, copyright, and other legal issues related to this blog.  If you've reached the point where your side hustle is taking on more characteristics of a business and you're thinking about hiring outside help, it's probably about time to go over everything and make sure that all of the T's are crossed and I's are dotted.
What About Freelancers?
Upwork has been a great tool for me in getting work.  If a time comes in the future when I decide to look for outside help in any of my side hustles, I will probably look into hiring someone through there.  It's nice because you can read resumes and reviews and hire individuals for one discrete task at a time.  There is a pretty significant fee involved, so you would probably end up paying a bit more than if you happened to know of someone who was looking for work.  However, if you strike up a good relationship with a freelancer, you could probably set up some sort of long-term arrangement outside of Upwork.
This is a very hypothetical post for the time being.  I definitely can't afford to bring on any outside help, but it's nice to think about the possibilities for this blog and many other endeavors that are floating around in my head.  I was watching Pioneer Woman on the television at the dentist's office on Tuesday (cable!).  I knew she was a blogger, but decided to look up a little more information on her afterwards.  Ree Drummond started a simple blog in 2006 and now has a huge following, a television show, and her own line of dishes at Wal-Mart.  I'm not expecting anything of that magnitude from this site, but I tend to be a bit of a dreamer and optimist.  My writing will serve a purpose and this blog will be my medium for connecting with people.  If it ever does become insanely popular, I only hope that it is because readers are being inspired to change their life for the better.