The details of the phone call seemed a bit strange, but we were enticed by the promise of a gift card for the grocery store.  It didn't take long to realize that we had been duped into subjecting ourselves to a sales presentation.  The "snake oil" was a water softening and purifying system, for which we were offered a "great deal" on a ten-year lease.  We've been purposely avoiding sales pitches for the past few years due to our mission to fix our finances, so  this experience was actually somewhat, um, interesting.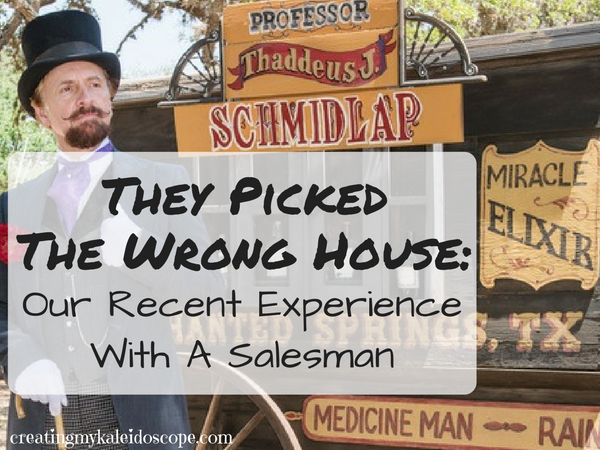 This whole thing started with a phone call to Mr. Smith one afternoon.  The pleasant female said that she was calling on behalf of our town and asked whether we would be willing to let them do a test of our water.  It was only supposed to take one half hour and in exchange, we would receive a gift card for the grocery store.  And, she explicitly promised that they were not selling anything.  It seemed like a fair trade and an opportunity to score some free groceries, so Mr. Smith agreed (after checking with me) and set up a time for later that day.  Of course, we should have remembered that old adage about things that seem too good to be true.
The deception became clear fairly soon after the young, nervous man arrived at our house.  He had a briefcase full of strange things and kept checking his "script" (seriously, I snuck a peek at it and one section was titled "Act Four").  The performance was awkward and included high points like forcing Mr. Smith to drink tea (even though he said he doesn't like tea) and to shake hands (to agree that he's a "man of his words").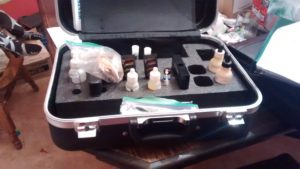 Once he had finished convincing us that our water was utter crap and there was no way we could continue living without leasing this water system, we started to hear about the packages for sale.  This part of the pitch was really painful and lasted far too long.  However, I did somewhat enjoy his reaction to our monthly expenses.  He asked about how much we spent on things like bottled water ($0), lotions, water filters, dish soap, razors, and laundry detergent.  Then, he calculated 10% of that total and informed us that this water system would save us that much money per month, and extrapolated over the next ten years.  He was obviously a little frustrated by our low monthly expenses, because they didn't quite give him the typical amounts used for these calculations.  But he was still able to point out that – WOW – this water system was going to save us hundreds of dollars over the next decade of our lives!!!
Why was the 10 year time frame important?  Well, because the packages were for a 10 year lease of this life-changing water system.  The inevitable lease contract (surely containing cancellation fees) wasn't mentioned.  I had trouble not laughing when he would call his supervisor to get the numbers for our "unique situation."  The second time he called, after we told him no thanks, he's saying, "wow, really, that's great!"  He then told us, "I've never seen prices this low before."  Um, you also told us you just started with this company two weeks ago.  Anyways, the total of the system for ten years was only $6,999.99.  They were going to give us an installment plan of $142 per month.  After the second phone call with his boss, the price went down to $72 per month.  These costs did not include the filters and salt that were necessary for maintenance of the system (approximately $150 per year).  I felt like laughing as we turned down this amazing deal.
We were definitely not happy about being subjected to this sales pitch. First and foremost, because they outright lied to Mr. Smith on the phone. Second, the presentation took a couple of hours instead of thirty minutes. The salesman made a little bit of a mess with dirtying dishes (we have enough of those already). Finally, we didn't even get a gift card, but have to mail in a certificate for coupons. We'll see just how valuable those end up being to a family who hardly ever buys brand names.
Now, we could have yelled and screamed at the salesman, theatrically kicking him out of our house as soon as it became apparent that we had been duped.  However, he was just doing his job.  It was clear that he was still learning, so we suffered through it and Mr. Smith even pointed out some weaknesses in his spiel as constructive criticism.  Hey, we know what it's like – Mr. Smith did a short stint selling vacuums and I sold high-end knives many years ago.
It definitely makes me wonder though, about how many people get hooked by these types of sales pitches. There must be buyers, right?
I came away from this interesting experience not with anger, but with gratitude for how far we've come.  We now know the right questions to ask and to make considerations beyond the figures being touted as a "great deal."  I'm now able to identify those irrational impulses to spend.  I sense their presence, but can easily dismiss the need to take advantage of what someone else is trying to sell.
Has anyone else had any similar experiences with being tricked into sitting through a sales pitch?  Or, are you willing to admit to purchasing anything?  I will confess that we still have an expensive juicer that was purchased one late night while watching infomercials on T.V.