We started off January with a lot of big goals for this year, then multiple illnesses slowed us down.  We've finally been healthy for a few weeks, increasing our productivity, and even finding time and energy for some side hustling and family fun.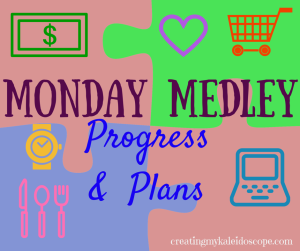 Pregnancy & Prepping For Twins
I am just over 25 weeks pregnant with twins, but measuring and feeling like I'm in the third trimester.  Belly photos are not usually a part of my pregnancies.  I try to avoid pictures if at all possible.  However, I may treat all of you to a photo next time, since this is an anonymous blog and I kind of feel the need to document the absurdity of this insanely huge belly.  This pregnancy is completely different than the previous ones.  Fatigue and mobility seem to be decreasing on a daily basis.  My mantra right now is to just take "one day at a time."  We have moved around some of the furniture, purged the house of extra stuff, and reorganized a number of spaces.  It's about time to get out the baby clothes.
We are really fortunate to have some very generous friends.  They have given us all sorts of baby stuff, from an expensive swing to packs and packs of diapers.  When we decided to have one more baby, we didn't expect to need much of anything at all.  Then, we were suddenly faced with needing a whole lot of duplicates.  Our friends have really stepped up and their help is appreciated more than they probably know.
The baby blankets are coming along.  I found a great crochet pattern that is working up really quickly – a good thing, since I have to make two blankets this time!  For anyone new around here, I taught myself how to crochet by watching YouTube videos, so I could make a blanket for my third baby.  It really is a great, relaxing, and frugal hobby.
Mortgage Refinance
One of our big financial goals for this year is to refinance the mortgage on our rental property.  We have started doing some research into our options.  Everything seemed great at first, with really encouraging interest rates.  Then, we get to the question of whether we're living at the property.  It seems that our options are very limited because this is an investment property.  We should still be able to refinance, for a much better rate and shorter loan duration.  However, it looks like the process is going to involve some additional research and effort.
Side Hustles
My freelance writing has slowed down a bit, but I haven't really been pursuing new work.  I've been keeping busy with my tutoring side gig and worried about about having too much on my plate.  Tutoring wraps up in the next couple of weeks, so I plan to start looking for new work now.  And, I have been contacted to help out with a cool new project.
I've been doing some writing for the PT Money site, and one of my posts was recently featured by Business Insider.  Pretty cool!!  You can check it out here if you're interested:  10 Ways To Save Money Shopping At Whole Foods
I've been keeping up my goal of earning Swagbucks everyday.  It's not that much money, but the Amazon gift cards will definitely help with purchasing diapers for the babies.  I've actually found myself running videos on InstaGC and Swagbucks, at the same time, and while working in a third window.
Job Opening
I recently discovered a very tempting job opening.  Now, I'm not even sure that my experience would qualify me for the position, but it would offer a ridiculously better work-life balance.  The problem is that this job also comes with a large pay decrease.  The change would prevent us from achieving financial semi-independence by 2022.  I decided against pursuing a career change at this point.  Instead, choosing to finish out my five year prison sentence.
Expenses
It has been a lot easier to track our expenses with Personal Capital.  Would anyone be interested on how much money we spend in a month?  I've never done a monthly expense report on the blog before, but can definitely post something if there in any interest.
We did make one recent splurge.  Mr. Smith likes to play video games.  He used to buy new games and systems all of the time.  But then, we got serious about our finances.  He had been using his Xbox 360 system for approximately 10 years.  For his 35th birthday present this month, we found a good deal on a refurbished Xbox One for him.  It was adorable how excited he was about this new system.  Yes, it was a couple of hundred dollars, but I know he will use it for years to come . . . and it has been, like ten years!!!
Mr. Smith recently performed two more DIY car repairs, saving us a few hundred dollars.  He replaced some broken hinges on my back window.  Then, I guess my "throttle body" was all "gunked up."  My car was shuddering and it really worried me that there were some serious issues that were going to be costly.  But then my hero saved the day with a $5.74 can of throttle-body/air-intake cleaner.  He's very handy 🙂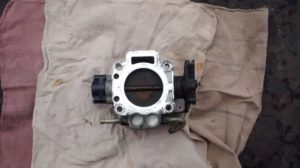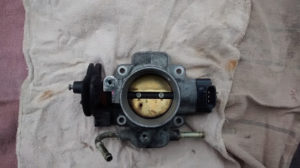 Family Fun
You really don't have to spend a ton of money to have fun with your family.  We just had a great afternoon at a local college basketball game last weekend.  It only cost $5 for all of us five years or older, so a total of $15. For that price, we watched basketball, cheerleaders, dancers, and heard a band.  There was pizza to eat for lunch.  The kids even got to enjoy a bounce house.  What a deal!
I hope that everyone is enjoying February so far.  What's new with your family?  Happy Valentine's Day – may it be a frugal day of celebrating love <3