Our financial focus over the past few years has been on how to pay off debt.  One of the most effective ways we've found to lower our debt is by increasing our income with side hustles.  Now, it seems like side hustles are generally construed as a type of part-time job . . . but you don't need to deliver pizza 20 hours a week or devote all of your free time to a side business in order to escape from debt.  Small efforts with bits of extra time can make a big impact on your finances.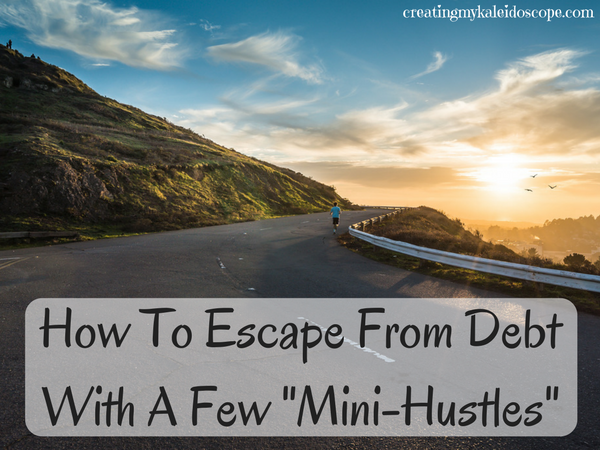 Maybe you feel like you don't have time for a "side hustle," so let's call it a mini-hustle.  Instead of watching television or scrolling through Facebook again, you can earn a little extra money, and usually from the comfort of your own home.  I like having the ability to mix things up, do a little of this and a little of that.  The payouts may seem small on their own, but quickly add up.
Blogging
I've always been impressed by people who are able to earn thousands of dollars every month through blogging.  Trust me, I am no where near that right now.  However, slowly but surely, this blog is starting to make money.  It has taken several years, but I haven't been that religious about posting or promoting the site.  It's been more of a hobby for me, and my way of contributing to the personal finance/FIRE community.  I am starting to see that if I continue building this blog, it should become a steady source of side-hustle income.
The thing about blogging is that you can earn money if you're willing to put in some effort.  If I could find time to write more posts and do more to promote the site, I would likely see a steadier increase in profits.
Related: Side Hustling 101: Why You Need To Start A Blog TODAY
Freelance Writing
I started earning some money with my writing back in 2016, finding miscellaneous jobs through Upwork.  There are many people who depend on writing as their full-time career.  However, you can also pick up a few assignments here and there, when you have a little extra time.  I love being able to earn this extra money from home, often after the kids go to bed.
This blog has definitely given me an advantage when it comes to finding freelance writing work.  It  serves as a regularly updating and growing portfolio of writing samples that I can share with prospective clients.
Use Your Computer To Earn Money
I spend quite a bit of time in front of this screen, between working from home, freelance writing, and blogging.  One of the ways that I make extra money is with websites that reward you with gift cards or Paypal cash for activities as simple as watching videos.  I've tried out many sites, but found two that work really well for this online multitasking.
Swagbucks is my favorite site for earning a little extra cash.  We usually trade in our "earnings" for Amazon gift cards to buy things like diapers, granola bars, and even Christmas gifts.  If you don't want to put in much effort, simply click on "Watch" (usually three down from the top of the left sidebar).  Then, pick from the categories on the left, and click on a video playlist.  Keep the window open, with the video at least partially visible, while you do your work in a different window.  I also mute the volume and zoom out a bit to make it smaller.  The videos will automatically advance and you will earn Swagbucks for each completed playlist.  You can make it go faster by clicking on the next video once you see the check mark appear in the "Now Playing" video.
InstaGC provides a similar method for earning money while doing work on the computer.  The only downside to this site is a pretty low limit to how much you can earn each day watching videos, but I usually hit it very easily and trade in my points for Paypal cash.  You want to follow the link in the green bar at the very top of their homepage.  Right next to the InstaGC logo it says "Earn."  The fourth choice for that drop-down menu is "Watch Videos."  You can open up three different playlists (all at the same time) and hit play on each.
Note: These are affiliate links, which just means that I get a little credit for telling you about the sites – no charges or anything like that.  
Find Things To Sell
Yes, you can make a business out of selling crafts on Etsy or flipping items on eBay, but there are less-demanding options too.  For example, make a goal for yourself to sell one thing every week.  It's very easy to get started as a seller on eBay, or try Craigslist or local Facebook online yard sale groups.  Most of us have way too much stuff.  Take a little time to find things you can sell for money, to help pay off your debt.
Mr. Smith and I actually have a little DIY project involving some used items we can pick up in large quantities, for a cheap price.  We sell these "refurbished products" on eBay, for a profit of approximately $8-$10 per week.*
*I promise to share more about these products in the future, but we seem to have a monopoly on them right now.  Gotta respect supply and demand, right?
We have paid off thousands of dollars of debt in the past few years.  I credit our success to a couple of factors.  First, we changed our attitude toward money.  Second, we started living a more-frugal lifestyle.  Finally, we found ways to increase our income . . . without getting part-time jobs.  The money from these side hustles, or mini-hustles, adds up to make a big difference in our ability to pay down debt.  When you can't come up with any new ways to cut expenses, it's time to figure out how to increase your income.
Have you come up with any mini-hustles of your own that are funding your escape from debt?