With Mother's Day approaching, you may be thinking about how to make your mom feel valued and loved, without killing your budget.  Don't we all want to give mom a special gift to show our appreciation?  Keep in mind that value and price are two very different things.  It is relatively easy to make Mother's Day memorable without spending that much money.  As with so many other things, the keys are a little bit of creativity and planning ahead.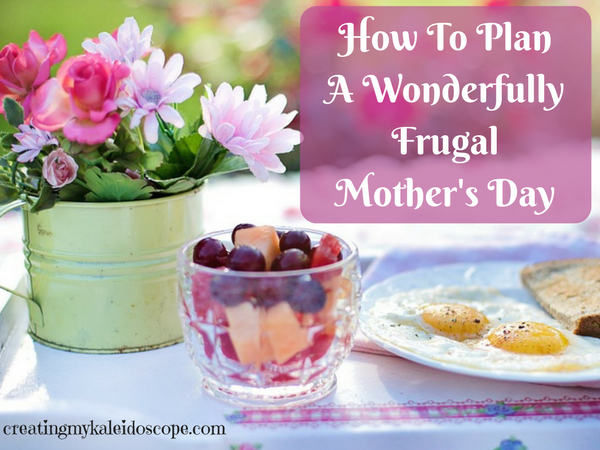 Unique DIY Jewelry
Save money by making mom a cute DIY bracelet or necklace.  You can find plenty of beautiful ideas on Pinterest.  For example, I've seen some beautiful and classy braided bead necklaces and neat leather triangle earrings made from the bottom of old handbags.  These can be a colorful accent to any outfit and are not the kind of jewelry that mom will find anywhere else.  There are plenty of online tutorials, all you need is to pick your favorite material (cut strips from a t-shirt, leather, metal, wood, etc.) and get creative.
Picture The Best Present
There's nothing better than giving your mother a trip down memory lane with an old picture of your family together.  Or, take a new family portrait.  Be imaginative and find a nice way to display the picture for maximum effect.  If you are crafty, why not use a photo transfer method to cover the faces of a cube or a vase with your mother's favorite pictures?  This is a gift that will sit proudly on her bookshelves.  If you prefer something a little simpler, you can create a cute photo collage, maybe in the shape of a heart, for her to hang in the living room.  
The Gift Of Time
A present doesn't always have to be an object.  Check out these five inspiring stories of people who have chosen to make a precious gift of time to help others on RealSimple.com.   Sometimes all you need to do is to be there for someone.  If you don't spend much time together with your mom, it would probably mean a lot if you could simply ignore the everyday pressure of work and life and spend an afternoon or an evening together.  You don't have to go out to eat or spend any money – instead, just go for a walk or sit together.  
The gift of time is precious, it creates happiness and strengthens your bond.  Togetherness is probably the most valuable, yet frugal, gift that you could give for Mother's Day.  
A Cute DIY Card
Don't forget about a nice Mother's Day's card.  Handmade cards are always a nice surprise.  Have a look at these heart-shaped handmade Valentine's card for inspiration. There are plenty of easy and inexpensive alternatives to store-bought cards, and many use materials that you already have in your home, like yarn.  Grandchildren can make their own cards too.  The more personal the better, with cute drawings and/or hand prints.  They are sure to become treasured keepsakes.
Don't Forget About Online Discounts
If you are going to buy something for your mother, make sure that you check out online sites for deals, such as DontPayFull.com, which offers the latest vouchers and discounts on websites such as eBay, Amazon and more.
An additional piece of advice: If you are looking to buy any gadgets, such as a tablet to play video calls with the grandchildren, make sure to order in advance and to test the item once it arrived.  That way you can get it all set up for mom too.
Gifts That Keep On Giving
I like to give practical gifts whenever possible – instead of the knick-knacks that seem to collect dust all over my mom's house.  One year, we purchased some tomato plants for her as a Mother's Day gift.  She loved them and had fresh tomatoes to eat all summer.  How about buying planted flowers instead of a bouquet?  Just try to figure out something that will actually be a useful, lasting gift.
A Homemade Meal
Mr. Smith and the kids usually make me breakfast in bed, and it is wonderful.  I always look forward to it.  Odds are that mom has cooked you quite a few meals during your life.  Why not return the favor by letting her relax while you make up something delicious for her to enjoy?
---
This year will be special for me because the twins should arrive by Mother's Day.  There probably won't be any big celebrations, but I do want to plan something nice to recognize my mom, and usually try to involve my kids (her only grandchildren).  They always like to make special cards and we will figure out something else that we can do for her.
Hmm, maybe I can drop off the older kids to hang out with Grandma for a while?  Oh wait, that would probably be more of a gift for me 😉