What a journey it's been so far!  This is the 200th post on Creating My Kaleidoscope, a little blog I started up at the end of 2014. My original intent was to document our journey out of debt and build some accountability into our mission to achieve financial semi-independence. In the past couple of years, this little corner of the internet has become so much more, both to me and hopefully to others as well.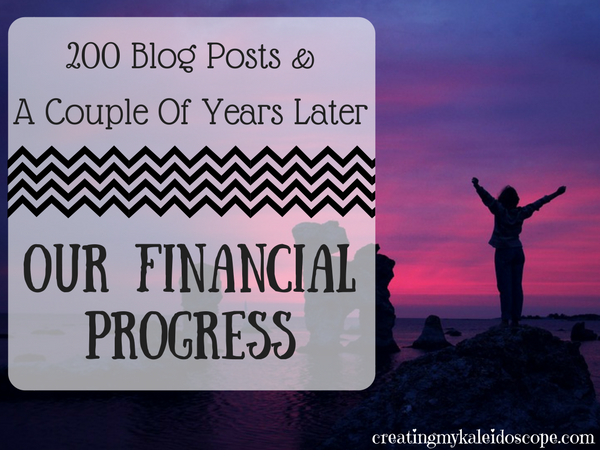 ---
The Beginning Of Creating My Kaleidoscope
We were only a family of four back then at the end of 2014 – Mr. Smith and I, along with Goofball and Tornado.  We were a very average American, middle class family: two working parents and two children (a boy and a girl).  Debt was an everyday part of our life, just something we perceived to "normal."  We carried balances on nine different credit cards, for a total of $43,200.  My student loans were approximately $90,000 (undergrad and graduate school).  We had two mortgages, one on our primary residence and one on our starter home turned rental property.  My 401K was well under $10,000, made up of only my employer's contributions.
The shift in our priorities didn't come as a sudden epiphany.  Instead, I found myself struggling to find meaning in the status quo, even though we should have been happy according to societal norms.  Over time (and largely thanks to reading other blogs online), I came to the realization that authentic happiness was impossible to achieve through promotions, status symbols, buying stuff, or working full-time until old age.
Mr. Smith and I formulated a new plan that embodied our true desires for life.  We would grow our family, while destroying debt, and building up assets to support a semi-retirement, all by the age of 40.  Low living expenses are one of the keys to this plan, along with income from our rental property and part-time, flexible work.  That's right, we will not be able to completely retire, because we started so far behind and I don't want to wait until the kids are grown to have time to spend with them.  However, we'll be switching to more-enjoyable work that can be performed on our own time (ex. freelance writing).  My 401k will not be touched, allowing it to grow for use when we do reach old age.
Our Current Financial Status
We have made huge strides in our finances, thanks to hard work and taking many small steps.  We currently carry a balance on one credit card and it's only $1,300.  We will be paying this off once I return from maternity leave.  We're just waiting so we can keep the cash in our "emergency fund" in case any unexpected expenses come up while I'm off from work.  All of our credit card debt was consolidated into a loan with a much lower interest rate.  The total of that one loan is already down to $19,500.
In the past couple of years, we have paid off approximately $7,000 in principal between the two mortgages and my student loans are down to $54,000.  With respect to investments, my 401k is up to almost $30,000 and we own three vehicles with no loans – including the new bus we'll be using as a family vehicle, which was paid for in full.
How We've Come So Far In 30 Months
It seems like common sense; the key to getting ahead financially is to spend less money while increasing your income.  However, before you can take the steps necessary to achieve these goals, you must first address your attitude toward money.  Basically, you're trading your time for a paycheck, so be more aware of how you're that cash as a tool for building happiness and not just spending for convenience or to impress people.
Saving money isn't just about skipping morning lattes, but being constantly vigilant for new ways to decrease spending and avoiding lifestyle inflation.  For example, we paid off our two vehicle loans over three years ago.  The average consumer would probably have decided to upgrade their vehicle after the loan was paid off.  But we don't care about having shiny, new vehicles.  Mr. Smith takes good care of them, so they run great, and that's what really matters.
We have adopted plenty of new strategies for saving money over the past couple of years – ways to funnel our income towards our future instead of wasting it on conveniences that don't provide any lasting value.  I started cutting everyone's hair, including my own!  We picked up a bread maker off Craigslist, so we never have to buy bread anymore.  We started growing vegetables in a garden.  I stopped buying new clothes and started refashioning the items that were collecting dust in my closet.  When we needed a new roof, Mr. Smith helped out to keep the cost down.  We rely on our wood burning stove for the majority of our heat over the winter – Mr. Smith has already started collecting free firewood for when it starts to snow again.
Related Posts:
The One Healthy Food Switch That Saves Us At Least $200 A Year
How To Cut Your Own Hair: The Ponytail Method
Three Years Without Shopping For Clothes
The Ultimate List: 50 Upcycle / Refashion Projects To Inspire You
The other "side of the coin" is increasing your income.  The difference between how much you earn and how much you spend equals the amount you can apply towards paying off debt or making investments.  When you can't find any more expenses to cut, it's time to look into ways to earn a little extra money.
I honestly believe that the little bits of extra money coming in, here and there, have made a huge impact on our finances.  It seems like a lot of people assume that a "side hustle" has to a part-time job.  However, there really are so many different ways to increase the money coming into your bank account.  The options (that I've used myself) range from a one-time writing assignment, to renting property, and spending a few minutes everyday clicking on videos on the internet.
Related Posts:
Side Hustling 101: Why You Need To Start A Blog TODAY
Side Hustle: How To Make Money By Being A Guinea Pig 
How To Escape From Debt With A Few "Mini-Hustles"
Stubbornly Refusing To Give Up On Our Rental Property
It may sound cliché, but every little bit really does make a difference.  With debt payments and trying to maintain a minimal amount of investing, we were living "paycheck to paycheck."  It was going to take us a very long time to catch up financially, let alone reach any type of early retirement.  Besides increasing our momentum in paying down debt and investing for the future, the added income has really helped us to not take on any more debt.  Even a few hundred dollars each month can provide a lot of security for unanticipated expenses, especially when you don't have a traditional "emergency fund."
The Future: For Creating My Kaleidoscope & Our Family
We will be limited to one salary for the foreseeable future as Mr. Smith will be staying home with Trey and the twins.  It actually looks like this will help our finances because we won't be paying for daycare  (if Mr. Smith can maintain his sanity as a stay-at-home dad for three little boys under three).  I'm hopeful that we can keep up – and even, maybe, increase – our efforts towards financial semi-independence.  Of course, family is always our first priority, so flexibility and adaptation will be key during the upcoming months.
Looking ahead to the next couple of years, our plan is to focus on paying off the consolidation loan and the student loans, while increasing investments in the 401k.  We also need to fix up our rental property to increase the income from that investment.  Then, we'll start really working on killing the mortgages.
I would like to find ways to expand the reach of this site and help others (especially working moms) embark on their own journey to a more fulfilling life.  We personal finance and/or FIRE bloggers follow each other (love you guys and gals) – reading, commenting, and passing around posts among ourselves.  Although there is plenty of awesome advice and inspiring stories to share, it's probably not being read by those who need it the most.  Please consider sharing these posts with people who could really benefit from adopting better financial habits and let me know if you have any ideas on how to reach more, diverse readers.
In less than five years, we will reach semi-retirement.  I will reveal my true identity (just dying to share this secret blog with all of my real-life family and friends).  And, our family will head off on the epic, cross-country road trip to celebrate our success.
As always, thank you for following our journey – your encouragement is truly appreciated.  Please feel free to reach out to me with any feedback or requests regarding the material featured here on Creating My Kaleidoscope.  Finally, what do we think of the site redesign?