We all want to have a family and home life which we can enjoy as much as possible.  It can often be surprising, not to mention a little upsetting, how much money can get in the way of that.  It is for this reason that we need to know how to manage the finances of family life as well as possible. If you want to build a family life which you can really enjoy, planning ahead in a few specific areas can help you focus more on enjoying life and less on financial issues.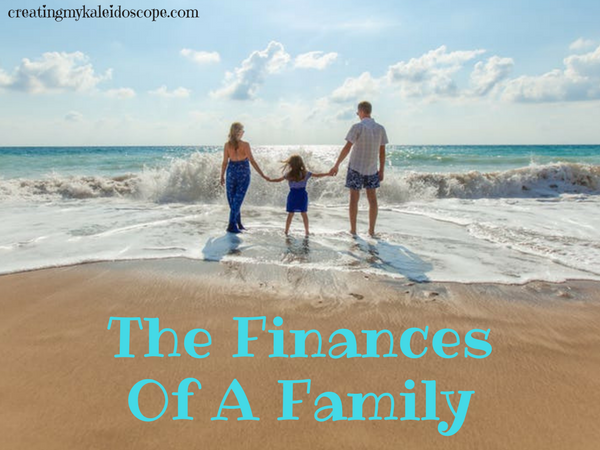 Creating A Realistic Budget 
I recently shared about how we don't have a budget right now, but that is only because we're paying off debt. Anything we can spare is allocated towards paying down loans.  However, we will definitely need a budget once we transition from debt payments to living on a small income. 
In order to avoid financial stress, many will find it helpful to make a budget which the whole family can genuinely follow, and which will lead to a much more mindful approach to spending. One of the biggest mistakes that people make is creating a budget that fails to include every expense, especially infrequent costs.  
When you draw up your family budget, you will need to make sure that you include everything, so that it is as useful and effective as possible.  For a growing family (like ours), it is surprising how much research and planning is actually involved in making a realistic budget.  Just make sure to take your time, and discuss the details with each other, so that you are all certain that you can actually stick to your new budget.
Preparing For Those Big Moments
There are all sorts of big moments in family life that can derail your best-laid budgetary plans. While some of these moments may come as a complete surprise, there are many others for which you can plan ahead.  
In building a financially-healthy family, it is essential to ensure that you prepare for all the big moments and changes as best as you can.  If you're planning on having another baby, choose a better health insurance plan and contribute to a Health Savings Account.  If you are going to move to a new home, then contact your local movers early to get a reduced price.  If you want to help your children with the expense of college, then start researching funds now.  Or, you can encourage them to start saving money from a part-time job to help cover their expenses.  
Planning ahead can help decrease the financial stress of many big life events you will experience as a family.  Of course, the best way to guard against serious trouble is by setting aside a healthy emergency fund.
Teach Your Kids About Money
My husband and I have made some big mistakes with money.  While these mistakes helped us learn important lessons, we are trying to instill good habits in our children so they can get off to a better start with their finances.  
The better that everyone in the family is with money, the more likely it is that you can build a life together, without financial stress.  We have started early with our kids, mostly by trying to explain things to them as honestly as possible.  They will tell you how commercials are just trying "to get you to buy something."  Our kids understand that the bills come in the mail for everything from the electricity that powers our lights to the house that we live in.  We've explained that Mommy has to go to work so we have money to pay these bills.  
Our hope is that by being even a little bit smarter about their finances, our children will have a better future with more options.  
Having a family comes with a unique set of financial issues, but stability really just depends on communication, planning ahead, and being mindful.  As we continue to make progress on our debt, the state of our finances causes less and less stress on our family life.  And in the not-so-distant future, our assets will afford us the freedom to experience new adventures together.