This summer has been pretty low-key due to arrival of the twins. We have been trying to do some fun activities with the older kids, especially before I returned to work last week. Wondering how things have been going for this family of seven?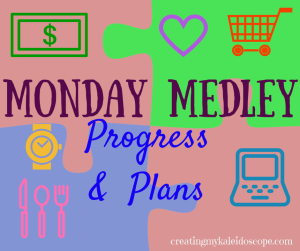 Birthday Party
We recently celebrated Goofball and Tornado's birthdays with another joint, frugal, backyard birthday party.  They decided (at the last moment) that it should be a "Camping" themed party.  I don't usually do a theme, but gave in and did what I could to honor their request.
Related: How To Save Money On Birthday Parties
Our pool is always a great source of entertainment, especially as the kids have grown a bit older and more independent with swimming.  For favors, we picked up a whole bunch of water squirters from The Dollar Store.  These things are great – easy enough for our two-year old to operate by himself (because no parent wants to spend all day filling up water guns or balloons) and shoot a pretty satisfying amount of water.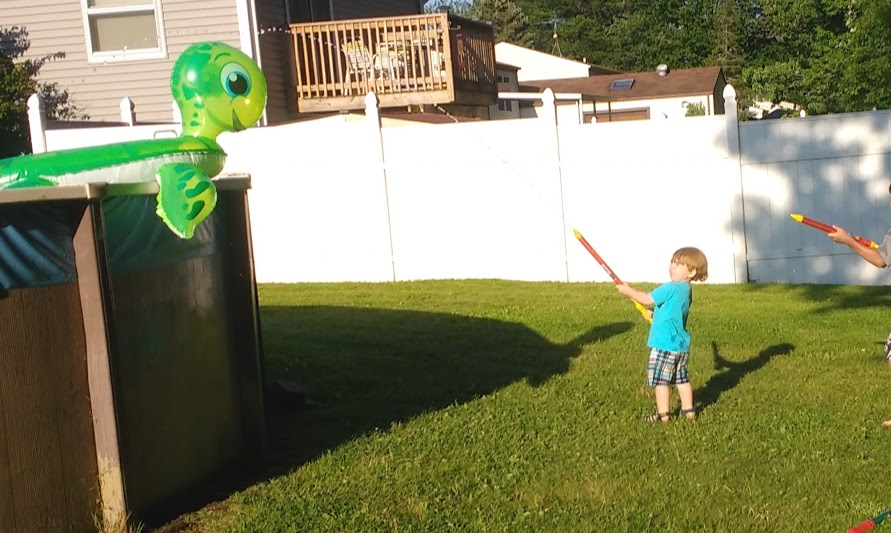 We usually decide between grilling hamburgers and hot dogs, or ordering some sheet pizzas when it comes to feeding our guests.  Although we could save a lot of money by scheduling the party for a non-meal time, we feel it's fair to spend some money on our guests.  This year we decided to go with pizza, but save money by kind of making it ourselves.  We picked up a bunch of pre-made pizzas from Aldi's, adding some extra cheese and toppings.  It was cheaper and we had more pizza in comparison to ordering from somewhere (even with a coupon).
I made two different desserts.  First, we had the ice cream cone Funfetti cupcakes, which were a huge hit with the kids.  Then, keeping up with our minimal camping-themed birthday party, I made a S'mores cake.  It was so easy and extremely delicious.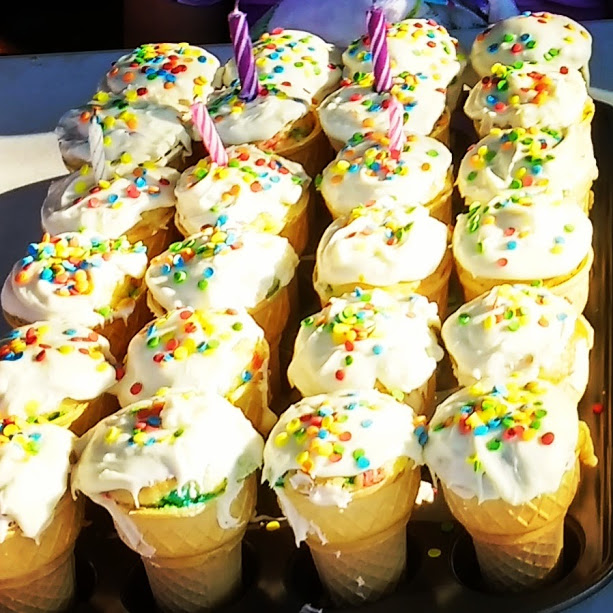 The "recipe" for the S'mores cake includes the following ingredients: box of chocolate cake mix (and eggs, oil, water), marshmallow fluff, graham crackers, and chocolate frosting.  Yep, that's it!
I split the cake mix between two round pans.  Tip: after baking, let the cakes cool for about ten minutes.  Run a knife along the edge to loosen them.  Then, remove them from the pans (while still warm), wrap them up in saran wrap, and let them chill in the fridge overnight.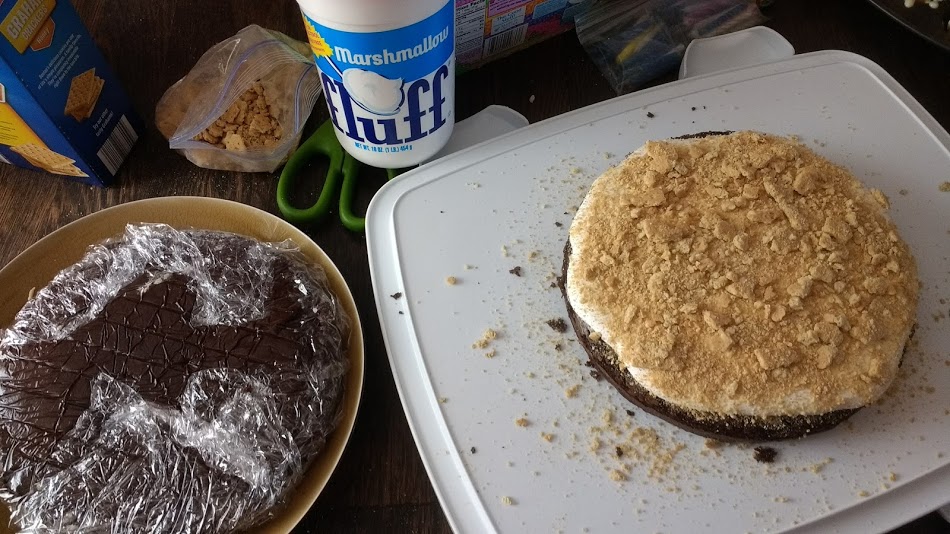 In the morning, I placed one round cake on the serving tray and heaped a generous helping of marshmallow fluff on top of it.  The fluff did end up seeping out all over the bottom layer of the cake – so don't use that much if you want a neater looking cake.  I sprinkled crushed graham crackers all over the marshmallow before placing the second chocolate cake on top of it.  The next step was adding chocolate frosting and I finished by adding more crumbled graham crackers.  It was really, really good.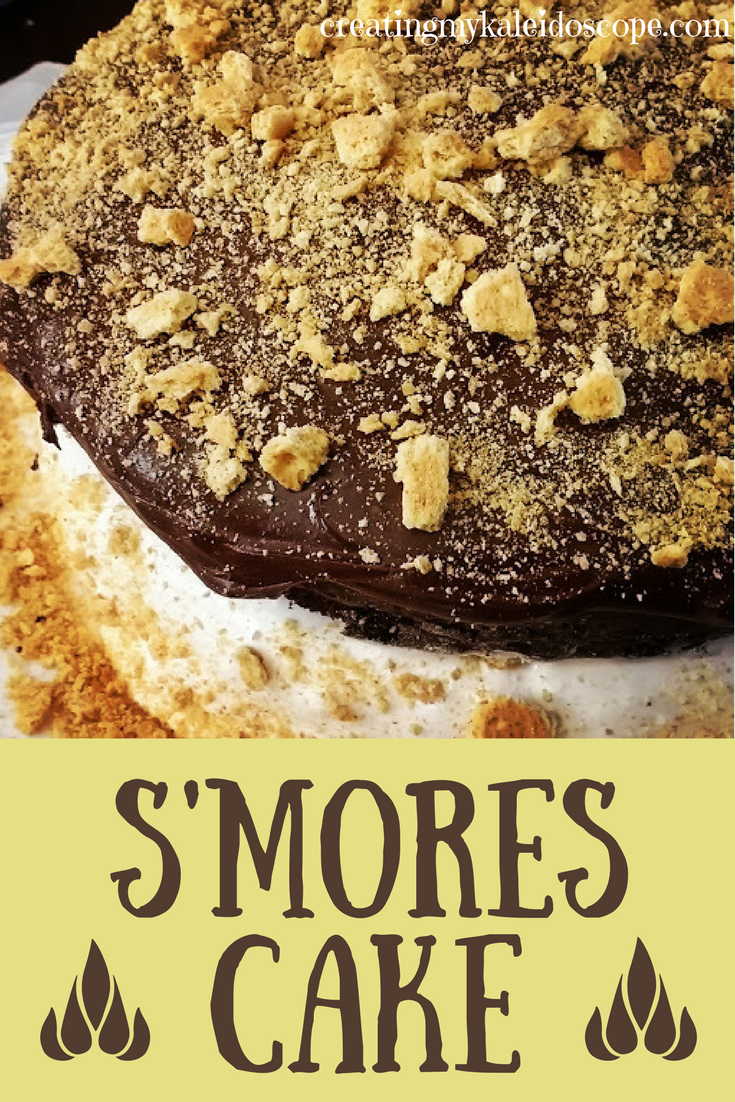 Finally, to further appease the request for a camping-themed party, we put out our tent.  I am still shocked by how much fun the kids had playing in that tent.  We even let them sleep in there and they thought it was the coolest thing ever.  We also had a bonfire, some real S'mores, and lit sparklers.  Backyard camping: seriously frugal family fun.
The Zoo
The kids really didn't need any more toys.  Thankfully, a couple of family members finally listened to our request for passes or memberships as birthday presents, instead of more stuff.  We are now official members of the local zoo!  Our passes go through the end of next July, so we will be able to go next summer too.
We haven't done very much in the way of trips or even excursions this summer.  It was really nice to at least take the kids to the zoo.  They all had a great time.  At two years old, little Trey was able to really enjoy all of the animals for the first time.  Of course, we brought a picnic lunch to save money.  It was definitely frugal family entertainment for all – even the twins seemed to be looking around as if they realized we were somewhere new.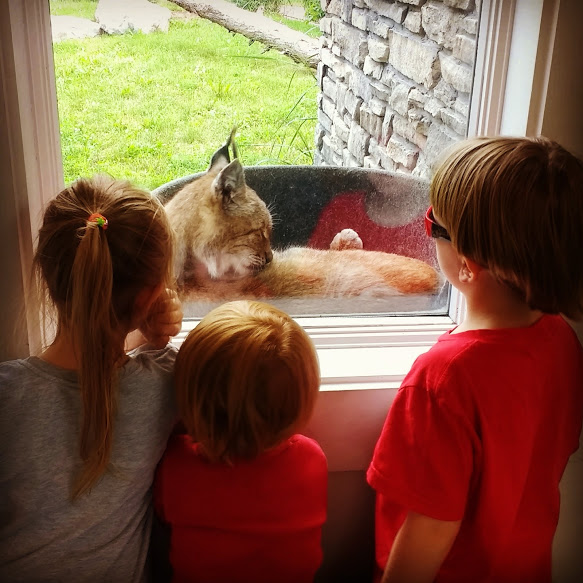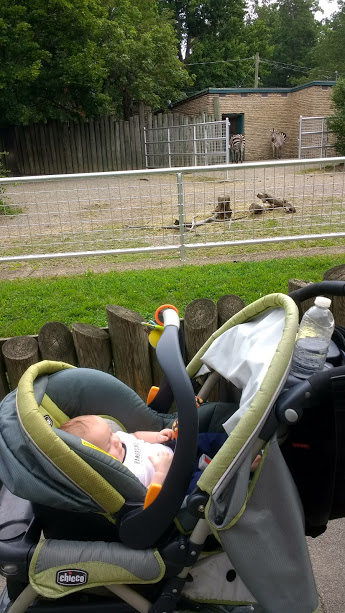 Back To Work
Unfortunately, maternity leave doesn't last forever.  I remain thankful for the paid time off to spend with my family, but it was tough going back.  Mr. Smith is also doing his best to not get stressed out while caring for five kids on his own (for the time being, as Goofball and Tornado start school soon).  I will say that the transition is definitely easier with the kids at home instead of being dropped off at daycare.
One way that we are able to save money with the kids is by breastfeeding.  I was able to feed all of the other kids for an entire year – so much cheaper than formula!  Twins was a new challenge, but so far, so good.  We got into a good routine during leave and stored up a decent amount of milk.  I've had to pump more often at work, as compared to my singletons, but have been able to bring enough home so far.
Work is work.  I'm easing back into things.  There is plenty to do, which is good, because I tend to be happier and more productive if I don't have too much time to think about everything else that I'd rather be doing.  It is nice to get somewhat of a fresh start, I'm not behind on anything or stuck on what to do in any of my projects.
As I said in my post about this just being a phase, I want to really dig deep and push hard to succeed and not just survive the next few years.  A better performance at work should result in higher raises and/or bonuses which will help us achieve our financial goals.  I'm trying to be more focused so I can get my work completed (as much as possible) during business hour and be able devote home time to other things, like spending time with my family.
---
Although maternity leave is over, there is still more summer to enjoy and lots to do.  We have some fun plans for the next few weekends.  Also, we're just about ready to paint the bus and the garden is starting to explode with red tomatoes.  How to you plan to make the most of the rest of your summer?