I've reached a breaking point which has forced me to embrace this uncomfortable truth: career success is meaningless to many mothers.  And I am one of them.  For us, time devoted to climbing a ladder of occupational status is likely to result in irreversible regret.  I must have been subconsciously aware of this truth for quite some time, often manifesting itself in that reoccurring empathy for mothers dreading the first day of work after maternity leave.  The sooner we realize that our jobs will never give real meaning to our lives, and we start making decisions based on honest priorities, the better.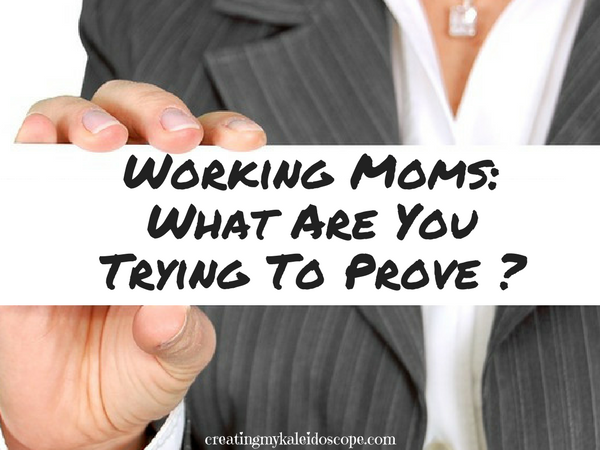 I'm embarrassed to admit that I went to graduate school with visions of big paychecks, fancy suits, and days filled with importance and significance.  That was before I became a mother.  Having children changes you, somewhere deep in your core sense of self.  I am simply not the same person anymore.  The thrills enjoyed by a younger version of myself seem distant and too overwhelming to the current me.  Life has become more complicated, but my priorities are simpler.  Work adventures and challenging assignments are no longer exciting or fulfilling.  Instead, quiet moments of snuggling a newborn or listening to my daughter's tale about making a friend, while noticing new freckles on the bridge of her nose, are pure, heartwarming bliss.  Those moments mean everything and I don't want to miss out on any of them.
Yet, I've been holding on so tight to my current position at work, rationalizing that it was the only way to make the good money needed to pay off student loans, other debt, and to support my family.  It's been a couple of years since we decided to pursue early semi-retirement, but even then, I always considered being able to work in a freelance or part-time role for my current employer.  I like the people at my job, but not the work.  The continued presence of this job in my plans for the future is probably due to my aversion towards change.  It's uncomfortable and scary to say goodbye to the predictable present.
Another part of my reluctance to choose a different path is definitely a fear of disappointing others.  They include family and friends who celebrated my graduation and being hired at a good company, co-workers who have become close friends, and even supervisors who have taught me innumerable lessons over the past eight years.  But, you work to earn money, and your employer uses you to make money.  They will unapologetically kick you to the curb if you stop performing to their standards – if they don't keep making a profit off of your work.  We have to be honest with ourselves about these facts.
Over and over, people say to me, "I don't know how you do it all."  What they don't know, is that I don't really do it all.  It's impossible.  Sure, I could stretch myself thin for the next few years, advance in a demanding career, and be a participant in the responsibilities of raising my family.  It's just not sustainable on a long-term basis and there is always something or someone that is getting short-changed because there is too much on my plate.
The change from traditional roles for men and woman over the past century was supposed to be about having more choices.  However, the result for many women is being locked into working jobs that we don't enjoy, while being depressed about missing out on time with our families.
Why does it have to feel like some ultimate betrayal to admit that as working moms, we are missing out?  We take great offense to any comments about "strangers raising our children" when they are in daycare or missing events at school because of work deadlines.  Why are we so overly defensive?  Is it that we're overcompensating because there is some truth to those statements?  Do we stress the importance of careers to make ourselves feel better about our choices?
Just because you CAN do something, doesn't mean that you SHOULD do it.
I'm working on making some big changes for the benefit of my family (with the help of a few AWESOME friends).  The amount of my paychecks will decrease and my job title will be less prestigious.  Seniority and career trajectory will be gone.  Our goals may have to be adjusted.  But you know what?  I've been planning my exit for years.  There's no point in prolonging the inevitable and making myself and my family suffer any longer than necessary.  I can't get this time back.
No one – man or woman – wants to work forever, do they?  Everyone wants to retire and leave work behind at some point.  Why stay in a job you hate and be miserable?  What options do you have right now to make life a little better, if you just stop worrying about status and what other people think of you?
There is always another option.