In the FIRE community, there is a lot of emphasis on side hustles.  Sometimes referred to as moonlighting, this extra work can help you earn more money towards your goals of paying off debt and/or reaching early retirement.  However, another way to increase your income and achieve your goals quicker is by climbing the ladder in your current job and earning a promotion (and a bigger paycheck).  I may be pursuing a new career path myself, but here are a few tips for anyone trying to make their way up the career ladder.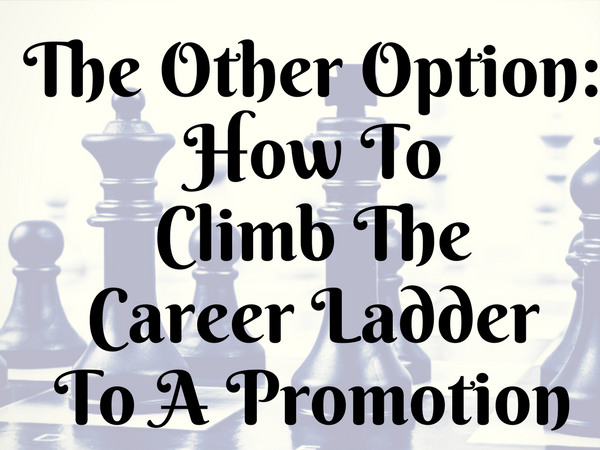 1. Excel At Your Job

Sloppy work and a lack of passion are not going to impress your employer.  Go above and beyond the duties of your job, and do every task to the best of your ability. When it comes time for your performance review, and your boss recognizes the shining example you have become, you will have evidenced your worth.  Keep going the extra mile and looking for solutions to common issues if you want to be considered for a promotion.


2. Don't Take Too Much Time Off Work

Okay, so we all need to take time off work occasionally, especially if we are ill or if there is an emergency at home. But there are different phases to careers.  You have to be more focused when you're just starting out or working towards a promotion.  Just like someone who side hustles over the weekend, you don't want to take long vacations when you're trying to impress management to earn that promotion.  If you have more absences than would normally be expected, you may take any step up the ladder at your next review.


3. Continue Your Education

The more qualified you are, the more likely you are to scale the career ladder.  Take advantage of training offered by your employer, and seek other opportunities to increase your skills outside of work hours.  Consider these online MBA finance programs, for example, which can be done at home and will give you financial and leadership skills which will benefit most employment situations.  There may even be courses at your local college that can be taken during the evening.  Yes, you need to put the work in, but extra qualifications will increase your chances of rising higher within the company.


4. Network With Others

You won't get noticed if you hide away in your cubicle at work, or hurry home after clocking off at the end of the day.  Spend time with your colleagues and attend company parties.  Let management see your face and hear what you have to say. The more connections you make, the better your chances at getting noticed by others.  Also, mentors can be a very useful resource in moving up at work.  


5. Speak Up For Yourself

Consider this: have you not received a promotion because you have never asked for one?  Let your employer know you are interested in moving up a level.  Then, follow up by asking about what you can do to improve your odds of earning a promotion.  And don't forget to find out whether there is a formal application procedure. 


In Closing

Remember, you are in competition with others, so a promotion isn't always guaranteed. However, if you can build up your skills, demonstrate your worth, and show resilience in your pursuit of a better position, your employer should sit up and take notice.  If not? Then maybe it's time you considered making a change.