Welcome to 2018!  I don't know about you, but I've never been very good about sticking with New Year's resolutions.  Instead, I've found success in setting more-general goals for myself, along with deciding on a one-word theme to frame my priorities for the New Year.  My focus word for 2018 is: HEALTH.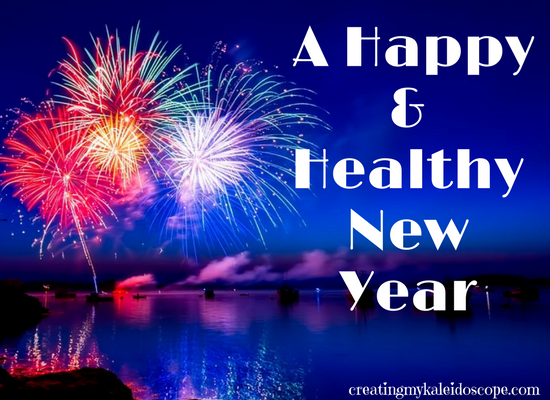 Healthy Balance
Work-life balance is a myth, but my new job is making a big difference in having something close to a sense of balance.  The new problem is setting some boundaries.  Working from home brings some different challenges.  It feels like I'm "working" even more, but by mixing home-based tasks in with my work.  In the office, I would take breaks to grab coffee, chat with co-workers, or visit websites of my blogging friends.  At home, if I'm taking a break, I end up filling that time with feeding/snuggling babies, entertaining Trey for a couple of minutes, or picking up here and there.
One of my goals for the New Year is to figure out a way to balance my time, as best as possible, according to my priorities.  In doing so, I want to make sure that there is focused time dedicated both to my family and work – as opposed to multitasking and shortchanging everyone.
Healthy Finances
Our yearly financial update is coming in another post, but I will tell you that we're continuing to make steady progress in paying off our debt.  One of the most difficult things about our current financial situation is keeping our goals realistic, in light of the demands of raising our five children.  Even if we had enough sleep to give us the energy to hustle day and night, we don't want to miss out on special moments with our kids while they are young.
The goal for 2018 is maintaining healthy finances.  This means continued frugality to keep paying down debt and contributing towards my 401(k).  Making healthy choices about money means not spending on things we don't need, just like you don't want to munch on junk food if you're trying to eat healthy.  I hope to keep up some side hustles to earn additional income.  However, I'm not going to choose hustling over quality time with my family (anymore).
Healthy Blog
The original purpose of this blog was to document our journey to financial semi-independence.  Over the past couple of years, I've been writing more "how-to" posts with tips than actual updates.  In addition, I have some perfectionist tendencies, so I will hammer away at one post, little by little, for a week or more before hitting the button to publish it.
In 2018, I hope to achieve more of a healthy mix between posts with tips and those that share our story.  I'm also going to try to post more often, even if it's just short updates that I might not consider perfect.
Physical Health
Last, but not least, comes physical health.  The twin pregnancy took quite a toll on my body. It wasn't just the burden of a big belly.  I became really relaxed about my diet and it has been really hard to change my ways since the boys were born.  It's just so easy to grab some cookies while pacing around with a baby in the middle of the night – and you have less willpower when you're not completely awake.  It's like you're dreaming about eating those cookies.  So, yes, there is some extra weight to lose.  I also feel very weak and out of shape.
I don't have a plan to lose a specific amount of weight.  I'm still breastfeeding the boys, so I can't even get that crazy with a diet.  I do plan to work out and make better choices about eating healthy food.
In addition, Mr. Smith and I really need to figure out how to get more sleep.  The twins are still waking up all night long.  We are both so very tired and worn down.  We don't have a plan just yet, and things are bound to get better (right?), but we need to take turns or something.  We just can't keep this up much longer.
Looking Ahead To 2018 & Beyond
It's probably a good sign that we're not making any drastic changes for the coming year.  We already did that: in re-evaluating our priorities, changing our spending habits, learning to love being a frugal family, testing out different side hustles, and finding ways to let our money work for us.  We got on the right path and now we just have to stick with it.  Here's to a happy and healthy 2018!!!
Tell me: what is your focus word or words (you're allowed to pick more than one) for this year?