I often tout the benefits of side hustling.  There are so many different options and hustling is a great way to use time usually spent watching television.  Additional income can speed up your debt payoff and/or investment efforts, but side hustles aren't for everyone.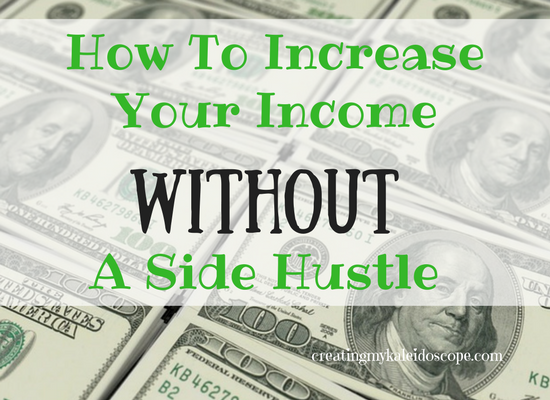 We all want to earn more money from the work we do, no matter if we are an employee or a business owner.  There are two universal principles to keep in mind that can help you earn more money.  
The two principles are:
1) Focus on creating more value, and
2) Learn more in order to offer more value.
Create More Value
People are compensated based on the value they create for a third party – whether that party is a person or organization, a client or customer, or an employer.  At a fundamental level, people get paid according to the value they provide.  
The value of an activity such as being an doctor is clearly a lot higher than the value of an activity such as cleaning.  This is not to say that a cleaner is any less valuable as a person than a doctor.  However, a doctor charging thousands of dollars to perform a life-saving operation is creating more value to the person receiving the service than a cleaner being paid $10 per hour.  
In simple terms, if you want to earn more, you need to create more value in terms of the end result you are providing; the more value you provide, the more you will earn.
Look for ways you can provide more value or upgrade your career to one where the value you are offering is greater.  Try to find a position that is a better fit for your unique training, education, and experience.  Just keep in mind that someone must be willing to pay your for this extra value.
Learn More
There are two ways to learn; first is through experience and the second is through education.  Formal education has become much easier to access with many courses being made available online; even vocational courses such as a BA in Policing, which you might not imagine would be available online are now being taught via distance learning.
There's a popular saying that goes something like the "more you earn the more you learn." While this is often true, there are many people that drop out of college and make more money than their well-educated friends simply by selling things on eBay.  On the other hand, some employers will give you a pay raise if you earn another degree.  
It is important to remember that learning is not limited to academic education.  If you were to learn how to invest in property, or how to master the art of influence, these skills are likely to get you much further in life, in financial terms, than having a generic degree.  There are plenty of well-educated people working in minimum wage jobs.  You can also find highly educated white-collar workers attending weekend seminars on topics such as real estate investing, Amazon trading, and digital marketing, just to escape the rat race they subscribed to by going down a traditional academic route.
Of course, you could also learn some skills to use in a new business venture . . . but then we would be back to talking about the good ol' side hustle.  😉
Have a great weekend everyone – you can look forward to the first Monday Medley of 2018 coming up in a few days.