2014 Financial Accomplishments
We paid off approximately $12,000 in credit card debt!  We finished payments on my car.  And, I launched this blog.
How did we do it?  I attempted to go the entire year without purchasing any clothing and did pretty well.  I bought one pair of good sandals for the summer, $20 worth of maternity clothing from a thrift store, and three clearance items from Wal-Mart for $7.  Mr. Smith bought a small amount of work clothing.  Almost all of the children's clothing came from garage sales, consignment, or was free from friends.  The exception was shoes – they outgrow them so quickly! We kept our food budget low.  We didn't spend much on "entertainment," including no cable.  We didn't eat out at restaurants, but could have made a few less trips for fast food.  I started working from home once per week, to cut down on the cost of my 30-mile commute.  Then, there were the side hustles: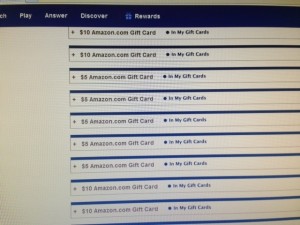 Swagbucks $450 (lots of diapers from Amazon!)
Bing Rewards $30
Inbox Dollars $27
InstaGC $34
Consignment Sale  $83
Garage Sale $105
"Tutoring" $4,000
The tutoring is a wonderful, career-specific opportunity that I can do twice per year.  I sold some little-boy clothing at the consignment sale (we received far too much clothing for our first litle guy, including new items and the hand-me-downs).  The extra money was nice, but it was not really worth the amount the work involved.  I may try the consigment sale again, but only when I have a ton of items to sell.  You can expect more-detailed posts about these side hustles in the future.
Goals for 2015:
Create a Budget for EVERYTHING – starting with an inventory of debts and assets
Publish my eBook
Keep blogging
Start selling items on eBay/Craigslist
Have a bigger, better garage sale
Refinance the mortgage on our rental property
Continue with internet side hustles and "tutoring"
Switch to a cheaper cell-phone plan
Get a good bike and start using it instead of driving
Research opportunities to expand my skill set to support future part-time endeavors
We have to be very careful with money in 2015, because I plan to take an extended maternity leave (to be discussed in another post).  I will receive full-pay from my employer for eight weeks and some of the "tutoring" money should be paid during my leave.  Also, our house needs a new roof and we would like to start fixing up the rental property.  If our forward progress is to continue, we need to be even better with money in the coming year.
Happy New Year!  We're going to start it off right by attending a neighborhood party with the kids and homemade snacks in lieu of more expensive options.
*Note: This post contains referral links.  If you choose to sign up for one of the side hustles through these links, I will receive credit for sharing these opportunities with you.  Don't worry, you will receive the same amount in rewards.