It seems like we just successfully survived Christmas without succumbing to the pressure to spend, spend, spend.  Now, it's time for another retailer-driven holiday.  Valentine's Day is the perfect opportunity for businesses to convince the public that if you really love someone, you need to buy them lots of stuff and go out for an over-priced dinner.  We might actually obtain some long-term benefit from Christmas gifts like a nice sweater or a useful appliance.  The same is not usually true with Valentine's Day, when we receive consumables like chocolate and expensive flowers that will be gone within a week.
Mr. Smith and I have not exchanged any Valentine's gifts in years.  Admittedly, he did have expensive flowers delivered to me at work in the past.  This indulgent spending is one of the reasons we're now struggling with debt and we've learned our lesson.  I think that extravagant gifts are probably more meaningful to someone who's never received a special delivery like that before.  With the benefit of retrospect, however, I can say that the feelings of "love and/or joy" was pretty short lived.  After that, it became a little annoying when everyone kept stopping in my office for the obligatory "ooooh they're so pretty."
It's easy enough for the hubby and I to agree that we won't be exchanging anything.  It's a little more difficult to explain to toddlers that they can't participate in an exchange of Valentine's Day cards at school.  But the printed cards at the store can be expensive and often have you include some candy with them.  A frugal alternative?  The kids had fun helping to make these heart-shaped crayons for their classmates.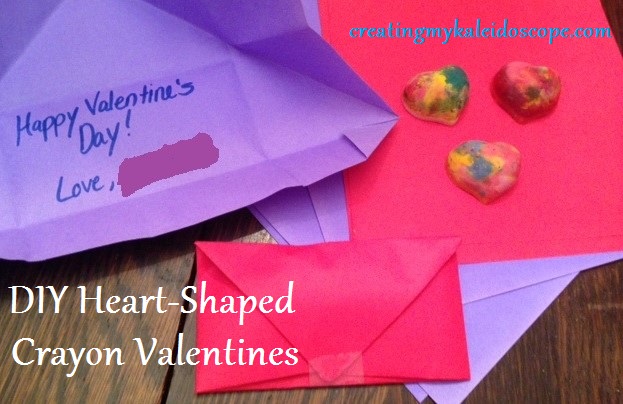 The process was really easy and was great for using up our collection of broken crayons (because no one ever wants to use the broken ones anyways).  I just so happened to have a heart-shaped silicone ice-cube tray, but have seen similar ones at the Dollar Store.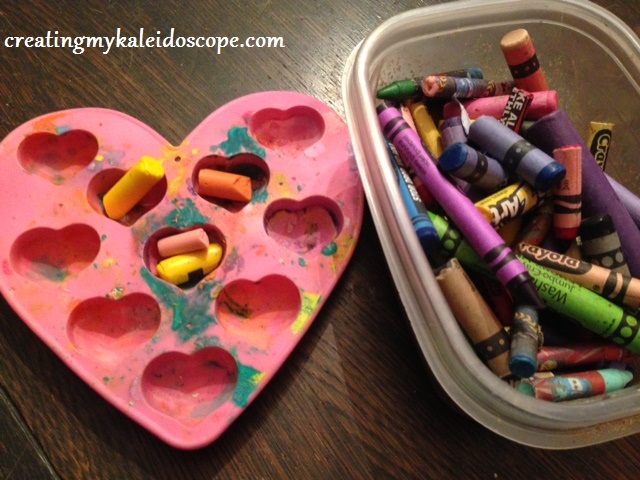 All that you have to do is peel the paper off of the crayons and fill up the hearts with pieces.  I used scissors to cut the crayons up into smaller pieces, so there was more of a mixture of colors.  The tray goes in the oven for about 15 minutes at 200 degrees (Fahrenheit), or until the crayons are all melted.  Remove from the oven.  Let them cool completely and then, they pop right out.  I used construction paper to make a little envelope for each crayon and look at that – we're ready for Valentine's Day!
Before deciding to make crayons, I did find these other cute ideas (maybe next year):
http://thefrugalgirls.com/2013/02/blow-me-a-kiss-valentines.html
http://thefrugalgirls.com/2011/01/valentines-day-candy-crafts.html
http://happymoneysaver.com/25-thrifty-homemade-valentine-ideas/
We wish everyone a Valentine's Day focused on the stuff that really matters, LOVE.  Hopefully you can simply enjoy some time with the ones who are most important to you.  There are only ten days left until the big day . . . the countdown is on . . . not to shop, but to plan something unique and special.