We don't have an emergency fund because all of our income is going towards the credit cards.  So the recent sound of grinding brakes while driving my car could have been a sign of troublesome consequences for our family.  We have been working hard to be as frugal as possible and make extra money to pay off our debt.  Fortunately for us, we have handy Mr. Smith and he has YouTube.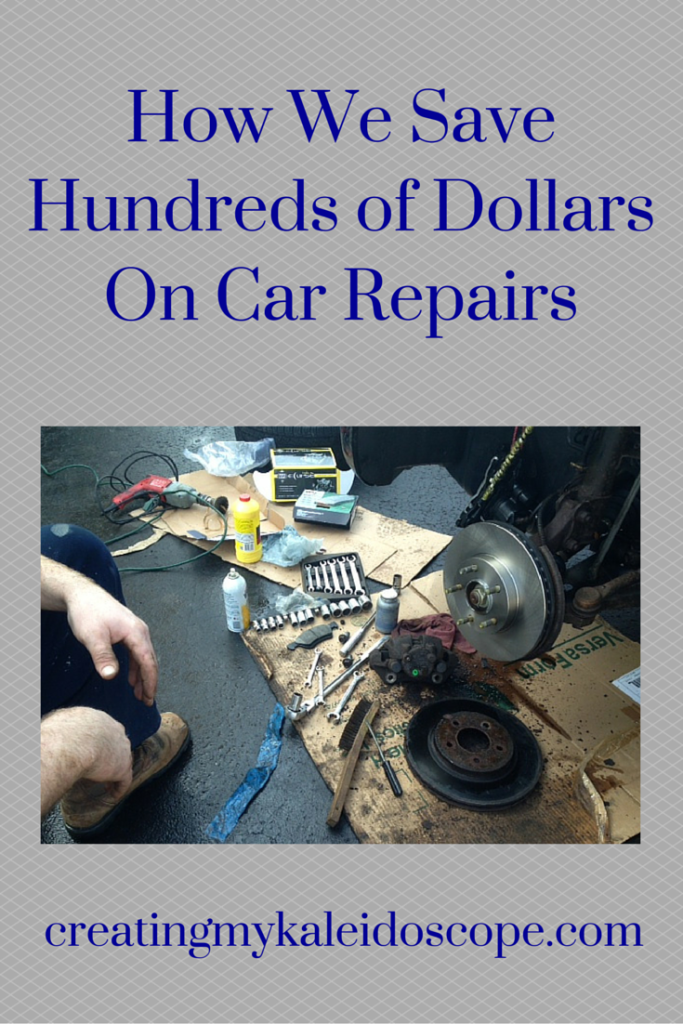 It turns out that my car needed a new caliper (according to Wikipedia, it is "the assembly which houses the brake pads and pistons").  This repair could have cost us at least $500.  Although Mr. Smith can be a reluctant frugalist, he was anxious to tackle this DIY project.  He did his research, got a little dirty, and successfully installed a new caliper.  Thanks to him, the total cost was only $130.
I am not going to provide you with a tutorial on how to install a caliper.  I did ask the hubby to provide his tips on DIY car repairs and this is what he said:
Use YouTube to watch as many videos as possible about the specific repair job.  Watch videos from different sources, because everyone has different tricks and techniques.  Also, some of the videos have better camera angles so you'll have access to different and/or more detailed perspectives.  One source that he liked in particular was Eric The Car Guy.  He provides straightforward instructions with quality video.  He will let you know if he makes a mistake or if he's taking a shortcut.  Also, he seems to be quite responsive to viewer/reader questions.
Have access to a variety of tools.  Cars can require both standard and metric tools and it's hard to know what you're going to need until you start working on the repair (although the videos should provide you with a basic list).
Give yourself plenty of time to complete the project.  You might need to find a friend with a different tool.  You might need to run out for a different and/or forgotten part.  Don't expect that the repair will take a specific amount of time.  You don't want to rush things trying to get your car back together before you have to be somewhere.
When you're disassembling your vehicle, take your time looking at everything.  Mr. Smith even suggested taking some pictures so you know how it all goes back together.
When purchasing parts pay attention to any "core charges."  This means that you can return the old part and recoup some of your expenses.  Just make sure that you return all of the pieces in order to receive the refund.
While Mr. Smith cautions that caliper replacement wasn't the easiest vehicle repair, he did want to mention that anyone can do their own oil change.  The average driver should change their oil three to four times per year.  If you have more than one vehicle, those costs add up quickly.  The only thing standing in your way to doing it yourself, is finding access to the tools that you need: jack stands and a jack, a wrench for the oil plug, and an oil filter wrench.  A funnel and oil pan are helpful and will cut down on the mess.
One of the biggest advantages to DIY car repairs is that you can use better-quality parts and still save money.  These parts will last longer and improve your vehicle's performance.  For example, Mr. Smith uses synthetic oil on our vehicles instead of conventional oil and purchases a better-quality oil filter.  Although these products cost more, they are good for the vehicles and we can go longer between oil changes.  Mr. Smith says that a change with conventional oil and a cheap filter runs about $40, but he could do it for $19.  A change with a premium filter and synthetic oil would cost roughly $60 to $70 in a shop, but he spends only $32 on the materials that he needs to do the job.
Mr. Smith's Oil Change Tips
Make sure you get right oil, because there are several different types.  You can look in your owner's manual or sometimes it's on the oil cap for the engine.
Figure out how many quarts your engine takes (my car takes 6 quarts, lots of others take 5 quarts).
Save some cardboard boxes to lay down on your driveway.
Bonus Savings: If you have access to four jack stands, rotate your tires.  It's an easy way to save $15 to $20, several times per year.
Finally, with all car repairs and/or maintenance – Please Be Safe!  Make sure that jack stands are used properly, chalk the wheels, take your time, and wear safety glasses.
What was your last DIY project?