We used to pay $177 each month for service for four cell phones, with Verizon Wireless.  After switching to Republic Wireless, we're going to save over $100 per month and are very happy with the service!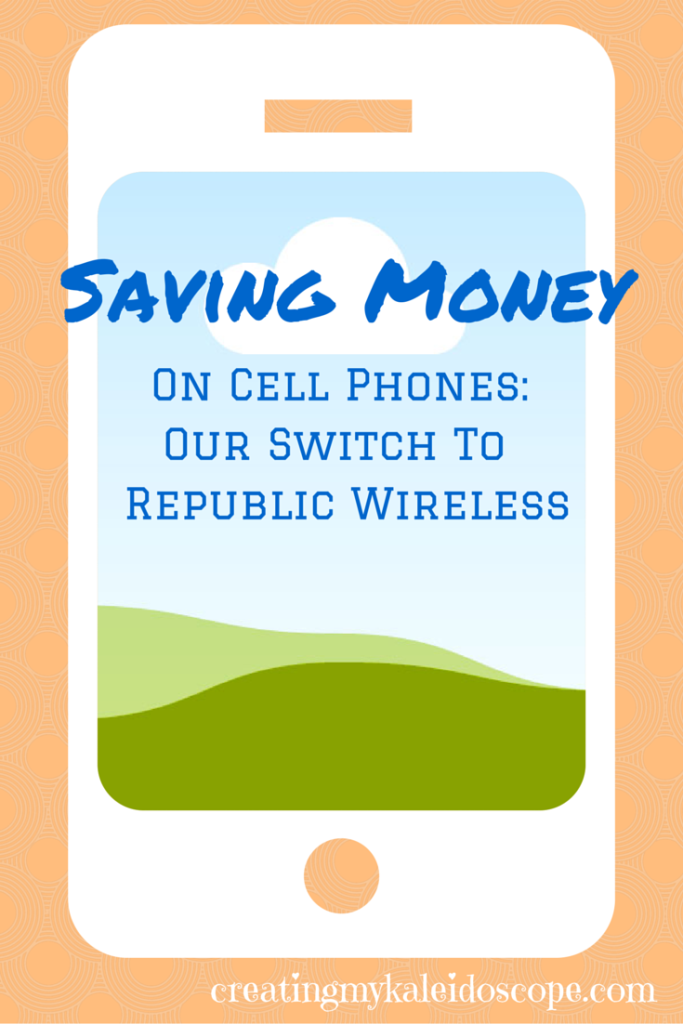 I researched our cell-phone options back in January.   Republic Wireless is a lesser-known company that uses Sprint and Verizon networks, in addition to Wi-Fi.  The plans are simple and really cheap, but you are limited to a small selection of expensive phones.  I purchased the most-basic phone for myself, a Moto E, for $99.  Unfortunately, Republic Wireless only has expedited shipping, so with that charge and tax, it was about $125 for the phone.  I ended up finding a Moto G for Mr. Smith on eBay.  His model retails for $150 and I won it for $105, with free shipping.  There seems to always be a handful of listings for these phones on eBay, but most are for the more-expensive models (the ones that retail for $300-$400).  You can save a little bit of money if you take your time and wait for the right auction, but it's not going to be that great of a deal.
One note with eBay:  There are a number of "Defy" phones available.  These are older models.  While they are eligible to be reactivated, the cheap plans are not available for them.  You have to use a special plan with these dual-band phones.
After purchasing our phones, we completed the fairly simple activation process at home, receiving a new phone number.  The only semi-tricky step was transferring our old numbers.  I had to call Verizon to obtain my account pin number.  Then, after signing onto Republic Wireless on the computer, I was able to request the transfer or "port" of my phone number.  Calls came through right away, but it took a few days for text messages to show up on the new phone.  The only issue we have experienced is some continued calls to the initially-assigned number.  However, I suspect that this could occur with a transfer of your phone number to any new provider.  Also, I will note that you can definitely tell the difference between phone calls on cell service versus Wi-Fi.  Solution?  I turn off Wi-Fi when making calls.
Tips:  Make sure that your contract is up with your old provider before switching or else you will face large termination fees.  Do not cancel your current plan before porting your number.  If you deactivate your old number, you will NOT be able to transfer it.  Call your provider back after the switch.  Make sure that your account is cancelled and rework your plan if (like us) you are keeping any numbers with them.
The phones are nice and work well, but their operation is a bit different from those we have had in the past.  We're getting used to them.  The big advantage is the savings.  For our two phones, with tax and fees, the total monthly cost is $44!  I have the cheapest plan, $10 for calls and texts on cell service, with data available on Wi-Fi.  Mr. Smith has the $25 plan, which gives him cell service for unlimited calls, texts, and data.  He generally keeps the Wi-Fi turned off.
We continue to luck out – I just received an thank-you email from Republic Wireless with a coupon code for $50 off a new phone.   This couldn't have come at a better time because we were just about to start browsing phones on eBay to purchase for my father-in-law.  His contract with Verizon runs until June, so we had to hold off on transferring his account.  My brother-in-law is deployed, so his Verizon account is suspended.  He will purchase a phone when he returns next year, reactivate his account, and switch over with us.
One more bonus?  Mr. Smith's old Verizon phone still runs apps over Wifi.  This means that we can use it to run videos to earn more Amazon gift cards through Swagbucks.
With a little bit of research and by thinking outside of the box, we're really starting to make progress on our debt.  While every little bit helps, this is a huge savings.  Now, what else can we switch up? 🙂


If you are considering making the switch to Republic Wireless, clicking this ad will give me referral credit and be very much appreciated.