I am in love with our bread maker.  There I said it.  It is just so easy, the bread is delicious, and it saves us money.  What is there not to love?  I remember that my parents had a bread machine when I was growing up .  They never really got the hang of it.  Of course, I don't think that they tried very hard to figure it out.  Even when you get the recipe down, it still requires some effort in adding ingredients and cutting it into even slices.  My parents, just like so many people today, opted for the convenience of grabbing some pre-sliced loaves from the grocery store.  Purchasing our bread machine is one the best decisions we've made in converting to a more frugal lifestyle.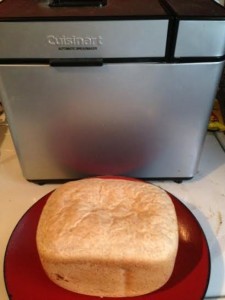 We used to buy at least two loaves of bread every week, usually opting for Italian bread that went on sale for $2.50.  Our weekly total for bread was $5.00.  I have tinkered with the recipes that came with our bread machine to come up a healthier bread that costs of less than $1.00 per loaf.
1 1/4 Cups of Water
3 Tbsp. of Margarine
1 Tsp. of Salt
2 Tbsp. of Sugar
1 Tbsp. of Honey
1 Cup of Whole Wheat Flour
2 Cups of White Flour
2 Tbsp. of Dry Milk
1 Tsp. of Yeast
Note: This is for the 1 1/2 pound loaf.  There is a trick to adding the ingredients in the order listed above. If you do so, the yeast stays on top of the flour and out of the water.  Then, you can let it sit for a while before you hit start.  There is even a timer, but I have yet to figure that out.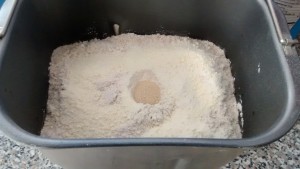 If you don't want an indentation in the bottom of your bread, you need to remove the mixing paddle.  My machine sounds six beeps when you can remove it.  There is a little leeway, as long as you take it out before the machine starts baking the bread.  One tip: pay attention to the time that it beeps so you know when to be around to remove the paddle for future loaves (for us it's when there is 1:42 remaining on the 3:18 cycle).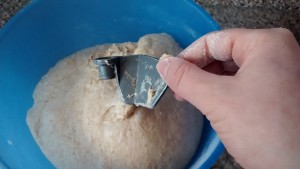 We were lucky to find a brand new bread machine on Craigslist.  We've been using it regularly for more than a year and it's still working great.  Amazon actually has our machine (which is awesome) on sale right now, so if you've recently traded in some Swagbucks, here is the link:
My next challenge is to attempt making rolls.  In theory, the machine should do all of the mixing and timing for rising.  Then, I will just have to form and bake the rolls.  It's just one more way we can save money by using the slightly-less convenient option.  In the meantime, I will skip out on office lunches and enjoy my peanut butter and crabapple jelly sandwiches on fresh honey-wheat bread.  Oh, and did I mention how awesome the house smells?