My new hobby is crochet; I started with a baby blanket and have been hooked ever since.  I've been working on a variety of gifts lately, but the thought has occurred to me that crochet could become my next side hustle.  It would be perfect because I find it very relaxing and rewarding to make beautiful things from yarn, and these creations can be sold for extra income.  What more could you want from a side hustle?  I've been pondering, however, how to maximize my profit while getting the exposure necessary to sell the items.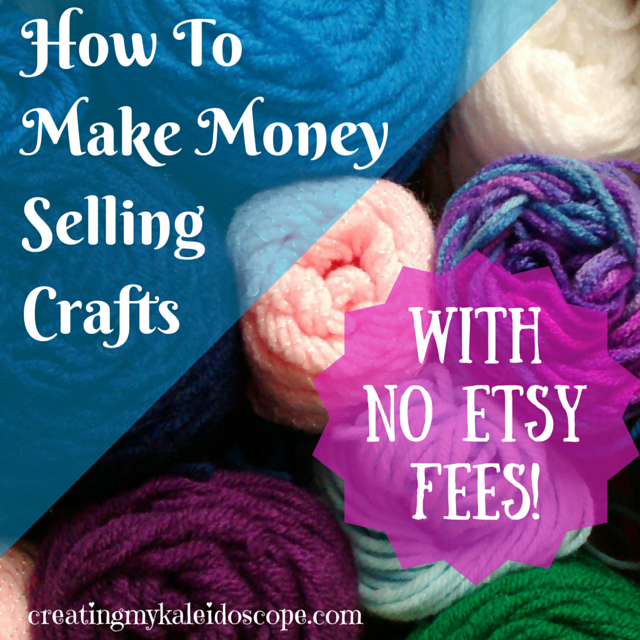 I looked into Etsy, the well-known marketplace for handcrafted goods.  However, they take their share of a crafter's proceeds.  It costs 20¢ for each item's four-month listing.  Then, if your item sells, they keep 3.5% of the sale price.  It's also pretty discouraging for a beginner at crochet to look at the thousands of listings for unique creations.  I've only made a few different things so far and I'm guessing they would easily be lost on the every-growing site.  Crochet can be very time consuming.  The hourly rate for creating these items is pretty low, but I enjoy the process.  So, I've been trying to figure out a way to sell my crafts without using Etsy.  Here's what I came up with:
Giving Some Away
I made some free hats for friends and neighbors, in addition to my own kids.  It felt good to do something nice for others, but I did have ulterior motives.  I'm hoping that the hats being seen by others will act as advertisement for my crafting.  I told my friends that if asked by admirers of the hats, yes, I am selling them.  As an added bonus, one of them gave me a bag full of yarn which I can use for making Christmas presents.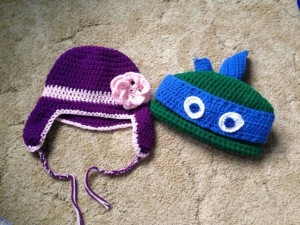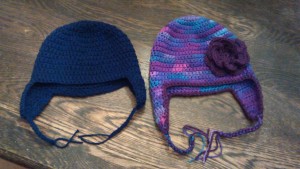 Facebook Yard Sale Groups 
I've seen it a couple times.  Someone posts on one of the local online yard sale groups and gets a ton of responses.  One was for simple infinity scarves in several different colors.  There were tons of comments on the post, ordering one or more of the scarves.  Now, I don't know how many of these people actually complete the transaction, because I haven't tried it yet.  I would hesitate to do too many custom orders, as some people would probably back out.  It wouldn't matter that much as long as you could resell the items.  I saw another post asking if anyone was able to make a certain item.  After someone posted that they could crochet it, there were tons of comments from others requesting the same item.
Craft Shows
I've heard about a lot of Holiday Craft Sales looking for vendors.  Apparently, the going rate for these events is around $30 for a table.  You pay a fee for the venue, then get to keep the rest of your profits.  I have talked to my mom (who makes some other crafts) about splitting the cost of a table next year.  We could sell our wares, while spending some time together.  But how does it compare to Etsy?
If I sell the hats for $15 on Etsy, that would be a fee of 52¢ plus 20¢ (assuming it is purchased on the first listing).  That equates to about 5% of the cost of the hat.
If I split the cost of a table with my mom, I would pay a fee of $15.  Let's say I only sell 20 hats at $15 each.  That works out to the same 5% of my revenue.  However, I predict more sales at a craft show, as there is less chance of my products getting lost in the thousands of expertly crafted crochet items on Etsy.  I might be able to charge more for the hats, because there won't be any shipping charges.  Also, I will have all year to create awesome and more expensive things to sell, in addition to hats.
Craigslist
My other idea is to use Craigslist to post a place and time for a small sale, similar to posting a garage sale.  I would include some photographs of samples and offer to make custom (but re-sellable) items.  I'm not sure whether I would hold the sale at my house or try to find a different venue.  I might not have the same crowd of craft purchasers as would be at one of the shows, but there would be no fees.
Of course, I could just always sell them out of the trunk of my car in a parking lot (LOL) or at a garage sale next summer.  Any other ideas or suggestions?  I have plenty of Christmas presents to keep me busy for now, but then it may be time to start building up an inventory.