This blog serves several purposes.  First, it serves to document our journey to financial semi-independence.  Secondly, it keeps us accountable to our goal to become debt free and build up assets to support our financial semi-independence.  Finally, I had hoped to make some money with my writing.  The blog certainly has helped with the first two goals (a post on our success in 2015 coming soon), but after one year I have yet to make much of a profit from this site.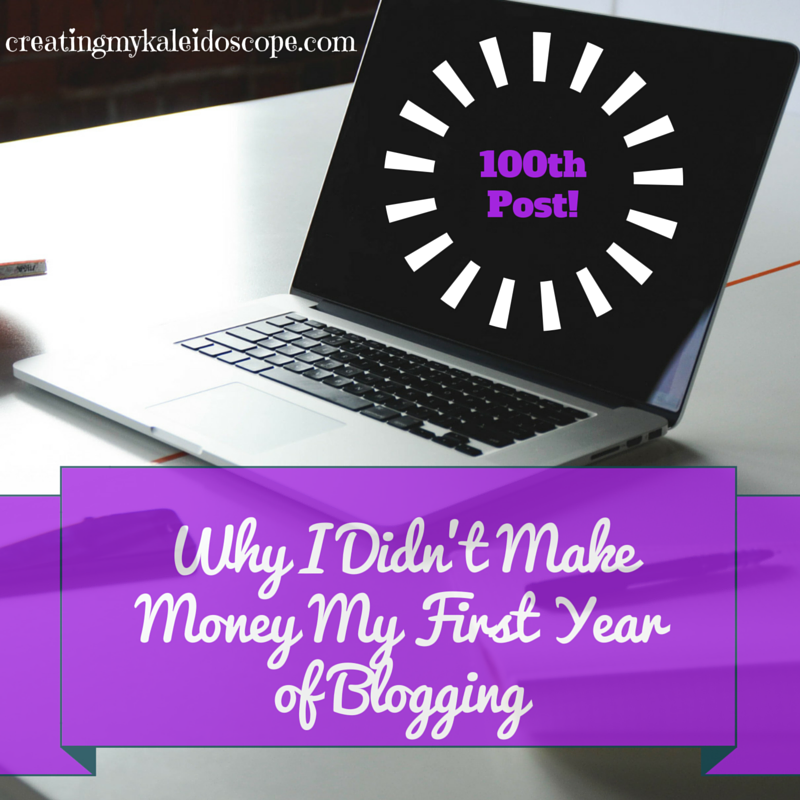 As I said, this blog has made some money, just not much a profit.  I did one sponsored post.  Also, the AdSense earnings are adding up, but haven't reached the payment threshold of $100 yet.  I had definitely hoped to be doing better by this point, but understand why I didn't meet my goals.  There are a variety of factors which can be boiled down to one problem: 
I wasn't serious enough about this blog
Young Adult Money recently did a great post with advice on improving your blog.  There are tips about doing frequent, regular posts on a predictable schedule.  There is advice about updating your logo, redesigning your site, and learning HTML.  In sum, it takes effort and persistence.  You need to devote time to making your blog bigger and better.  And the only way to bring in traffic is to make connections with other blogger and forums, including by the use of social media. 
In retrospect, I would grade my efforts towards CMK as mediocre over the past year.  There was usually a new post on Mondays, but not always, and sometimes more than a week would go by with no new material.  My goal had been to post at least twice per week – FAIL. 
My "networking" efforts were somewhat successful, but once again, not as a result of my full effort.  In 2015, I had two posts featured on Rockstar Finance (Make Money Your Mission and A Financial Plan Saved My Life).  There were also two guest posts, one on Breadwinning Mama and a fun feature about lullabies to my kids on Jingle Jangle Jungle.  These small victories make me wonder about what else could have been achieved if I had tried a little bit harder. 
While not a complete fail, my social media reach has not been too promising.  The most success has definitely been with Pinterest.  I have a couple of posts that have really taken off (Frozen-In-Ice Game and DIY Christmas Presents) and brought in a fair amount of traffic.  It's clear that Pinterest is best for crafts and projects, as opposed to blog posts about frugal philosophies. 
I will try to give this blog more attention in the coming year.  One of YAM's tips was to have content prepared in advance of the posting date.  I can see how this would be a huge help.  One of my biggest problems during the past few months is multiple illnesses – as in being sick FIVE separate times during November and December!  I had to devote my healthy time to catching up with work and family obligations and CMK suffered as a result.  This wouldn't have happened if there had been back-up content that could be posted despite a throbbing head or upset stomach. 
Commenting on other blogs helps bring in traffic and is something which I enjoy.  We don't really talk much about our extreme goals with "real life" friends.  It's helpful and encouraging to connect with like-minded individuals via the blogosphere.  I subscribe to my favorite sites, so there is an email whenever new posts are up.  Also, looking back through the commenters on CMK often directs my web browsing.  I plan to continue, and increase, my efforts to connect with other bloggers.  But, speaking of subscriptions, it is another one of my big problems at one year of blogging.  I need to figure out a plan to increase my list of followers.  Perhaps a popup might encourage more to subscribe?
Affiliate income has been really tricky to figure out, especially because I don't necessarily want to encourage readers of a blog about frugality to spend money.  I need to do a bit more research on this area and any advice is greatly appreciated. 
In closing, I'm not overly disappointed that this blog has not made much of a profit just yet.  I can't expect great returns without expending a proportionate amount of effort.  And, that's not its purpose.  Creating My Kaleidoscope represents our long-term goals.  We are at the beginning of our journey to pay off debt and reach financial semi-independence.  Our target date is still over six years away.  I'm optimistic that this blog will bring in a small amount of supplemental income at that point.  As the content and my "networking" efforts increase, so will the revenue.  In the meantime, I can't forget about my responsibilities to my full-time job and my first priority, my family.