The financial independence / early retirement community relies on several basic tenets in their quest for freedom from the "normal" lifestyle defined by working 9:00 a.m. to 5:00 p.m., Monday through Friday, until old age.  One of these golden rules for FIRE is that you need to invest 25 times your annual expenses in the stock market.  Upon reaching this milestone, you can then count on taking out 4% of your nest egg (representing average gains for the fund) to support you for the rest of your life.  The standard path to FIRE is not really an option for us, due to our sizable debt.  However, there's another issue.  Mr. Smith doesn't "believe" in the stock market.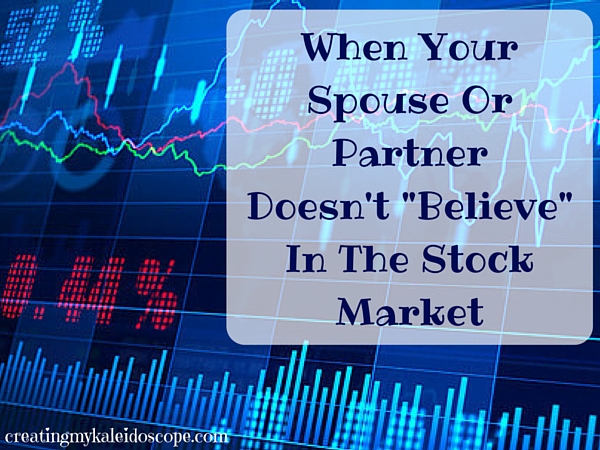 I can already predict the comments that will be on this post.  Yes, I've showed him the long-term charts that show steady increase in value once you average all of the tumultuous fluctuations.  He really just can't trust stocks.  Mr. Smith is somewhat fixated on those "lost all our retirement savings in the recession" stories.  He says he doesn't like the idea of all of your money "just being a number in a computer."  Mr. Smith can be pretty old-fashioned at times (he still refuses to open a Facebook account).  I could see him getting along with old folks who keep money stored away in their mattress.  Ultimately, my husband likes tangible investments, he wants something he can hold.
What is a hopeful early-semi-retiree to do?  How can you achieve FIRE without the power of compound interest from investments?  The answer is to DIVERSIFY.  While Mr. Smith can't come to terms with dumping everything we can save into the stock market, he's not totally adverse to the idea that we could use it to make some money.  He likes the idea of having some security to fall back on, if our stock investments were to suddenly self-combust or be spirited away by a flying unicorn.  He was interested in learning more about REIT's when we have more funds to allocated towards investments.
Our plan includes several different types of investments.  I have money going towards a traditional 401K through my employer, with the plan that we will not touch that until our sixties.  We also have one rental property right now and hope to add a second one in the future.  Mr. Smith loves the premise of rental properties.  He is very handy and likes to stay busy.  He loves the idea that his only real work will be limited to maintenance of a couple of rental properties.  Of course, we're pretty behind on making any kind of investments because of our battle with debt, meaning that I will have to continue bringing in some type of part-time income after 2022.
How much do we plan to invest?  I'm not sure at this point.  Doing some very basic calculations with the 4% rule, I'd like to semi-retire at 40 with at least $100,000 in my 401K.  If I put in only an additional $1,000 every year for 25 years, at the age 65 the value will be $314,363 dollars.  Again using the 4% rule, we could withdraw $12,574 each year for living expenses.  I hope to have quite a bit more interest-earning investments, but these numbers provide a useful and encouraging benchmark.
Another essential component of FIRE is living a frugal lifestyle – when your living expenses are low, you don't need to have as much invested.  In addition, there are other ways to "invest" in your future without buying stocks and bonds.  We hope to have a homestead with things like chickens and a vegetable garden to further reduce our cost of living.  I really appreciate the research that went into this post about solar panels.  It's another idea on how to use our money to facilitate freedom in the future, without relying solely on a large nest egg of investments in index funds.
Ultimately, the issue isn't whether Mr. Smith is right or wrong about the stock market, it's about finding a financial plan that we're both comfortable with and which will allow us to reach our goals.  Financial planning and investing, like most other decisions in a marriage, require input from both spouses.  And, you need to compromise.  There needs to be some give and take on the important stuff, instead of just having one person handing down directives.  The most important thing is that we have a common goal that has reshaped our lifestyle and priorities.  Diversification of our investments makes us both happy and will enable our escape in the near future.