There are many paths to better financial health.  Living frugally is one of the best ways to get ahead on paying off debt or saving money towards various goals.  However, to really speed up the process, you need to do more than just cut back on spending.  Using your free time to earn extra money is one of the best financial strategies that you can adopt.
Stay tuned:  Today is a special double-feature Tuesday!  I'm posting an update on our family's financial strategy later tonight.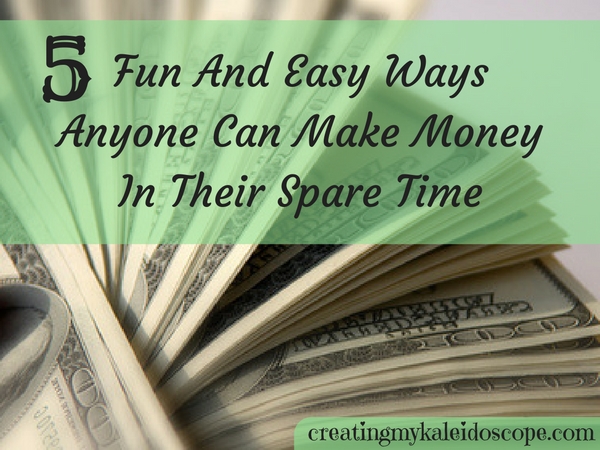 You don't need to take on a part-time job or have unique skills to make some extra cash.  There are many ways that anybody can convert free time into money.  For most of these, you can contribute as much or as little time as you want.  You may be surprised at how efficiently you can make money on the side.  If you're particularly dedicated, you may even be able to turn your home side hustles into a living wage.  Nonetheless, doing some extra cash-earning activities at home is great to pay off debt and/or boost your savings.  Here are the easiest ways anyone can earn some cash from home.
Sell Your Stuff
As the old saying goes, "one man's junk is another man's treasure."  You most likely have a bunch of hidden treasures lying around the house. Things like old games, toys, clothes, and electronics could potentially be made into more cash.
Craigslist is a good way to sell bigger items, which would be cost-prohibitive to ship.  I've also had success with local Facebook online yard sale groups.  We use eBay to sell a DIY craft that we make, netting about a $10 profit once a week (I did previously promise to share this craft in the future, but need to preserve our monopoly right now).
These avenues are relatively straightforward to handle and you can earn money pretty quickly. eBay requires a little more effort because it involves auctions, packaging, and postage.  I'm always impressed by people who run successful online shops through eBay or Etsy.
Related Posts: Tips For Getting Started With Selling Your Stuff On Ebay and How To Make Money Selling Crafts, With No Etsy Fees
In addition to these popular methods for selling your stuff, there are other services which allow you to pawn off old things quickly and efficiently.  If you want information on how to get cash for things like books, CDs, DVDs, and electronics, you can find more from Buyback Express. Websites like these will instantly evaluate how much your stuff is worth. They'll also give you the resources to ship it out to them for free, and pay you upon retrieval.  I was found Buyback Express through Bookscouter, which allows you to find the best rate for used books.
Selling your old stuff is a great way to make money. Not only does it declutter your house, but you get paid for it!  It's the best way to get rid of things that you'd most likely throw away after holding on to them for years.
Blogging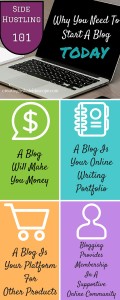 If you're looking for a side hustle that's easy, fun, and profitable, then it might be time for you to create a blog. You can write a blog about the things you enjoy or an area in which you have some personal knowledge.  If you spend some free time cultivating your blog and building a following, you can eventually make money from it.
There are many ways you can profit from a blog. Advertising services like Google AdSense allow you to put up ads on your blog.  You earn money whenever anyone visits your blog and every time someone clicks on one of the ads.  Amazon's Affiliate Program allows bloggers to feature products on their site.  If a customer ends up buying the product through a link on your blog, you'll get a percentage of the sale.  A lot of companies also pay bloggers to write about their products or services. If you manage to get a lot of regular visitors, you may have businesses contacting you with profitable opportunities.
The amount of money you make from a blog varies depends on how much effort you put into it.  I did not make much money at first, but the gains are starting to cover more than my expenses.  Traffic is very important to a blog's viability.  Affiliating with other bloggers by commenting on their sites and sharing content through email and social media can boost your audience.  Ultimately, even if you don't end up earning much cash, there are many returns from blogging.
Profit From Your Skills And Knowledge
Whether you have a talent for writing, video editing, drawing, or creating music, there are people out there who will pay for your skills.  Many websites, such as Fiverr and Upwork, allow you to offer your services to people all over the web on a freelance basis.
With these sites, you can offer to carry out tasks for individuals for a certain price, or take on gigs that other people have posted for the price they specify.  Common things to offer include creating logos, writing press releases, and proofreading.  However, there is a seemingly limitless variety of work on these sites.  A look at Fiverr's bizarre section shows gigs such as 'I will do a custom Barack Obama impersonation'.  If people are making money with services like this one, you can surely come up with something unique for yourself.
Do be aware that while you can make some extra money doing small tasks, it's hard to make a living through these sites. They take a commission of your earnings and competition means a lot of people will offer the same services at the lowest price possible.  They can be useful for making some extra pocket money, but you should evaluate all of your options.
Those willing to dedicate a little more time might offer their freelancing skills to businesses.  You can become an online business consultant in your field of expertise, but you may have to do some work in order to reach out to different businesses.  Companies often outsource a lot of tasks, especially when it comes to marketing and technical skills. If you have valuable skills to offer, you may even want to try to build a freelancing business.
There are also many other sites which may be able to help too.  For example, if you have a lot of expertise in a particular area, you might want to apply to be a tutor on Tutor.com.  You can earn a fair bit of money here by offering online tutoring at an hourly rate.
Use Social Media
If you're like most people, you probably use social media on a daily basis.  But did you know you could profit from it?  Those who build up loyal followings on various social media programs may be able to make money from their social media habits.
YouTube is the best social media website for converting your time into cash.  If you join YouTube's Partner Program, they'll pay you for the views you get.  You may not be able to make a huge amount of money, but if you're getting thousands of views for your video, it can add up.
Those who want to take their YouTube earnings to the next level often join YouTube Networks. Networks help content creators find sponsors, build their audience, and get paid for ads.  The top YouTubers are earning millions, but it's hard to reach these heights. Making a little money on the side through creating fun videos is a more realistic goal.  One of my goals is to start making some videos with content related to this blog.
Other social networks can also be profitable. Those with huge Twitter or Instagram (still have to create one of these accounts) followings may be paid by companies to advertise products or services.  Social media is huge for marketing these days, so having a lot of followers pays off.  Social media is also good for cross promotion.  If you're offering freelance services or running a blog, social networks help you reach out to wider audiences.  Even large corporations use social media for promotion, so you can make use of it for all kinds of money-making ventures.
Offer Your Opinion
Everyone has an opinion, and many organizations out there are willing to pay for yours.
A simple Google search for "paid surveys" will yield plenty of companies who are willing to pay for your opinion.  Although you're unlikely to make big bucks from this, it can be a good way to cash in on your spare time at home. You could even do this on your smartphone, making for a productive way to pass the time while sitting on the bus or waiting at the doctor's office.
A slightly more profitable venue is to become part of an online or phone-based focus group. There are plenty of focus group companies, although payment can vary.  Some of these companies will give you gift cards for your time, but others pay hundreds of dollars for participating in one session.  I've had some luck with Inbox Dollars (who pays with actual checks in the mail).
All kinds of organizations are looking for feedback from different demographics.  There are services which will pay you for testing websites or watching movies.  You can also get paid for reviews.  If you run a blog, website, or YouTube channel, you may be able to find some paid review services to make a few extra dollars on the side.
---
Mr. Smith and I have been working very hard to facilitate a more-meaningful life.  Our debt continues to steadily decrease, while we're making small contributions to our long-term investments.  This success is attributable to a number of factors, but the big ones are learning to love a frugal lifestyle and finding creative ways to increase our income.
Thanks to this hard work, we've reached an important milestone on our journey.  I hope you'll stop back soon to read about some big changes and give us some advice, if you can.