In prepping to sell crochet items at an upcoming craft sale and being busy with work, I haven't been able to find much time to upcycle or refashion my clothes.  I have a couple big bags of clothing that are destined to be transformed into new things to wear.  But, with everyone talking about Christmas already, I'm wondering if I can use the fabric to make some presents.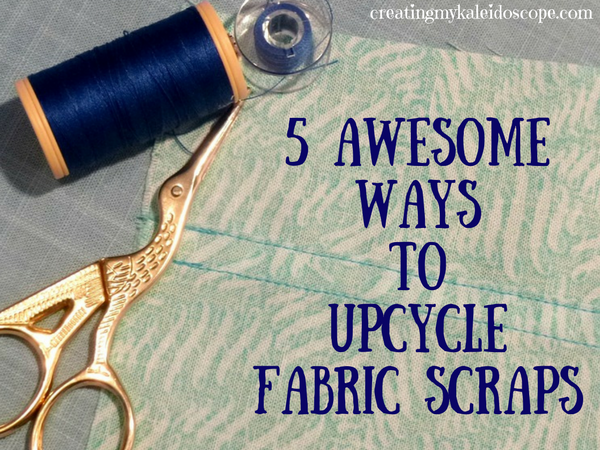 Everyone definitely has some unwanted clothing in their house.  Or, maybe you've bought some nice fabric for a project and then have a little left over.  I hate to throw away anything that can be reused, so these scraps tend to sit around somewhere, using up space and gathering dust.  Here's some inspiration for all of us to use up even the smallest pieces of fabric and take on some fun and practical DIY projects.
Mobile Phone Case
Upcycling a mobile phone case from a scrap of leftover fabric looks to be pretty easy.  All you need to do is double the fabric over and then use your sewing machine to hem it all the way round.  Then double it over again, cutting it to the just bigger than the size of the phone.  Finally, remember to leave one side smaller so you can get you phone out easily.
You can even attach a clip or a lanyard, so you won't be scrambling for it every time it rings. To get the full tutorial click here.
Brooch
A brooch can make a nice gift for your mom, on Mother's Day, or as a Christmas present.  You can follow one of the many patterns available online or try to freestyle it and go with your own ideas.  All you really need is some basic sewing skills to complete this DIY project.
Start with your base fabric and cut out two pieces into the shape your require.  For example, for a flower, cut the fabric out in a wavy flower shape.
Then, turn the fabric inside out and use a needle and thread to sew the two pieces together.  Don't sew around it all the way – make sure to leave a small hole.  Flip the fabric right side out and you will have a basic brooch.  You can fill it with stuffing available at craft stores, through the small hole that you left open.
Once the brooch is filled you sew up the hole. You can decorative the front of the brooch as you see fit, with additional stitching or by gluing on embellishments.   The last step is to add a metal pin to the back.
Makeup Bag
A  pretty, unique makeup bag would make a great gift (for others or yourself).  You can whip them up pretty quickly, especially if you have a sewing machine. They are a great way to use up any spare fabric you have laying around the house.  Or, you might even want to get some new fabric online, and it would still make for a fairly inexpensive gift.
You'll need three squares of fabric (2″ x 2″), some thread, and a zipper. Go here for a really helpful tutorial with all of the instructions on how to sew it.
Luggage Tags
I found this tutorial for fancy luggage tags.  You need quite a few materials beyond just extra fabric.  However,  I think it would be fairly easy to simplify the project to make tags out of scraps of fabric without too many extra supplies.
You could use luggage tags as gifts tags for Christmas presents, which would make so much more sense than buying cardboard ones that are just going to be thrown in the garbage.
Pin Cushions
There are tons of tutorials out there on how to make DIY pincushions.  A quick search of Pinterest will yield limitless ideas.  You could use them for yourself or as a gift for drafty friends or family members.  These square pin cushions are cute and look pretty easy to make.
---
We're always trying to find new ways to be resourceful and use what is available to us.  The less money we spend, means we can pay off more debt and hasten our journey to financial semi-independence.  Using scrap fabric to make Christmas presents may seem like a fairly insignificant activity.  However, we continue to make progress in fixing our finances thanks to the combined effect of all these little efforts.
I will also be revisiting my list of 25+ DIY Christmas Presents For Everyone On Your List, for more gift ideas to help keep our expenses low during the holidays.
Please share, do you have any other ideas for how to put small pieces of fabric to good use?