Personal finance is all about the spending and saving idiosyncrasies that make each of us unique. A lot of people don't seem to give much thought to their money, earning and then spending their paychecks, over and over again. I think that anyone who has taken the time to really evaluate their priorities and come up with the best way to use their assets to facilitate their dreams, is on the right path. We're all going to have different plans and goals, but being smart about money goes beyond being frugal or spendy. There is a deeper understanding of the power of conscious spending and saving among most of us in the personal finance community. This knowledge is what gives us the chance to live unique and extraordinary lives.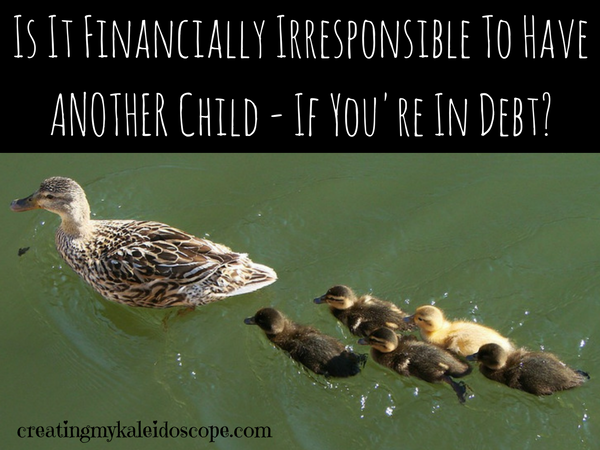 Part 1
(make sure that you read all the way to the end  . . . trust me)
In case you're new around here, Mr. Smith and I have three children – Goofball (6-year-old boy), Tornado (4-year-old girl), and Trey (18-month old boy).  We always intended to have a big family, but were methodical about it, adding one child at a time (as opposed to deciding on a number at the outset).  Our children have provided us with so much happiness and purpose thus far, so we decided to grow our family one last time, by having another baby.
I'm pregnant, due at the end of May  😀
Yes, we've considered the numerous effects of our decision.  I don't like to call it "making sacrifices."  To me, it's more about choice.  In deciding how to live life, people make decisions about how to spend their money, based on knowledge and priorities.  I blame a lot of our financial issues on being uneducated about our options in the past.  Some might call us foolish for adding more responsibility while we're still repaying our debts.  But we've made an informed decision – the best one for us.
Career
Although it shouldn't, I understand that having another child is likely to effect my career.  Employers can't discriminate against women for having children, but it still comes into play.  You're not around for few months for maternity leave.  During that time (and likely thereafter), you're not attending functions, networking, or doing those extra things that will help you earn a promotion.  By the time of my eight-year anniversary next September, I will have gone on four maternity leaves.  It would be ignorant to believe that doesn't have an effect on my long-term trajectory.  Fortunately, I don't have plans to stay employed for decades to come.  While the added pay that would come with a promotion would certainly help our situation, I have come to peace with my priorities – family over title/status.
Expenses
Kids really don't need that much stuff.  We're in especially great shape with having boys and a girl in the past – all set on clothes, toys, furniture, and other miscellany.  I have breastfed my kids in the past, which saves us a lot of money, especially in the pre-food days.  Baby food does not cost that much and you can save on this expense my making your own at home.  Yes, as the new child grows up we will need to cook bigger meals.  However, we hardly ever eat out, so adding one more portion to a homemade meal will not cause any drastic change in our monthly expenses.
The medical expenses will be more-than-covered by the amount we've invested in a Health Savings Account.  We have a family plan for health insurance, so that will cost the same.  There will be some expenses later on, related to hobbies or sports, but our finances will be much better in a few years time.  Likewise, we might not be able to take them all to Disney for quite a while (although I recently learned of a special trick to save money on admission).  As for college, I don't believe in parents bankrolling their children's entire education.  As I've said before, I want them to feel invested, so they should have to contribute as well.  I will try to steer them away from taking on loans, by encouraging community colleges and focusing on the classes/training most applicable to their goals.  This post by Freedom Is Groovy provides some great information on how to keep college costs low.  The key to getting ahead in thinking outside the box and finding innovative ways to do things, instead of just following the standard path.  I plan to teach my children how to make smart decisions about money.
Family Dynamics
Every time we've added a child to our family, I've worried about taking attention away from my husband and the other child/children.  And every single time, I've learned that my fears were unwarranted.  A new child brings added responsibility (especially at first), but then they start to add to the family dynamics.  They become playmates with each other.  The older children are starting to help out with chores.  Each one adds something uniquely wonderful to tapestry of our family, enriching the doldrums of ordinary days.
Debt
We've made significant progress on our debt.  It helps that we're out of the "danger zone" now, reaching a point when we no longer have to rely on the maximum available on our credit cards to get through each month. But, more so, we changed our attitudes about money.  We realized that it can be used for so much more than just buying more stuff.  That fundamental change has allowed us to continue to pay down our debt, even when I took a four-month maternity leave after Trey was born.  The momentum has shifted so much, that I'm not worried about whether we can maintain our forward progress.  If anything, the speed of financial gains may just slow down a little.
Ultimately, it shouldn't be about "running the numbers" to see if you can afford having another child or putting things on hold until the financial stars are in perfect alignment.  I understand that there are some families who are really struggling financially.  Obviously, if you can't feed yourself, adding more mouths would be a bad idea.  For us, we still have debt, but we've come a long way in improving our finances to the point where we can handle another child.  We're being honest about our dreams and making plans to enjoy life on our terms, not simply racing to increase the amount in the bank or investment accounts.  We have faith that this is the right decision for us, so we will continue to work hard and improvise, as necessary, along the way.
Part 2 (always expect the unexpected)
I drafted this post a few weeks ago and questioned the right time to share it (there's that rule about waiting until the second trimester, but this is an anonymous blog).  I decided that a personal picture would make this post even better, so I would wait until after my sonogram.
Well, that momentous appointment took place last week.  We are still in shock and processing the information that our one, last baby . . . is actually two babies.  Yes, we are having twins.  Here are "Baby A" and "Baby B."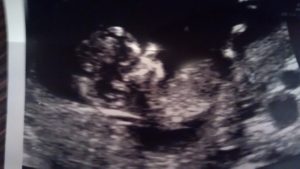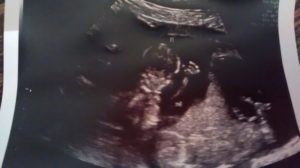 Twins do not run on either side of our family.  We did not undergo any type of procedure.  I'm still grappling with my understanding of how this could possibly happen.  Of course, all of that analysis of the costs of having "one more baby" is pretty much out the window.  As frugal as we are, there is no denying the fact that we will need more stuff to handle two infants at the same time.  Hopefully, we can score some freebies or used things to keep the costs down.  But there are always some things that need to be purchased new, like pacifiers and diapers (OMG so many diapers).
Everything happens for a reason.  I have friends who struggle with infertility, who have lost babies, and who are dealing with the disappointment of a failed adoption.  I will try my best to remain optimistic about this surprise, this "double blessing."  I will admit to being worried about the new challenges that lie ahead.  To be honest, I'm pretty scared of what two babies will do to my body and how I can possibly handle two infants and three kids at the same time.  This fourth pregnancy was feeling so routine, me filled with confidence that I didn't have any questions.  Yep, it's a whole new ballgame now.  But we'll be okay . . . we always wanted a great big family.