I love Christmas, but hate how it is always accompanied with messages of "Buy! Buy! Buy!"  The craziness all starts this Friday when the hoards battle to snag "good deals," whether or not they really need everything piled in their shopping carts.  People seem to have accepted that it's normal to have big credit card bills in January . . .  that the holiday spirit comes with a big price tag.  I want to tell you that with a bit of planning and creativity, it is possible to save money and still have a very Merry Christmas.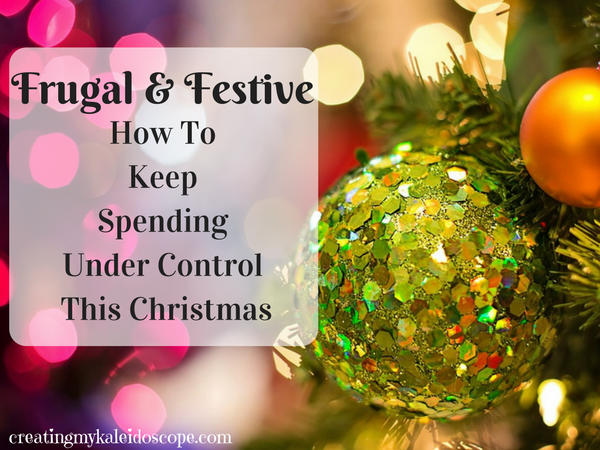 1. Work Out Your Budget
The first step is to work out your budget and stick to it.  Our family doesn't really budget right now – *GASP* – instead, we resolve to spend as little as possible, while finding ways to bring in extra money.  However, when it comes to Christmas, it's important to set specific limits for yourself.  Otherwise, you could fall victim to the ubiquitous spending triggers of the season.   Consider what you can afford, but focus on the amount that you can realistically spend without causing financial regret in January.  Remember to take into account the following:
Gifts (and delivery fees)
Christmas Cards and Postage

Postcards are a cheap alternative and use less-expensive stamps

Food
Booze
Christmas Decorations

Try to reuse as much as possible from year to year

Wrapping Paper

The Dollar Store is a great place to find this

Christmas Entertainment/Events

Do some research online and you are sure to find plenty of free events in your area
If things are looking a little tight, you can always try to earn some last-minute cash.  Do you have any unwanted items that could be sold?  For example, there are plenty of websites where you can sell things (ex. sell my iPhone).  It's surprising how much your unwanted cell phone, books, DVDS, etc. could fetch. And it would be a nice little boost to your Christmas fund.
2. Food
For many, Christmas dinner is the highlight of their culinary calendar, but it can quickly become expensive if you're not careful.  Fortunately, there many ways to save a few dollars without skipping a delicious feast.
Shop around to find the best offers
Make use of loyalty card points and coupons from local newspapers
Buy a smaller turkey or a turkey crown
Or, buy a larger turkey and make it last for several meals
Be brave and improvise with recipes by finding cheaper ingredients to substitute
Buy supermarket brand booze
Don't go overboard – plan each meal and add a few additional treats
Make your own cakes, pies, and cookies
Take guests up on their offer to bring a dish
3. Gifts
Depending on the size of your family and social circle, gifts can easily be your biggest holiday expense. Consider cutting your recipient list this year.  Or, if you have a wide circle of friends, mention the idea of secret Santa.  That way you each receive a gift, but only have to buy one.  This could be a considerable saving if you have a large group of friends.  You can even advocate for this method with extended family.
Another idea is to suggest meeting for a drink and cookies or pie, instead of exchanging gifts. After all, what's better than the gift of your time?
Making presents is a great way to save money and I believe that handmade items are so much more special.  My family loved their crocheted presents last year and you can bet that I've already started working on gifts for this year.  If you prefer crafting with paper, you could make your own Christmas cards. But, beware of false savings.  If you have to start buying lots of craft supplies, it could end up costing you more money than a jumbo box of cards.
You can always make a give-giving challenge for you and your friends/family.  Establish a budget of $20, or whatever you can afford, and make sure you keep to it.  It can be quite satisfying working within a set amount.  Gifts tend to be more thoughtful and creative.
If grandparents won't stick to a budget, try asking for gift certificates instead of more toys (ex. zoo, museums, go-carts, mini-golf, shows).  Experiences are shown to bring more-lasting happiness, in comparison to material possessions.  I always try to pick up some toys from garage sales or consignment sales.  We definitely don't feel the need to have a mountain of presents under the Christmas tree (or to boast about it with pictures on Facebook *smh*).  But the kids do enjoy having at least a few things to open up in the morning.
Christmas isn't about gifts and money.  It's about friends, family, and gathering together.  However, as much as a "no-spend Christmas" would be helpful to everyone's finances, you're never going to get everyone on board with the concept.  The key to saving money is by planning ahead.  Don't do all of your shopping on Christmas Eve, just grabbing this and that because "it works."  Besides, I know (from experience) just how stressful it is to run around at the last minute.  Instead, make this your best Christmas ever with smarter spending and by focusing on the true joy of the season.