As we prepare for the arrival of twins in May, we're going to need to buy some "new" things.  And, it's not just purchases for the babies (because babies don't really need that much).  The other children will be passing down everything from outgrown toys and clothes, to their beds, so these items will need to be replaced.  We're usually big fans of buying used things for the kids, but that means that some of the hand-me-downs are in rough shape.  In addition, it would be nice to have at least a couple of coordinating twin outfits, something we've never had to purchase before 🙂  Here are some great tips to keep in mind when shopping for kids, so you can buy everything that you need without spending a fortune.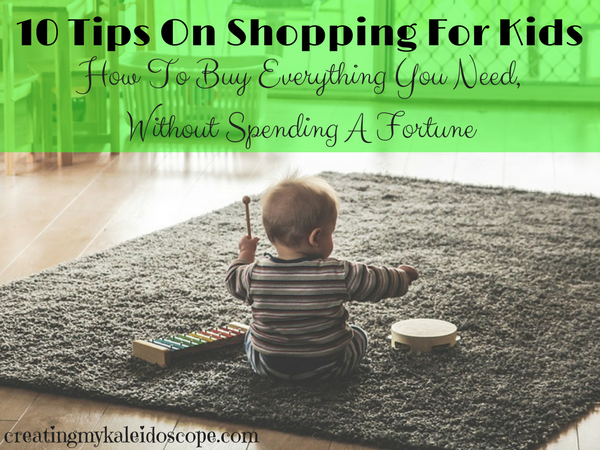 1. Shop Garage Sales, Second-Hand Stores & Consignment Sales
One of the best, least-expensive ways that you can get items for your kids is by shopping at garage sales, second- hand stores, and consignment sales.   You can find furniture, toys, and clothing at great prices.  There are usually many items that are in good condition and even some things that are brand new!   Keep in mind that a piece of furniture with some marks or scratches, can easily be refurbished with a little bit of paint.
You can usually do pretty well with big lots of clothing at garage sales, but the quality isn't always the greatest.  We usually stock up on clothes at a big, local consignment sale once a year.  Don't forget to check online for second-hand items. Craigslist is really good for finding lightly-used kids furniture.  You can save a ton of money on your baby's nursery by picking up some second-hand items instead of buying everything brand new.  You can even find people selling items they don't need anymore on social media.  Check out groups in your local area on Facebook to find essential items you need for your kids.
2. Ask Friends About Old Items
When you need items for your kids, it can be a good idea to ask friends who have older children.  You don't have to necessarily beg for handouts.  Instead, offer to buy things off of them that they don't need anymore.  Even if they don't have anything, they might know someone else who is looking to get rid of some items.  Good friends are likely to gift baby and kid items to your family.  Just make sure to ask ahead of time whether they want the items back once your kids are done with them.
We are really lucky to have some generous friends who are done having kids.  They have already offered us a car seat, swing, and excersaucer to supplement what we acquired for our singleton kids along the way.
3. Follow Brands Online
Our family is on a mission to pay down debt and achieve financial semi-independence, partly by being super frugal.  But I understand that not everyone wants to completely forgo buying brand new things.  Or, maybe you just want to pick up a couple of specific items for your children.  One way to score good deals is by following brands online.  Follow the brand online on social media sites or sign up for mailing lists.  You can then watch out for special deals that they offer only to their followers.  Also, they might ask you to share new items on your social media. In exchange, they often give you a percentage off in stores.  You will also be one of the first to know about any special sales.  
4. Check Out Deals Online
I know many parents who prefer visiting physical stores to do shopping for their kids.  Understandably, they prefer to touch the items, try them on, and/or bring them home that day.  But, this might not be the cheapest way to get essentials for your children.  There could be online stores selling a similar item for a much lower price.  Before you make any purchases at the store, you should look online to see if you can find any deals on items (ex. kids beds).  There are even many comparison sites to help you find out where the item is selling for cheapest price.  You might be able to find it for half the price on a competitors website, and you can always ask in the store if they will match the price.  One other tip: don't be afraid to look on sites from across the world, just make sure to verify the shipping costs.  You could end up finding a great deal; it might just take a while before it arrives.
5. Consider Display Items
Another way you can get "new" items for your child without spending a fortune is by looking at display items.  These items haven't been used, but will be for sell at a reduced price because they were out on the store floor.  Often times, they don't have a scratch or mark on them, so you are basically paying a lower price for a perfect item!  Ask in store the whether there are any display items for sale.  Some stores  may have old stock which was on display in their clearance section.  An added bonus to purchasing these items is that they will come home assembled!
6. Sign Up For Store Newsletters
When you visit stores, they often try to sign you up for their newsletters or to receive advertisements in the mail.  As much as you don't want more marketing to your email address, or to give out your phone number, it's sometimes worthwhile.  The benefits often include in-store discounts and notice about sales.  You may be able to save money on an item you were planning on purchasing anyways.  If you find that they send don't have any good promotions, you can always unsubscribe from the emails.  
7. Search For Vouchers & Coupons 
Before you buy anything new for your kids, you should always look online to see if there are currently any deals or vouchers for that store or website.  After all, sites online are always updating with new coupons or promo codes which give you a discount in store or online (sometimes for in-store pickup orders).  Look online to check whether there are any coupons you can use and make sure to check if there are any restrictions.  Even if there are no coupons available at the moment, just keep checking, because almost every store has a sale at some point!
8. Consider DIY Options
Of course, it's not always necessary to buy items for your kids.  If you are handy, you could consider making the essentials yourself.  For example, I've seen some amazing homemade children's furniture.  There is plenty of help and advice on the internet about building items for your little one.  In addition, you can easily find plenty of ideas on how to make clothing for kids, like pillowcase dresses or by upcycling some of your own items into kid-sized versions.  My crochet hobby started as a mission to make little Trey's baby blanket.  I've already started working on two new blankets for the twins.     
9. Making Payments
As someone who is still working hard to recover from the damage caused by credit cards, I'm usually pretty reluctant to suggest any type of payment plan.  However, different families have different priorities.  If you have your heart set on a picture-perfect nursery for your new baby, then credit or layaway plans are an option.  Many stores do provide the option to pay them over a period of time, rather than all at once when you make the purchase.  You will end up paying more overall (the store makes more money).   However, if you choose this option, make sure you have a plan for making the payments. We know all too well how easy it is for the debt to get out of control if you keep missing payments on your loan. Therefore, only go for this option if you can afford the monthly repayments for the essential item for your kids.
10. Take Care of Kid Stuff, So It Can Be Used Again
My final tip is to make sure to take care of your children's things, as best as you can.  Obviously, everything won't survive rough love from kids.  If you can make things last, however, they can be used for subsequent children or sold to get back some of your purchase price.
Time is really the greatest advantage you have when it comes to finding good deals on stuff for kids.  Planning ahead will help you find the best price.  You can wait for new items to go on sale or for when you can find a coupon or promo code.  Or, you can spend time searching around at different stores, websites, and garage sales.  That's why we try to think of everything we need for the coming year before heading to the big consignment sale in the Spring.  We will scout out other options for anything we can't find at the sale.  For the twins, we still have a few months left, but we're starting to prep as much as possible now, so we can keep costs down.  And, I'm not so confident about how much I will be able to do towards the end of this pregnancy.
Good luck and remember, kids are kids.  They don't need the fanciest things.  They often have the most fun doing things like splashing around in mud puddles or playing with your pots and pans.