Reactions to our news about expecting twins, when we already have three young kids, have been pretty interesting.  There is usually a bit of shock, followed by one or more of the following questions: (1) are you going to move, (2) are you going to buy a new vehicle, and (3) how are you going to pay for college with such a large family?  The twins were a surprise, but whether we ended up with four or five children, it would still cost hundreds of thousands of dollars to take on the entire cost of a college education.  We have a plan, consistent with our new financial priorities and definition of success, for how our children will be able to attend college.  And, it doesn't involve any type of regular contribution to investment accounts.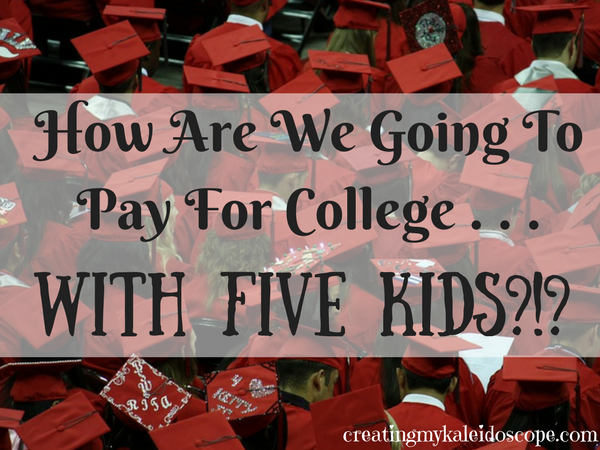 In a recent conversation with a coworker, he told me about cashing out part of his 401K to pay for his children to attend private universities.  He seemed shocked when I matter-of-factly retorted that we do not plan on paying for college for our children.  I went on to explain how neither of my parents helped with the cost of college, and that I am still paying off my undergrad and graduate school.  One of these days I have to look through some old bills to figure it out, buy I believe my loans totaled close to $100,000 right after graduation.  Why would I want my kids to go through the same hardship as me?  Well, I definitely don't want that for them.  At the same time, we don't believe that the cost of college should be entirely on parents.  What is our plan?  The short answer is that we don't plan on paying for our children to attend college, but that doesn't mean that they will have to rely entirely on student loans.
Kids Should Help Pay For College
Studies show that the kids who attend college with a free ride thanks to their parents party more and have lower grades.  My children will help pay for their education, so they feel like they have a personal investment at stake.
Ideally, I would like the kids to work part-time jobs, before and during college.  A portion of their earnings can be used as spending money, but some of it should be earmarked for college tuition/expenses.  Colleges usually offer various types of work-study programs as well.  I always worked at least one part-time job during undergrad and graduate school.  One of my jobs was scrubbing pots and pans in the dining hall.  And you know what?  I was still able to have fun, participate in Cheerleading, and graduated with honors from both schools.
College can be pretty expensive.  However, as we adjust our life to pay off debt, it's become abundantly clear that huge gains can result from a bunch of small efforts.  One way that kids can keep college costs down is by contributing even a small amount of earnings towards their bills each semester.
People Overlook Scholarships
I don't remember applying to many scholarships as a high school senior.  It seemed like that type of financial aid was reserved for valedictorians and sports stars.  However, there are so many different resources out there and many of them receive only a few applications.  Private organizations (ex. Rotary Club), employers, and non-profits offer many scholarships.  However, colleges offer a wide variety of scholarships too.  The trick is to do your research and locate each and every one that is applicable to your unique demographics, skills, and/or interests.
People Underestimate State Schools
There are very limited circumstances in which your career trajectory is determined by the ranking of the educational institution that you attend.  For the vast majority of us, other factors determine our opportunities.  I believe that many kids (and their parents) get caught up in the status associated with private colleges.  Snap out of it people – impressing others is not worth your hard-earned money!!!  Of course, it may just be that Mom or Dad are alumni and expect their children to attend the same school that gave them so many good memories.
Families should take a step back and perform an honest cost-benefit analysis when deciding between schools.  Private schools can easily double the cost of your child's college education.  There is also the option to attend a public school for the first year or two of undergraduate studies, to fulfill your general educational requirements and then transfer to the more-prestigious university.
Creative Ways To Help Your Children Pay For College
I wish that I could give proper credit to the source of this idea.  Someone once told me about he or she had purchased a house near the college their child planned to attend.  Their child then moved in with a bunch of friends, who rented rooms from the parent.  Not only did the child have a place to stay for free, but Mom and/or Dad were enjoying the benefits of a renal property for years to come.
Unfortunately, this idea will be difficult to execute with five children – if they go to five different schools, we probably can't afford to buy five rental properties.  But I always thought that it was a great strategy for a family who already has an interest in investing in rental property.
It's also worth pointing out that your children can take advantage of being able to live at home to save money, if they choose to attend a local college.
They May Not Need A College Degree
I know, that statement probably sounds crazy to a lot of people.  But here's the thing: I don't want my kids to attend four years (or more) of college, just for the sake of getting a degree if it's meaningless to their long-term goals.
Traditional ideas about college and careers are changing.  I sometimes think about how, if I could go back, I would be more strategic about taking classes instead of just sticking to a standard curriculum checklist.  If my kids have specific interests and goals, they should take those classes best suited for their aspirations.  They shouldn't pay to attend classes that won't provide them with any value in their future.
Minimal Use Of Loans
My children will likely need to rely on some loans in order to pay for their education, and I'm okay with that.  College isn't just about knowledge learned from class, it should also teach kids how to be self-sufficient adults.  Taking on a limited amount of debt in exchange for the benefit of their education can be a practical learning experience about finances.
The problem is the current state of student loans. Young people lacking financial know-how are convinced to sign up for more than they need in financial aid.  I distinctly remember always being informed of the maximum amount that could be borrowed – and always took out exactly that much.  The amounts above and beyond tuition were to be used for books and "living expenses."  There were even discussions about little tricks for getting even more, like claiming you needed to purchase a computer.
While I'm not counting on it, I definitely hope that the cost of college education changes in the next ten years.  With my children taking out a limited amount of college loans, I plan to provide some guidance during the decision-making process. I want to help them figure out the minimum amount necessary and plan ahead for the repayment process.
Final Thoughts
We hope to be semi-retired by the time that the children start applying for college.  Our low income should help them receive financial aid to cover at least part of their expenses.
We do want to help the kids get a good start on their adult life.  At the same time, however, we want them to be responsible and invested in their future.  College seems to have become more of a standard phase of life than an accomplishment, at least for the middle class.  Kids should not grow up thinking their parents owe them a free ride at a private university.  They should earn their degree.
Ultimately, I could see us helping the kids out with buying books or even contributing a little bit towards their tuition expenses.  But the majority of our assistance will be guidance and advice, rather than money.