Being healthy seems to be the focus of many as we get into the full swing of the New Year.  I'm already looking forward to regaining my shape once this last pregnancy is done!  As a parent, we're always trying to make sure that our family is healthy . . . and for good reason.  Being healthier means that all of you can be more active, get sick less, and have more fun together.  The best part is that you can achieve these goals for your family, without breaking the budget.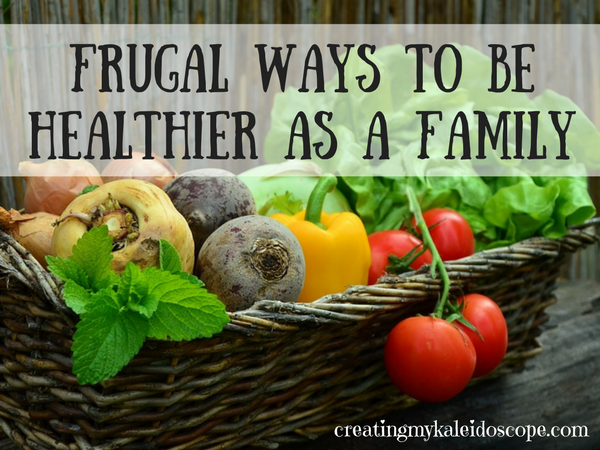 Better health costs less to maintain, but many people think that it is expensive to get to that point.  It is easy to see why many might think that is the case.  Personal trainers and gym membership can cost a lot of money, as well as all of the "right gear" that you need to wear to the gym.  Then, everyone feels the need to buy pricey superfoods. However, there are many other ways that you can be a healthier and fitter family.
Explore The Great Outdoors & Get Moving
Looking for a reason to finally cut the expense of cable television?  Here's a good one: it's healthier for your family.  Instead of spending time in front of the television together, you can rely on more active ways to entertain the family.  Go to parks, playgrounds, on nature hikes, or maybe try out geocaching.  All of these activities are free and bound to create awesome family memories.
Gym memberships can cost a lot of money. But how much does it cost to go exploring outside or running in your neighborhood?  Nothing at all!  I can't wait to go running outside again, after these twins make their appearance in a couple of months.
Walk or ride bikes whenever possible, instead of driving your car.  Not only is it healthier for your family, but it's better for the environment too.
Eat A Rainbow
Whatever you choose to eat, if you go by the rule of eating a rainbow, then you'll be off to a pretty good start.  Your plate or bowl should be filled with natural color, including plenty of fruits and vegetables.  They are full of fiber, as well as lots of vitamins and minerals.  
We love being able to grow a variety of fresh vegetables in our garden.  The kids will nibble on Cherry tomatoes all day long and we save a lot of money on produce.  
Mindfulness
There are many health benefits to practicing mindfulness or some other form of purposeful relaxation.  It can help to reduce stress levels as you refocus on your priories. It can also help people that suffer from anxiety or depression. The best thing about these practices, is that they are completely free, although you can purchase materials like mala beads (Meditative Wisdom) or a mindfulness book if you want to "go all out."
As for me, I've found crochet to be a relaxing hobby.  Did you know that crochet and knitting provide some of the same health benefits as meditation?  The key is finding something that brings you peace, so you're not feeling stressed out all of the time.  It's a healthier choice for you and the overall well-being of your family.
Cook At Home, From Scratch
Don't go out to eat.  It is an expensive habit, especially if you're taking out the whole family.  Just stay home or bring food from home on a picnic.  If you can, make food from scratch to save money and limit the amount of additives in your meals.
As a working mom, I know that the struggle to get dinner on the table is very real.  One helpful tool is a crock pot.  There are literally hundreds of recipes for meals that can be tossed in the crock pot, so the food will cook itself while you're at work, and dinner is ready to go when you get home.
One easy switch that has saved us a lot money and given us healthier food is making homemade bread.  We picked up a bread maker off Craigslist a few years ago and haven't bought bread from the store since.
Cut Down On Sugar
Refined foods are pretty unhealthy and can cost a lot too.   Sugar is a big part of many diets, but provides little nutritional value.  The average family spends a ridiculous amount of money on carbonated beverages.  It may take some time, but you (and your family) can adjust to just drinking water.  A small switch from soda to water can make a huge difference in your grocery bills and your health.  
I have a pretty serious sweet tooth problem, but find that fruit can usually satisfy my cravings.  You have to be smart if you want to eat a lot of fruit without spending a fortune.  We always check the mark-down shelves to find good deals, especially at our local Farmer's market store.  Shopping for in-season fruits is another way that we save.  Also, don't forget about fruit that's not in the produce section.  Shop around for good deals on canned fruit or snacks like raisins.
What are some of your favorite frugal ways to be healthy or improve fitness?