Our family is always looking for new ways to save money, so we can continue to pay off debt and invest towards our future goals.  I'm definitely not wearing much makeup these days, as I rest up and prepare to give birth to the twins.  However, there are times when I like to use some makeup to feel a little prettier and give myself a more-finished look.  The best way to save money on makeup is obviously by going au naturel, but many women (myself included) aren't quite ready to go the super frugal route of absolutely no makeup.  The good news is that you can still use makeup, without destroying your budget.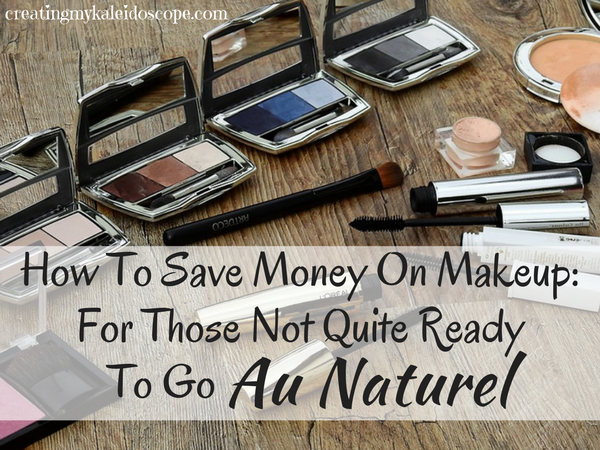 Research "Dupes"
We know about buying generic brand groceries to save money, so it should come as no surprise that many cheaper brands of makeup are virtually identical to the high-end, department store versions.  Just Google makeup "dupes" to learn about the swaps you can make to score the makeup you want at a much better price.  I will never buy makeup from anywhere but grocery or drug stores.
Look For Codes, Coupons, And Sales
On the rare occasion that I do find myself buying cosmetics, you can be sure that I have some type of coupon and/or am taking advantage of a sale . . . preferably both!  
Also, the internet is full of websites with coupon codes for people looking for a bargain, including discounts for popular makeup.  For example, this Ulta coupon code, lets you get money off a range of beauty products.  Some codes can save you more than 20 percent on the regular price of your makeup.  It only takes a moment to check if there are any discounts that you can apply to online purchases, it's a no-brainer.  
Use Free Samples
According to Elaine Doyle, Facebook money-saving guru, free samples are an amazing opportunity for women to save on the total cost of makeup.  Some companies will send out up to a few free samples for you to try, while others may keep on sending out samples indefinitely, allowing you to continue trying out different makeup for free.  
If you're devoted to one of the pricier department store brands, I won't judge, but do make sure to take advantage of those "bonus times."  Many brands run promotions during which they will give you a whole bunch of extras if you buy any one full-price item.  I did purchase some Clinique makeup back in the day and always made sure to time my purchases to score a bonus bag of goodies.  
Use Arrowroot Powder
Arrowroot is an ingredient in cooking and baking, but like a number of other ingredients in the kitchen, it is a great substitute for commercial makeup when you're in a bind.  I haven't tried it myself just yet, but it sounds like a great, frugal alternative to mineral powders.  This stuff works the same way, by absorbing all the oil secreted by your skin throughout the day. You can buy a whole bag of the powder which will easily last for the year.   
Buy "Professional Size" Foundation
Makeup companies sell to two markets: the consumer market (you and I) and the professional market – which includes beauty salons, makeup artists, and film studios. You might surprised to learn that there's a huge markup for consumer products over professional products.  A regular 1 ounce bottle of Estee Lauder foundation might cost you $40 at the store, where a 6.7 ounce "professional" bottle costs $89.  You can often find professional size products for sale on eBay.
Reuse Your Old Mascara Wands
Mascara is a basic staple of my beauty routine.  While mascaras do differ in quality, many women find that the main difference is actually the wand itself. Cheap mascara bottles usually come with terrible wands.  Instead of buying new mascara all of the time, wash out a wand that served you well in the past from one of your more expensive bottles of mascara.  Then, go to the drug store or Wal-Mart and pick up some cheap mascara.  Throw out the new wand and use the old one – you may find that you don't even notice a difference.
Don't Waste – Use Every Last Bit Of It
If you do spend any of your hard-earned money on makeup, be sure to use it all up before tossing the contained in the trash.  You can add contact solution or saline solution to mascara if it starts to dry out and get clumpy.  Try pouring the last couple drops of perfume into a bottle of lotion.  Cut plastic containers in half to scrape out the last of the product.  Finally, you can mix broken eye-shadow with clear nail polish and paint your nails a custom color.  
Being frugal is great for your finances, but not everyone wants to adopt the same exact lifestyle and priorities.  Some women choose to spend money on makeup, and that's okay.  Do keep in mind that, as with most other expenses, you have options and a little extra effort can go a long way in lowering your costs.  It's even better if you can think outside the box and find creative, money-saving alternatives to "normal" expenses.
Speaking of creative solutions . . . I can't wait to share some exciting news this coming week about our family's latest endeavor.  In the meantime, have a great weekend everyone 🙂