"You're going to have five kids?!?"  This is what I've been hearing a lot of lately, in conversations that usually start with, "Is this your first?"  People seem pretty shocked at the size of our growing family and often start firing off questions about the practical issues, like whether we will have to move, will both of us parents be working, and if we've gone shopping for a van yet.  Well, we looked at vans, and decided that they were not the most practical solution to our dilemma of the best way to transport a large family.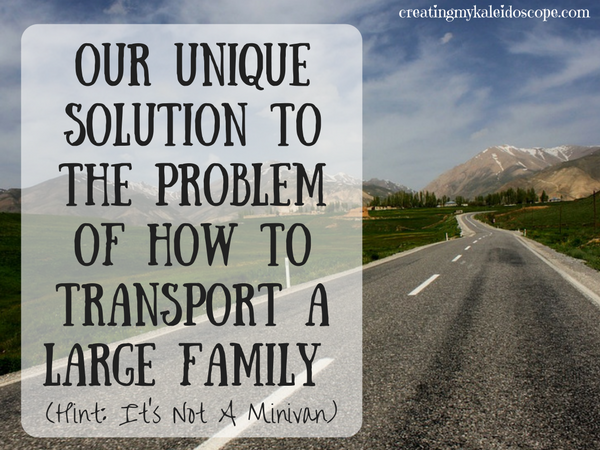 Mr. Smith has a pickup truck and I have a small SUV.  Both of these vehicles have been paid off for several years now and are still in good shape thanks to Mr. Smith's regular maintenance.  I think that a lot of friends, family, and neighbors have been confused about why we haven't gone out to buy new vehicles yet – especially since we can't even ride as a family (three kids, two adults) in either one of them.  Well, we do fit in my father-in-law's vehicle and he lives three houses down the street.  If we do need to go anywhere as a family, it is usually no big deal for us to borrow his car.  This is how we've made it through the past two years (since having our third child) without purchasing a new vehicle, so we could continue to pay down debt.
We knew that this was not a permanent solution, and we would need to purchase another vehicle eventually.  Our plan was to have "one more child" and go find a reliable, used, traditional minivan.  But then one became two.  Instead of being able to have two in a middle row and two in a back row, we were looking at squeezing three in the back (needing new, slimmer car seats) and putting the twins together in the middle row.  What we envisioned was a large family crawling around in a confined space, with no room to bring along a friend or grandparent, and very limited storage for everything from groceries to strollers. Furthermore, as they grow (because we wanted to purchase something that will last a while), available space would just keep on shrinking.
Picking from the large supply of standard minivans out there seemed like a bad, impractical choice for our family.  We did some research into three row vans.  These vans are harder to find and cost quite a bit more (good old supply and demand).  We wanted a vehicle we could purchase outright, but one of these vans would require us to take out a car loan.  Even though we could spread out the kids a bit more with three rows, we were still facing similar problems with space and storage.
How were we going to find a reliable, safe vehicle for transporting our large family – now and years into the future?  We like to do things a little differently, live creatively, and think outside the box.  After lots of research and searching for just the right one, I give you The Smith family's new vehicle . . . a used, short school bus!!!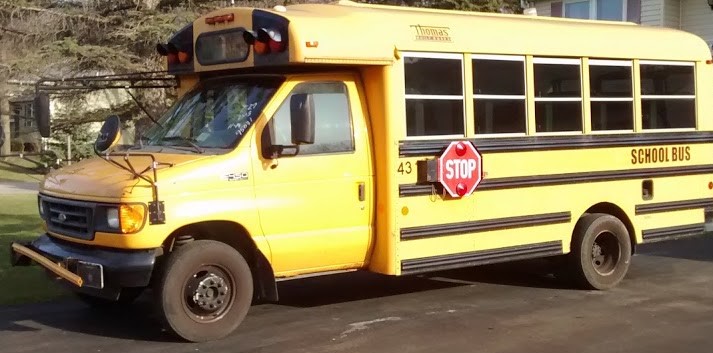 Mr. Smith did a lot of research.  These vehicles are super safe for the kids and have seat belts that will work for their car seats.  Each child will sit on their own bench, on the inside, for further protection.  The bus has a 7.3 L Diesel engine and only 130,000 miles.  It is not great on gas mileage, but should last us a very long time.  The bus is from the South, so it is almost rust free.  You don't need a CDL license to drive it – yes, I have already taken it for a short ride.  The insurance is comparable to a regular vehicle (as long as we don't use it for commercial purposes).  We do need to paint it a different color than yellow, and remove the stop sign and all of the "School Bus" decals.
Our neighbors think we're absolutely nuts with this thing sitting in the driveway . . . it's hilarious!  Over the past two years, we've learned that we don't go on that many family outings.  We still have my SUV and Mr. Smith's truck to drive to work.  This bus is more for trips to the zoo, birthday parties, sporting events, or visiting relatives.  We will have plenty of room to bring along strollers, wagons, coolers, friends, and whatever else we could possibly need.  Another really awesome thing?  We used money from our tax return and purchased this bus for $4,500 off Craigslist.  It is ours.  There is no car payment and it should be the last vehicle that we need for a very long time.
We're very excited about customizing this bus, to make it perfect for our family.  Our plans include painting it, removing a couple of seats, building in some storage areas, and letting the kids "decorate" their own areas.  You can trust that there will be more posts with before and after photos of the transformation.  Go ahead – ask your questions or tell me if you think we're crazy – but this is our new family vehicle 🙂