While I'm working on a very special post about the arrival of our twins, please enjoy this book review.  I recently received a copy of How To Be Everything in exchange for sharing my opinion of it with all of you.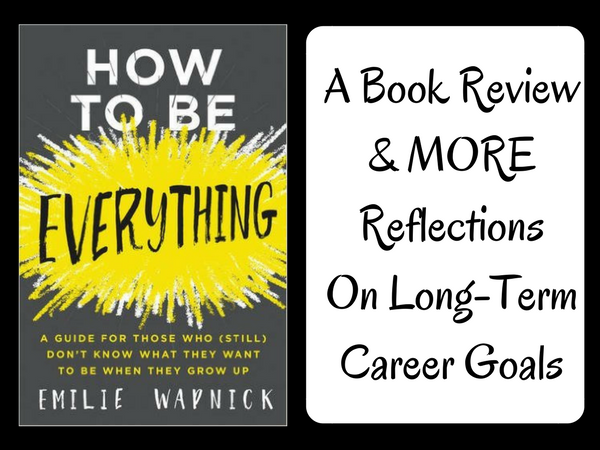 At this point, my profession remains a secret on this blog, in order to protect my job.  I will tell you that it is not my first "career."  After completing undergraduate school, but before attending graduate school, I worked for several years in a field completely unrelated to any of the degrees that ultimately bore my name.  Now, I'm planning my escape from an occupation in which I've invested so much money and time.  Is there something wrong with me because I can't commit to a long-term career?
Emilie Wapnick would say no, there's absolutely nothing wrong with me.  These issues are just the natural consequences that come with being a "multipotenialite."  Her book explains how many of us are driven by mastering novel experiences, in comparison with those who excel at "specialization."  Wapnick discusses the different types of multipotentialites (ex. "Einstein's Approach") and lays out a customizable  plan of action for building a life that capitalizes on our strengths.  She gives readers a ton of ideas on how to pursue their interests, while earning an income, and without limiting themselves to a single, long-term career path.
These are some of my favorite quotes from How To Be Everything:
Individual preference and the nature of our interests play a big part in how we choose to structure our lives and our careers.  Ultimately, the important thing is that money, meaning, and variety are present in your life as a whole.  Your career should be aligned with your overall goals.  Your work should feel like an integrated and supportive force in your life, not the kind-of-awful-thing-you-have-to-do-to-pay-the-bills.
Like with money, what's important isn't that everything we do provide us with a sense of meaning, but that overall, we have enough meaning in our lives to feel like we are making a positive impact in the world.  
A portfolio career is not the same thing as holding down three bad jobs and wishing you could figure out what to do with yourself.  Rather, it's a scheme you pursue purposefully and positively, as a way to achieve a mixture of financial and personal goals.  
When you lose interest in something, you must always consider the possibility that you've gotten what you came for; you have completed your mission.  That's why you lose interest: not because you're flawed or lazy or unable to focus, but because you're finished.  
What does it mean to lead with your multipotentiality?  It isn't just about accepting and embracing your inner wiring.  That's only the beginning.  To lead with your multipotentiality is to build a sustainable life around your plurality.  It means figuring out, in practical terms, how to get the money, meaning, and variety you require so that you can flourish, put your brilliance out into the world, and make it a better place.
Wapnick provides an interesting and insightful analysis of what others may view as weakness.  She embraces those who lack the ability to commit to a long-term career and gives them advice for building more variety and meaning into their lives.  This book provided me with a sense of validation.  I'm not just lazy or unfocused in trying to escape from working full-time.  The truth is that I never planned to completely retire – which demonstrates my own multipotentiality.  Instead, my goals include finding flexible ways to earn enough income to cover our expenses, while providing us with opportunities to indulge in passion projects, family time, volunteer work, and all other sorts of new adventures.  How To Be Everything gave me quite a few ideas on how to practically create a beautiful, more multi-faceted life
About How to Be Everything
• Hardcover: 240 pages
• Publisher: HarperOne (May 2, 2017)
What do you want to be when you grow up? It's a familiar question we're all asked as kids. While seemingly harmless, the question has unintended consequences. It can make you feel like you need to choose one job, one passion, one thing to be about. Guess what? You don't.
Having a lot of different interests, projects and curiosities doesn't make you a "jack-of-all-trades, master of none." Your endless curiosity doesn't mean you are broken or flaky. What you are is a multipotentialite: someone with many interests and creative pursuits. And that is actually your biggest strength.
How to Be Everything helps you channel your diverse passions and skills to work for you. Based on her popular TED talk, "Why some of us don't have one true calling", Emilie Wapnick flips the script on conventional career advice. Instead of suggesting that you specialize, choose a niche or accumulate 10,000 hours of practice in a single area, Wapnick provides a practical framework for building a sustainable life around ALL of your passions.
You'll discover:
•  Why your multipotentiality is your biggest strength, especially in today's uncertain job market.
•  How to make a living and structure your work if you have many skills and interests.
•  How to focus on multiple projects and make progress on all of them.
•  How to handle common insecurities such as the fear of not being the best, the guilt associated with losing interest in something you used to love and the challenge of explaining "what you do" to others.
Not fitting neatly into a box can be a beautiful thing. How to Be Everything teaches you how to design a life, at any age and stage of your career, that allows you to be fully you, and find the kind of work you'll love.